2023 European Athletics Indoor Championships: Jakob Ingebrigtsen, Pedro Pichago and Keely Hodgkinson excel on day one in Istanbul – Results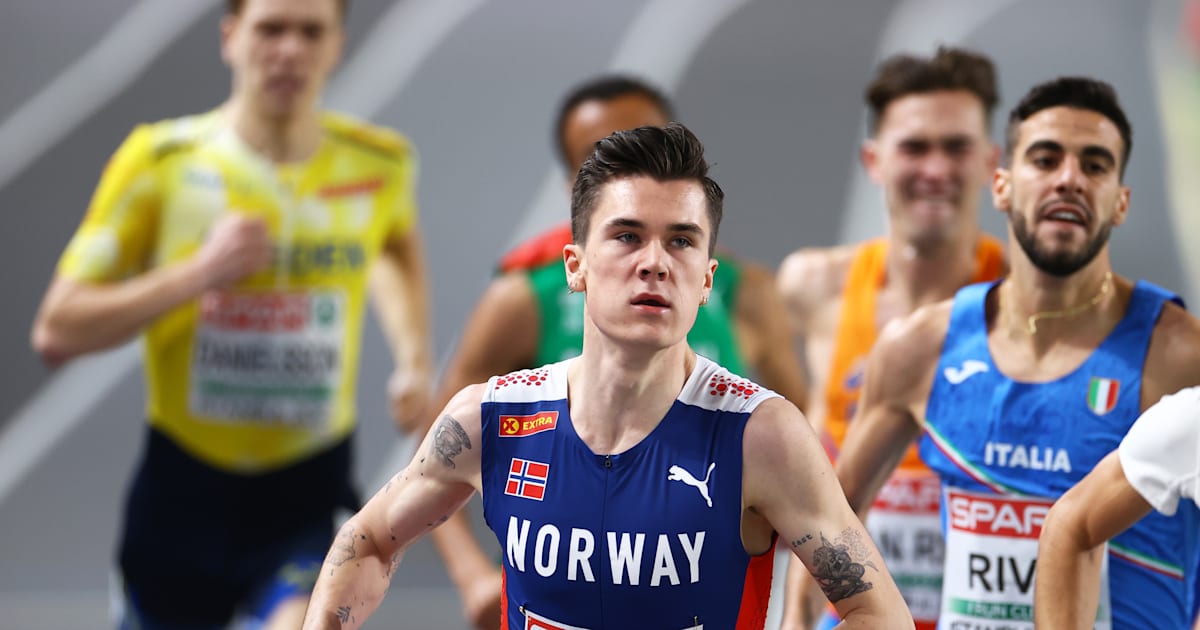 Olympic champions Jakob Ingebrigtsen and Pedro Pichardo highlighted day one at the 2023 European Athletics Indoor Championships in Istanbul on Thursday, March 2.
Olympic and world silver medallist Keely Hodgkinson also opened her European 800m Indoor title defense in dominant fashion, easily winning her heat as the four-day championships opened at the Atakoy Arena.
The championships saw the return of Ingebrigtsen who ran his second race of the season, after more than a month out of action due to a viral infection.
The Olympic 1500m gold medallist seemed comfortable in his qualifying round. He is seeking to retain his 1500m and 3000m European Indoor titles.  The Norwegian finished third in 3:50.29 behind the winner of heat one, Frenchman Azeddine Habz who timed 3:49.88. British indoor record holder Scottish Neil Gourley qualified with the best time of the day in 3:41.08.
"The race was an easy one. I wanted to save as much energy as I could. The pace was slow and I love to believe that I contributed to it," said Ingebrigsten after the race.
"I am always nervous when I run but in the heats I had everything under control. I just tried to stay out of trouble and not fall. The goal is clear: to defend both titles."
Portugal's reigning Olympic, World, and European champion Pichardo is on course to defend his title from Torun 2021 after leaping to a national record of 17.48m in the men's triple jump qualification.
Pichardo was the only man who crossed the 17m mark. Germany's Max Heb came in second with 16.67m, and Tobia Bocchi of Italy third in 16.47m.
"I jumped the national record and the qualification mark in the first attempt which is always very good. I want to bring gold back home, that is the most important thing,"said Pichardo.
" I want to jump far, maybe even set another record. We will see."
Hodgkinson wants to 'defend title'
In the women's 800m, British star Hodgkinson who is in incredible shape having just bettered her national indoor record last Saturday in Birmingham, posted the fastest qualifying time in 2:01.67. Germany's Majtie Kolberg who ran a personal best in 2:01.94 had the second fastest time. 
20-year-old Hidgkinson is seeking to retain the 800m title she won in Poland in 2021.
"I am happy with the race. Sometimes the pace was a bit harder than what I am used to, so I am actually quite tired," she said after the heat.
"It is really special to be able to defend my title here."
Triple European distance gold medallist Yasemin Can was among the qualifiers in the women's 3000m.
The Kenyan-born Turkish runner was sixth in the second heat won by Hanna Klein of Germany who crossed the line in 8:59.28. Another German runner Konstanze Klosterhalfen won the first heat in 8:53.50 as Finland's Camilla Richardsson raced to a national record of 8:53.60 which was good enough for second place.
Cameroon born-Portuguese Aurioll Dongo also showed her intent to add another gold medal after her 2021 victory in Torun with a throw of 18.51m in the shot put. Her mark was the second best of the day behind the Netherlands' Jessica Schilder's leading throw of 19.18m.
Ukrainian Olympian Yuliia Levchenko was the top qualifier in the women's high jump with 1.91m ahead of compatriot Yaroslava Mahuchiki, the 2022 World indoor champion who also leaped past the day's qualifying mark. There will be three Ukrainians in the final as Kateryna Tabashnyk also made the cut.
Medals will be awarded on the second day of competition on Friday. There are six finals on the agenda: Shot put (men and women), 3000m (women), triple jump (men), heptathlon and 60m (women).
2023 European Athletics Indoor Championships – Day 2 — Friday, 3 March 2023
09:00 60 metres hurdles  W        Pentathlon
09:10 Long Jump    M        Qualification
09:15 Pole Vault     W        Qualification
09:45 High Jump     W        Pentathlon
09:50 400 metres   M        Heats
10:40 400 metres   W        Heats
11:10 Triple Jump  W        Qualification
11:30 1500 metres W        Heats
12:05 60 metres     W        Heats
12:30 Shot Put        W        Pentathlon
Evening session
19:00 High Jump     M        Qualification
19:05 60 metres     W        Semifinals
19:10 Long Jump    W        Pentathlon
19:25 Shot Put        M        Final
19:35 400 metres   M        Semifinals
19:55 400 metres   W        Semifinals
20:18 3000 metres W        Final
20:35 Triple Jump  M        Final
20:40 1500 metres M        Final
20:53 Shot Put        W        Final
21:05 800 metres   W        Pentathlon Final
21:45 60 metres     W        Final