2023 NFL Draft QB prospects spoke! What a world!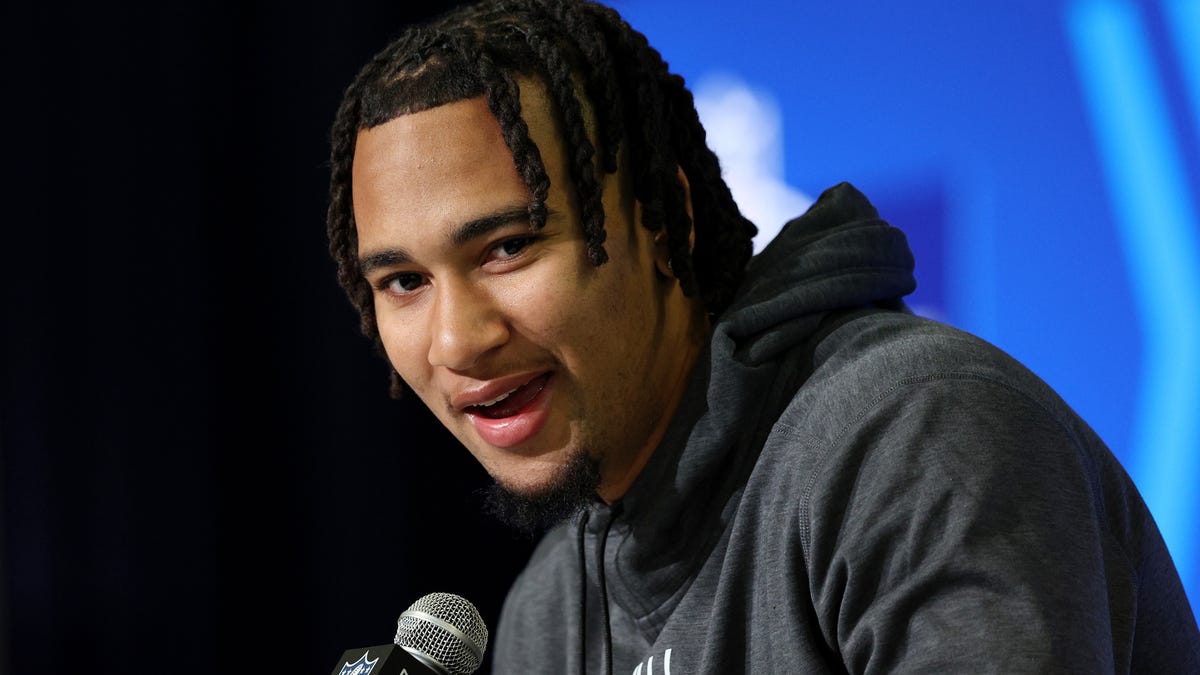 The three biggest names in the 2023 NFL Draft — projected top 10 quarterbacks Bryce Young, C.J. Stroud, and Will Levis — spoke with the media Friday at the combine, and it was electric. No, no, it wasn't, but football fans hung on every word. No, no, they didn't. It was pretty standard fare, but let's pretend it was amazing so you'll keep reading.
I'm going to give quick CliffsNotes of each prospect's comments, and hope their sound bytes are as exciting as watching them play. (Well minus, Levis. He seems to be a better spokesman than a QB, and since we're here, I'll start with him.)
Will Levis drinking his own Kool-Aid
I'll just throw this out there, and if you like it, take it, and if you don't, don't.
"Yeah, I mean, my goal is to win more than anybody," Levis said. "I want to be the greatest of all time. Like, you're crazy if you don't think that way."
Understandable. It's kind of an "If I don't say it, who will?" type of approach. Anyone who watched Kentucky last year thinks he's delusional, over-confident, or both. If Stroud and Young had his physical attributes, we'd be viewing those two as can't-miss 1-2 picks like Andrew Luck-Robert Griffin III. (I know, but at the time, and even in the first year, they seemed destined for Canton.)
The thing is Levis knows his frame and arm strength are elite. Here's why he's throwing at the combine.
"Because I've got a cannon, and I want to show it off."
Alright, man, put it away. We get it. He reiterated his self-confidence multiple times, but Carson Wentz still thinks he's a starter, so that only gets you so far. Levis needs to improve as a quarterback, not an athlete, and the way to do that is with added live reps. Like playing in the Wildcats' bowl game, which he didn't.
G/O Media may get a commission
C.J. Stroud's QB inspirations are… something
There's something off about the Buckeye signal caller, and I can't figure out what it is. When asked who he compares himself to, Stroud said Michael Vick, Deshaun Watson, and Joe Burrow. I want to clarify that Stroud was talking about play styles, not personalities.
"(Michael Vick) inspired me not only to be athletic and use my athleticism, but as a black quarterback, to stay in the pocket and throw the ball. That's something he was very underrated in."
Fair enough. I disagree with the pocket passing thing but OK.
"I look up to DeShaun Watson," — oh my lor— "…as someone I feel like I have a similar playing style to." Phew.
The honesty is noted. Though it would've been nice for his media coach to steer him away from Watson and Vick. Stroud also said he wished he had shown off his legs more in college. Yet he praised Burrow for "being able to create, not being the fastest guy but being able to extend plays."
Stroud wishes he ran more but also isn't the fastest guy like Joey Brr? This is why the combine is a waste of time. Guys answer so many questions, a lot of which don't portend to anything important, and end up talking in circles or contradicting themselves.
I like Stroud's game, but there are rare spurts when he looks like a different QB, and they happen just enough to leave football fans confused. I'm still confused.
Bryce Young is 21 going on 41
Young is my pick for the Baker-Mayfield-barrage-of-endorsements award. He had decent timing in the Dr. Pepper ads, and is about as polished as a 21-year-old as you're going to find.
Here's his answer to Peter King trying to find a new way to ask the same question about his size that everyone has asked him.
"Again, I've been this size, respectively, my whole life. I know who I am. I know what I can do. For me, I think it's fair. Everyone can speculate and ask whatever questions are necessary, but I'm going to continue to control what I can control. I'm going to keep working my hardest and put myself in good position. I'm confident in myself. I know what I can do. I'm just excited to get to that next level."
Young is being as nice as he can about it, but I wouldn't be surprised if on the inside he's daydreaming about choking out the next lanyard-wearing media member to ask him if he patterns himself like Drew Brees and Russell Wilson.
Can we please let this play out? No team is going to be deterred from selecting Young in the top five, so if his size ends up being a problem, we'll find out soon enough.