407th AFSB Civilian makes big impact supporting Soldiers over career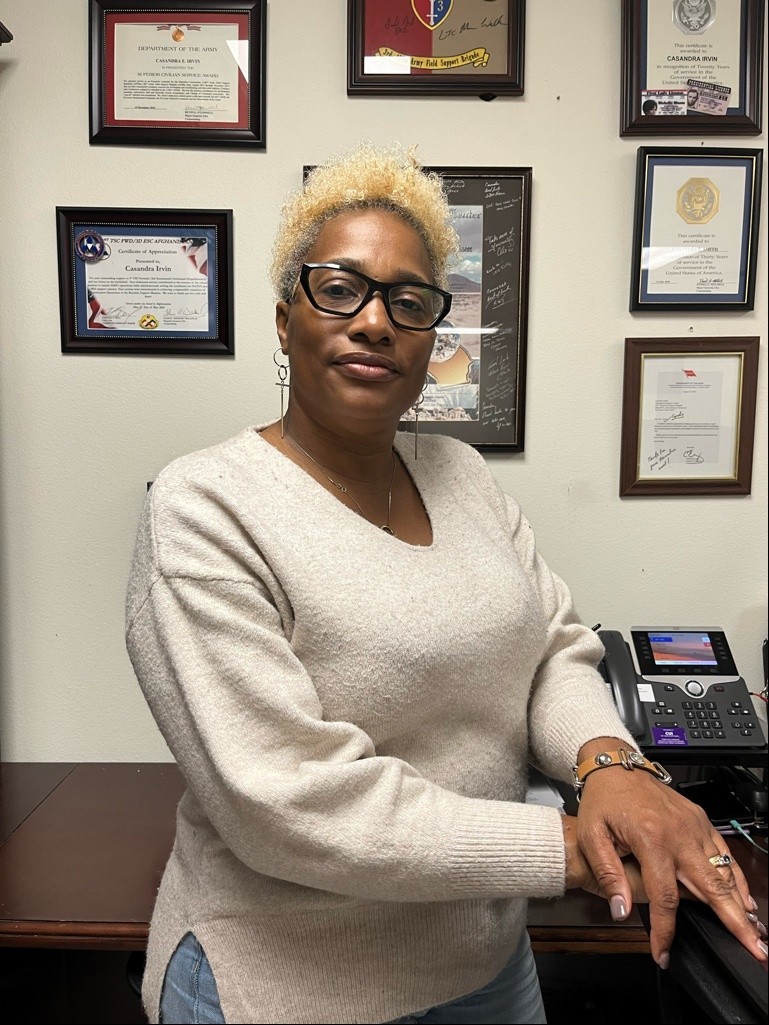 FORT CAVAZOS, Texas – At the 407th Army Field Support Brigade "Support the Soldier" is more than just its motto; it's a call to action.
Army Civilian Casandra Smith has left an indelible mark on the "Mighty 407th" brigade and widely across the U.S. Army. Smith has served with the U.S. Army Sustainment Command and its related units since 2003 to the present – for 20 years – and is currently the management support analyst, working 12 years with the brigade.
The 407th AFSB has the mission to provide and synchronize sustainment of U.S. Army active duty, Reserve, and National Guard units and joint forces within its area of operations. It is regionally aligned with U.S. Southern Command and directly supports III Corps, headquartered at Fort Cavazos. The 407th also coordinates support to various joint exercises. And It has four battalions located at Fort Cavazos and Fort Bliss, Texas; Fort Riley, Kansas; and Fort Carson, Colorado.
She strives to wholeheartedly support the Soldiers, the brigade's mission, and beyond to the chain of command at ASC and its higher headquarters, U.S. Army Materiel Command, to make meaningful contributions.
"I have proudly and faithfully served the United States, the U.S. Army, and the Department of Defense from both sides of the uniform," Smith said of her service experience. "The best part about my job is getting to know each command team, their families, and establishing relationships that extend beyond their command of the 407th AFSB."
From enlisting in the U.S. Army at 18, Smith eagerly embraced the opportunities the Army presented – traveling the world and earning a college education.
Throughout her time in the Army, Smith's honorable character was shaped, and she developed a passion for volunteering. Her compassionate heart led her to volunteer for many deployments as an Army Civilian.
True to her altruistic nature, she volunteered to support Soldiers during Operation Iraqi Freedom and Operation Enduring Freedom. In Iraq from 2009 to 2010, she was an asset to the S1 (Human Resources) at Joint Base Balad, 1st Battalion, 402nd AFSB. At that time the 402nd was deployed there but has since been re-headquartered in Hawaii.
In Afghanistan from 2013 to 2015, she was appointed as the administrative officer to the battalion commander at Army Field Support Brigade – Bagram Air Base, 3rd Battalion, 401st AFSB. Likewise, the 401st AFSB is now headquartered in Kuwait.
Smith is a noble soul who takes to heart the Army values.
Personal courage is one of her core values that she applies in her daily life and work in defense readiness. In fact, on Sept. 11, 2001, she worked at Aberdeen Proving Ground, Maryland, on Edgewood Arsenal for the U.S. Army Technical Escort Unit under AMC as the supply management specialist. She conducted decontamination, reconnaissance, surveillance and Chemical, Biological, Radiological, Nuclear and Explosives, commonly known as CBRNE, operations to counter threats to national defense.
Smith made it her personal mission to improve quality of life for Soldiers.
"In life, it is always my goal to leave a lasting and positive impression on everyone who I meet," she said. Smith's empathy was notable in Iraq and Afghanistan when she advocated for Soldiers during their trying times on deployment. She coordinated morale and welfare activities for Soldiers, including a battalion organization day open to all Soldiers, Civilians, and contractors that raised morale with sporting events, a barbeque, competitions, karaoke, and live music.
During her volunteer deployments, Smith underwent challenges that strengthened her character and moral values.
Difficulties she faced and overcame include surviving proximity to incoming mortar attacks, flying on a military air redeploying flight with the remains of a fallen Soldier, witnessing local national people and their families struggle from injustices at the hand of extremist terror organizations, and making a life-changing decision to accept a hardship discharge while she was on deployment to ensure proper care of her infant son.
Undeterred by her adversities, when asked about her service in the U.S. Army, Smith shines with an enthusiastic disposition and a highly evolved, holistic view of the Armed Forces and the world. "People appreciate my endeavors," which encourages her to "meet new people from all cultural backgrounds, nationalities, and religions."
She believes that integrity requires working with excellence and consistency.
"I give my all in everything that I do," Smith assured. "In everything that I do, I perform it to the very best of my ability. Being present, showing up every day and giving my very best is the only way I know how to live."
And for this she has been recognized. Smith received the Superior Civilian Service Medal and a "4-Star Note" from Gen. Ed Daly, who retired March 16 as AMC's commanding general.
Smith said she will always cherish being recognized by Lt. Gen. Flem Walker Jr. – former AMC deputy commanding general and chief of staff from 2020 to 2022 – for the morale, welfare and recreation functions she organized.
"What a privilege and sweet memory these 35 years have been," she said smiling.
Smith's 35 years of service to the Army encompasses four years on active-duty, four years in the Army Reserve, and 27 years as an Army Civilian.
And she is a proud mother of two sons and loving grandmother of one granddaughter.
When she served her country as a Soldier, her military occupational specialty was 92A – automated logistical specialist.
To this present day, Smith's selfless spirit continues to lead fundraisers and volunteer events for Soldiers, Army Civilians, children, families, and the local community. The holiday season is her favorite time of the year because she positively affects adults' and children's lives by creating drives and contributing donations.
As a Soldier, Smith served in Germany, Kuwait, Iraq, and Afghanistan, represented by numerous achievement awards that adorn her office wall. She continues traveling far and wide – decorating her office and foyer with exquisite souvenirs and pictures worth a thousand words.
Her retirement dream is to live and travel abroad. Smith truly inspires people and Soldiers to be the best they can be. She truly lives the brigade motto – "Support the Soldiers!"