"America So Soft Now": NFL World Furious After SNL Cuts Hilarious Travis Kelce Sketch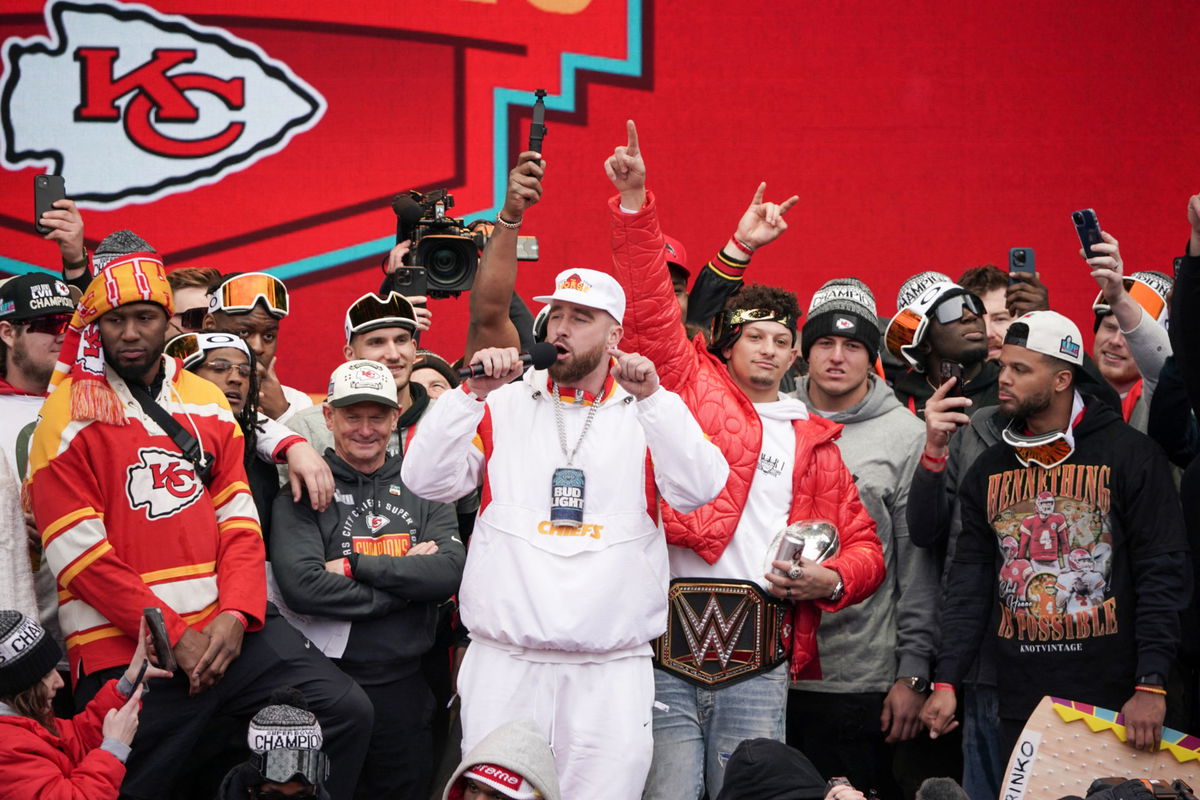 Travis Kelce has emerged as the best player in the league. Following in the footsteps of Rob Gronkowski, the Kansas City Chiefs tight end has far outperformed expectations in his career. Off the field, Kelce made a splash by joining an upscale list of NFL players to host an episode of Saturday Night Live. But a critical performance got cut, and the NFL fandom is furious about it.
During the skit on Saturday Night Live, two dolls accompanied the Kansas City Chiefs TE. Travis Kelce looked dapper in a pink suit with a bow. Kelce and the dolls go to the American Girl Café in that sketch. Kenan Thompson also appeared in the satire, sitting at a separate table with a doll that resembled Patrick Mahomes.
NFL Fandom scratching heads over an unaired skit
ADVERTISEMENT
Article continues below this ad
The American Girl skit seemed like a hit among the fans. But one piece did not make the cut. It was supposed to feature the Kelce Brothers and Chiefs' Creed Humphrey. The short's concept featured an NFL Charity that stood up for male partners who could not lift their female mates in the air. The skit was named the NFL Gives Back.
The reasons this digital short did not make the cut remain a mystery. Although NBC and the SNL are notorious for not airing good sketches. It also irked the NFL Fandom.
DIVE DEEPER
One user said the country has become soft to air.
America so soft now or days if they aired it and then travis would of been fake cancelled

— Sharifa Bankz (@SharifaBankz) March 5, 2023
Rec Chapman found it hilarious.
Another user said it was surprisingly funny.
This user said TE Kelce's post-NFL career would be hilarious.
i can't wait until travis is done with football🤣😭 his post ball career is gonna be hilarious man

— JB&JTBETTAH (@TrolledByJT) March 5, 2023
Moreover, this user claimed the NFL cut the short from the SNL and also wonders why.
NFL cut this from SNL wonder why LOL

— s duda (@3skjduda) March 6, 2023
This user hailed Creed Humphrey for the phenomenal sketch.
Creed! That was a great sketch!

— Lou Montagna (@LouMontagna) March 5, 2023
This user gave a valid point about why SNL cut the skit.
Time. It was cut for time

— Hotep Steve Martin (@CMikeWhitfield) March 6, 2023
While the NFL Gives Back skit did not make it, Kelce's monologue seemingly filled the void.
Travis Kelce delivered exceptional monologue feat. Patrick Mahomes and Jason Kelce
The Chiefs TE delivered an equally fascinating monologue. Travis Kelce appeared on stage at Studio 8H and entertained the audience with his amusing jokes. Kelce wore a double-breasted suit and reflected on his college years and the infamous reality television series. The TE also made fun of Chiefs quarterback Patrick Mahomes' distinctive voice in his monologue.
ADVERTISEMENT
Article continues below this ad
Travis also discussed his brother, Jason Kelce, and their victory over the Philadelphia Eagles. Surprisingly, he was present at the studio, watching from the audience with their parents, Ed and Donna Kelce. The show also featured the Eagles' Centre.
ADVERTISEMENT
Article continues below this ad
There was a bit of critique over his skit, but the Kelce Brothers created a lasting impression.
Watch This Story: After overtaking Joe Burrow Josh Allen and Jalen Hurts Chiefs hero Patrick Mahomes remains the betting favorite for MVP