Anger as climate activists smear German monument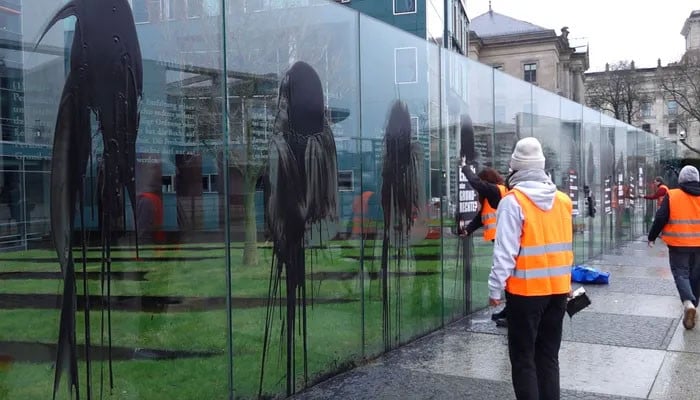 BERLIN: Politicians reacted angrily Saturday after climate activists smeared a black liquid on a monument near Germany's lower parliamentary chamber on which the articles of the country's constitution are inscribed.
The group behind the action near the Bundestag in Berlin, Letzte Generation (Last Generation), has carried out several similar actions to draw attention to the climate crisis.
They posted a video online of people dressed in fluorescent orange safety jackets spraying the liquid on some of the 19, three-metre high glass panels on which articles of the constitution are inscribed.
They also put up posters bearing the slogan "Oil or constitutional rights?".
The monument, called "Basic Law 49" in reference to West Germany's 1949 constitution, was created by Israeli artist Dani Karavan.
"I am shocked that the activists of the #LastGeneration are smearing this important work of art on the Basic Law," tweeted Baerbel Bas, president of the ruling Social Democrats in the Bundestag.
"It stands as a reminder to respect our fundamental rights," she added — including the right to freedom of expression and assembly that they themselves enjoyed.
No matter what message was intended, Justice Minister Marco Buschmann tweeted, "… it can only be wrong!"
"The Basic Law stands for freedom, democracy and the rule of law," added Buschmann of the Liberal Democrats, one of the coalition partners of Germany's ruling Social Democrats.
Police have not yet identified the liquid the campaigners used in their action.
The six activists involved have been identified and complaints had been filed, a police spokeswoman told AFP.
The Greens and opposition conservatives also condemned the activists' action.
The last Generation's previous actions have included blocking major highways and throwing paint over artworks in museums.
They now face legal action after a regional prosecutor last year opened an investigation into the group on suspicion of undertaking or supporting criminal activity.