Anthony Richardson landing spots: Ranking 10 best NFL fits for Florida star, including Ravens and Vikings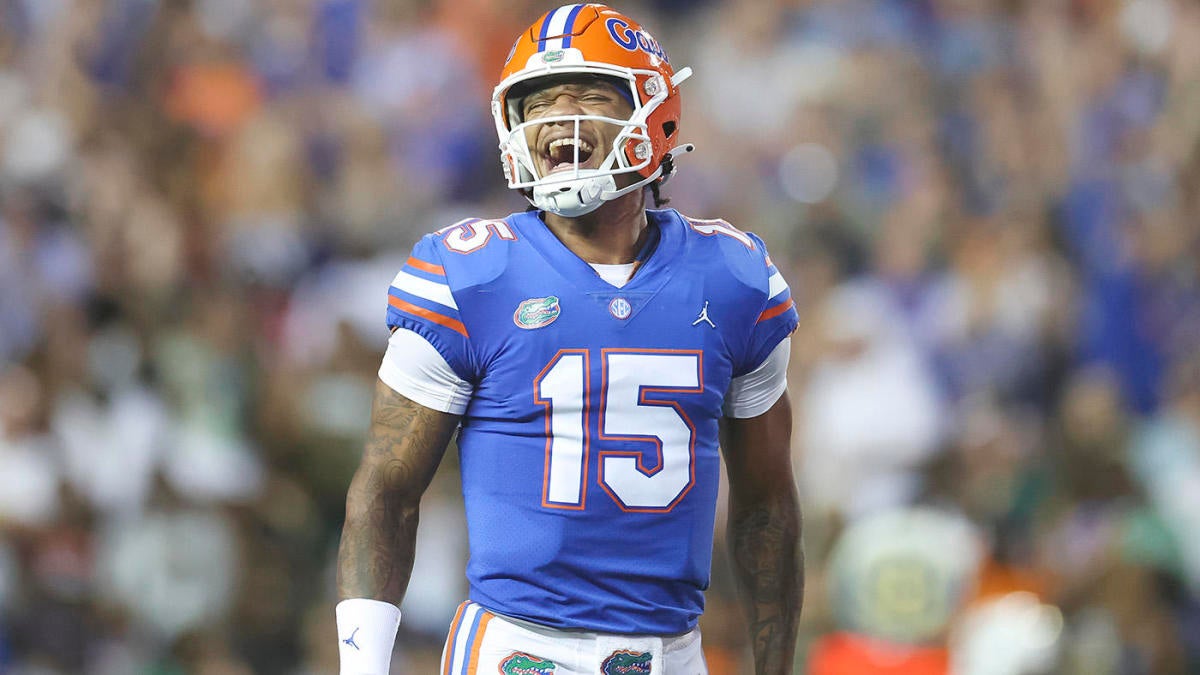 As many predicted would happen, Florida quarterback Anthony Richardson took over the 2023 NFL Combine. He ranked first among all quarterbacks in height at 6-4 1/4″ and weight (244 pounds), ranked first at the 40-yard dash (4.43) and registered a 40.5″ vertical and 10'9″ broad jump. Yes, those both ranked first among all quarterbacks as well. 
The 21-year-old's 4.43 40-yard dash was the second-fastest 40 time recorded by a first-round quarterback at the NFL Combine since 2006, per ESPN. The 10'9″ broad jump was also an NFL Combine record for a quarterback. The bottom line is that Richardson tore it up, and boosted his draft stock — so much so that he could go No. 1 overall next month.
While Richardson established himself as one of the most intriguing prospects in this class, where would he fit best in the NFL? There's no doubt he's a raw quarterback; would he be best suited to sit for a year, or is he a Day 1 starter? Below we break down the top 10 potential landing spots that would serve as the best fits for Richardson. 
Former Colts head coach Chuck Pagano said this offseason that Indy needs to stop messing around with these veteran quarterbacks and draft their new signal-caller, and he's absolutely right. Former Philadelphia Eagles offensive coordinator Shane Steichen is now in charge, and we saw how Jalen Hurts turned the corner once he took over as play-caller. Maybe the Colts don't have the best roster in the NFL, but they have a solid defense, one of the best running backs in the league in Jonathan Taylor and a prospective No. 1 wideout in Michael Pittman Jr. CBS Sports NFL Draft expert Chris Trapasso predicted in a recent mock the Colts trade up to No. 1 overall to select Richardson. It could happen.
No one knows what's going to happen with Lamar Jackson, but it's possible he's playing elsewhere in 2023. If that's the case, Baltimore will have to reevaluate the most important position in football. While the Cam Newton comparisons were inevitable with Richardson, he received some Lamar-like praise as well. In fact, Richardson said he started calling himself "Cam Jackson" in high school. No joke. 
We know Richardson can run the ball, and he has a cannon for an arm — even if that cannon needs some polishing. John Harbaugh had a hand in developing a quarterback into a perennial MVP contender. Maybe he could do the same for Richardson. At the same time, losing Jackson would make for an automatic downgrade. 
The Falcons have already decided to part ways with Marcus Mariota, and then Desmond Ridder didn't exactly light the world on fire in Year 1. Head coach Arthur Smith needs to do something to stay off the hot seat, and landing Richardson could be exactly what the doctor ordered. 
For one, Smith comes from Tennessee, where he found success scheming for the run. He's attempting to do the same in Atlanta, and got Tyler Allgeier to 1,000-plus yards rushing on 4.9 yards per carry in his rookie season. Bringing in a big body like Richardson, who is also a fast player, would fit this offense. Richardson would also have a former Florida weapon to work with in Kyle Pitts, plus Drake London.
The Panthers have been searching for their new franchise quarterback since parting ways with Newton a few years ago. With Frank Reich now in charge, he will be looking for his new quarterback. After what happened in Indy, he understands how important this decision is. 
Reich may be one of the best hires from this coaching cycle. Not only does he understand that his new young defense is the "secret sauce" that can serve as the Panthers' identity, but he also understands that you have to run the ball to be a championship team. Even without Christian McCaffrey for the majority of the season, Carolina finished with the No. 10 overall rushing offense, thanks to D'Onta Foreman and Chuba Hubbard. Carolina could be an ideal landing spot for a young quarterback whose best football days are ahead of him. Plus, the Cam Newton comparisons are right there. 
Maybe the Raiders don't have the best coaching staff in the NFL, but look at the setup on offense. Josh Jacobs is back in the fold for 2023 with the franchise tag, and then Davante Adams and Darren Waller are under contract. Yes, the AFC West is probably the toughest division in the NFL, but that's even more of a reason to shoot for the moon with a prospect like Richardson. 
OK, hear me out. The Commanders' identity remains on the defensive side of the ball, and they have a very solid unit led by one of the best defensive lines in the league. Offensively, while Washington is making progress, it still needs to find that franchise quarterback. Richardson could be that guy.
The Commanders have a talented trio of wideouts in Terry McLaurin, Curtis Samuel and Jahan Dotson, two good backs in Brian Robinson Jr. and Antonio Gibson and now have one of the best offensive coordinators in the league in Eric Bieniemy. The Commanders will be exciting if they can find the right quarterback.
Pete Carroll showed the NFL world last year that he didn't need Russell Wilson to be successful, as the Seahawks made the playoffs while the Denver Broncos did not. What I like about this situation in Seattle is that Richardson does not have to play right away. Seattle likes Geno Smith, and the veteran has said things are "looking very good" when it comes to a potential contract extension. It's entirely possible that Richardson could sit more than one year. Smith gives Seattle that kind of flexibility. The Seahawks are getting better on defense, have a young back with massive potential in Kenneth Walker III and then, of course, D.K. Metcalf.
The Lions turned the corner last year, as Dan Campbell led the franchise to their first winning record since 2017. Detroit also came close to making the postseason for the first time since 2016, and is clearly on the right track. Campbell likes Jared Goff, but he's not the "future" at the position. Richardson can sit behind him, learn from the veteran signal-caller as well as offensive coordinator Ben Johnson and then take over with Jameson Williams in a year or two. 
While it's probably unlikely, I think the Vikings would be one of the best landing spots for Richardson. For one, Kevin O'Connell is a young offensive-minded head coach who accomplished plenty in his first NFL season. The Vikings also have a great running back in Dalvin Cook, and then arguably the best wide receiver in the NFL in Justin Jefferson. To round it out, Richardson could sit behind Kirk Cousins, and then eventually fill his shoes in what may be a seamless transition. 
Daniel Jones reportedly wants more than $45 million per year? No thanks. How about franchise-tagging Jones, and drafting an even more athletic quarterback who reminds some of former Wyoming gunslinger Josh Allen? We saw what Brian Daboll did with Allen in Buffalo. Maybe the best landing spot for Richardson is teaming him up with the reigning NFL Coach of the Year in New York. While I'm comfortable saying this will not happen, it's pretty exciting to think about. Developing Richardson is the most important thing when it comes to examining where he should land.