Australian Open 2023 Odds, Favorites, Sleepers & Men's betting preview.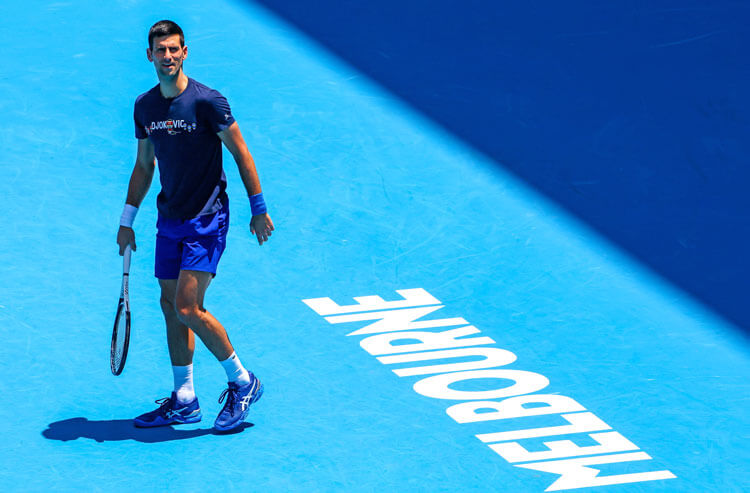 Unlike the last Grand Slam we witnessed, the potential for an exciting first-time winner is slightly depressed and the chances of Novak Djokovic reclaiming his throne in Australia are high.
Djokovic has been allowed back into the country after infamously missing last year's event. The 21-time Grand Slam champion ended his 2022 season in impressive fashion and has already captured a trophy in his first week of 2023.
We won't get to see young Carlos Alcaraz play here, due to an injury he picked up in training — which shook up the Australian Open odds board — while the ever-dangerous Rafael Nadal looks rather tame these days.
Let's break down who has a chance at knocking off Djokovic with our Australian Open betting preview. For more from down under, be sure to check out our Australian Open women's preview.
Australian Open 2023 Men's odds
| Player | Odds to win |
| --- | --- |
| Novak Djokovic | -110 |
| Daniil Medvedev | +550 |
| Stefanos Tsitsipas | +1,400 |
| Nick Kyrgios | +1,400 |
| Rafael Nadal   | +1,400 |
| Felix Auger-Aliassime  | +1,500 |
| Jannik Sinner  | +1,700 |
| Taylor Fritz  | +1,800 |
| Holger Vitus Nodskov Rune | +2,000 |
| Alexander Zverev  | +2,800 |
| Casper Ruud | +3,000 |
| Andrey Rublev  | +3,500 |
| Matteo Berrettini | +3,500 |
| Sebastian Korda | +3,500 |
| Hubert Hurkacz | +5,000 |
| Dominic Thiem  | +5,000 |
| Borna Coric | +6,500 |
| Denis Shapovalov | +6,500 |
| Jack Draper | +6,500 |
| Cameron Norrie  | +6,500 |
| Brandon Nakashima | +8,000 |
| Lorenzo Musetti | +8,000 |
| Frances Tiafoe | +8,000 |
| Karen Khachanov | +8,000 |
| Alex De Minaur | +8,000 |
Odds courtesy of DraftKings, as of January 11, 2023.
Best Australian Open bonuses
If you're signing up for a new sportsbook for Aussie Open 2023 betting, here are two of the best bonuses* available:
A) New users at FanDuel can get a no-sweat first bet of up to $1,000! Sign Up Now
B) New users at DraftKings can bet $5 and get $200 in free bets! Sign Up Now
*Eligible USA locations only. Also, check out our full list of best sportsbook promotions for 2023.
21+. Gambling Problem? Call 1-800-GAMBLER
Australian

 

Open 2023 Men's favorites
Who's hot
Novak Djokovic (-110)
It's been some nine months for Djokovic. After being shut out of two countries and therefore missing two Grand Slam events and two Masters 1000 tournaments, the Serb answered with one of his most impressive seasons yet. He won the most titles on tour despite playing a sparse schedule and would have actually finished the season at No. 2 by just a hair had he gotten points for playing in (and winning) Wimbledon.
That's downright insane to say about someone who played just 14 tournaments, but that's why we're talking about one of the greatest tennis players of all time.
All Djokovic has done is back that season up. He just won the title in Adelaide last week, ripping through a pretty tough list of competitors in Constant Lestienne, Quentin Halys, Denis Shapovalov, former World No. 1 Daniil Medvedev, and Sebastian Korda. Along the way, he dropped just one set.
Djokovic looks to be in incredible form, and that's bad news for the rest of the field, considering he hardly loses in Australia. He's taken home the last three Australian Opens he has played in and has captured nine altogether.
Daniil Medvedev (+600)
Medvedev has the next-best odds, and that's probably the right decision here. After all, he is one of the few who have taken Djokovic out of a Grand Slam in recent years when he took home the US Open two years ago.
He did lose to Djokovic in a rather routine fashion last week in Adelaide, but that probably says more about the way the Serb is playing. Prior to that, Medvedev looked clinical in wins over Miomir Kecmanovic and Karen Khachanov.
With his big serve and flat groundstrokes, he should be rather lethal on these quick courts in Australia with Dunlop balls, which are his favorite. 
Nick Kyrgios (+1,400)
Kyrgios is the man who took out Medvedev the last time we saw the Russian in a Grand Slam, and there's no reason to think he can't do it again in his home country.
Kyrgios is now 4-1 lifetime against Medvedev, ripping through him at the US Open and winning convincingly over the former World No. 1 in a Masters event last season. He nearly took him five sets in last year's Australian Open, too, and likely would have had a decisive break early in that fourth set had it not been for a shanked forehand after a brilliant point.
I will ask you, then: Kyrgios was nearly good enough to go five with Medvedev coming off the proverbial couch last season, and he was playing that match inside of a smaller arena at limited capacity due to the pandemic. What, then, is he capable of this time around?
Kyrgios had the best season of his career in 2022, playing a relaxed schedule but looking dominant at the big tournaments he did show up for. He went to the finals of Wimbledon and performed admirably. He also failed to win the US Open after entering the quarterfinals as the favorite.
The pressure could get to Kyrgios here, but the thought of what he might be capable of in front of a raucous crowd after the season he had last year is enticing. It's also worth noting that he's 2-1 lifetime against Djokovic and has racked up memorable wins over a waning Rafael Nadal. In my opinion, he's got the best shot of anyone not named Novak Djokovic.
Felix Auger-Aliassime (+1,600)
What's not to love about the way Felix is playing right now? For all I just said about 2022 being a defining season for Kyrgios, it was a magnificent one for the Canadian.
After failing to win a tournament in eight consecutive trips to finals, he got the monkey off his back by winning four tournaments towards the end of the season, at one point going on a 16-match winning streak.
Auger-Aliassime possesses all-world talent with a giant serve and powerful groundstrokes, but up until last season, his game was rather wild and erratic. He's harnessing in his weapons, finding control, and it's been torture for the rest of the tour. 
He picked up two wins over Carlos Alcaraz last season, counting the Davis Cup, and other big results over Frances Tiafoe, Holger Rune, and Rafael Nadal, to name a few. He's going to enter this tournament with the most confidence he's ever had.
Who's not
Rafael Nadal (+1,200)
It seems as if we say this before every Grand Slam these days, but Nadal looks pretty bad. Now, he's proven us wrong every single time, but there's only a finite amount of time before he begins to suffer some bad losses at Grand Slams.
Nadal played in the United Cup down in Australia last week — a tournament with stakes that gives out ranking points — and lost both matches he played. He didn't look terrible, but he does enter this tournament on a losing streak.
Obviously, Nadal won last year's tournament, but it wasn't without a bit of good fortune. He suffered heatstroke against Denis Shapovalov but benefited from his opponent handing him the match. 
Again, in the final, Medvedev was in control until his mental demons came back. It's hard to know what to make of Nadal right now, but these odds are accurate.
Australian

 

2023 Men's sleepers
Players to watch
Stefanos Tsitsipas (+1,600)
It doesn't seem like anyone wants to give Tsitsipas a chance to win a Grand Slam anymore after he blew that two-set lead to Djokovic at the French Open years ago. Well, I think it's time we change all that.
Tsitsipas had a weird season last year, winning over 60 matches across all competitions, but at no point did he look as threatening to win a Grand Slam as he did a couple of seasons ago. 
This season, though, Tsitsipas has come out with a chip on his shoulder. He looked downright ridiculous in last week's United Cup, producing one of the highest levels of his career on a hardcourt and winning all four matches. He worked incredibly hard but had to come through some pretty tough competition. It should have him ready to go to war this week.
Matteo Berrettini (+3,500)
One of the men who Tsitsipas victimized at the United Cup was Berrettini, who had also been bringing a pretty high level to the event. The Italian won three straight matches, including two over players ranked No. 11 in the world or higher, before falling to Tsitsipas in three sets and then American Taylor Fritz, who's in the Top 10.
He's always a threat when the courts are playing quick, and few hardcourts will play as quickly as these in Australia when you consider the players will be hitting Dunlop balls. Berrettini made the semifinals here last year and took out some ferocious players along the way. He should have a good chance to achieve that result again, particularly if he can avoid Djokovic's quarter.
Long-shots to avoid
Alexander Zverev (+2,800)
You'd be better off just Venmo-ing me the money. Zverev has been to the final of a Grand Slam and for much of his career has easily been one of the five best players in the world. That's simply not the case right now.
Zverev suffered a gruesome injury at the French Open last year and has made his way back to the court, but he's admitted his movement is not what it used to be. As a result, he's looked very rusty and hasn't appeared very threatening in the few warm-up matches he's taken part in.
Dominic Thiem (+5,000)
Thiem is also an enticing name, given his level of success in the past here in Australia, and while he regained his form towards the end of 2022, it's a stretch to say he could step out on the court right now and do better than taking one set off of Djokovic or Medvedev. You can really make that case for more than those two, but for the purposes of an outright, you want a guy who you feel good about making the semifinals.
Given the fact that he's a wild card, Thiem is going to have a pretty rough draw. There's just nothing about this that feels smart.
Pages related to this topic