Banijay Germany erweitert Entertainment-Gruppe und integriert Endemol Shine Polska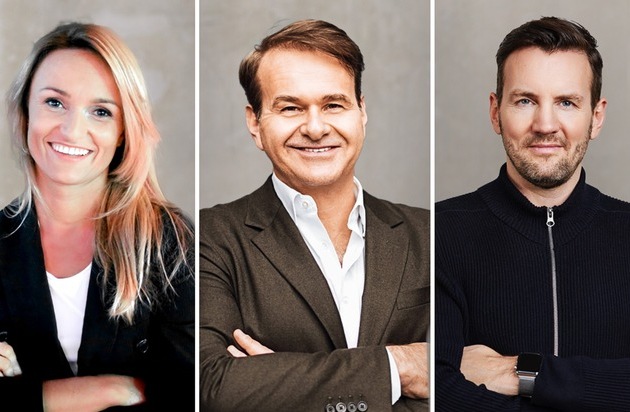 Köln/Warschau (ots)
Banijay Germany in Köln stärkt seine Gruppe unabhängiger Entertainment-Firmen mit der Integration der polnischen Endemol Shine, die ihren Sitz in Warschau hat. In diesem Rahmen ernennt Banijay Malgorzata Perkowska-Czaja zur neuen Geschäftsführung von Endemol Shine Polska. Sie berichtet an Fabian Tobias, der seinen Verantwortungsbereich als Managing Director dadurch weiter ausbaut. Auch die Schweizer Tochterfirma unter dem deutschen Banijay-Dach, B&B Endemol Shine Schweiz, berichtet an Tobias.
Marcus Wolter, CEO und Co-Founder Banijay Germany: "Wir heißen Malgorzata und das Team von Endemol Shine Polska herzlich willkommen bei Banijay Germany. Die Integration ist ein strategischer Schritt, der unsere Beteiligung an der B&B Endemol Shine in der Schweiz ergänzt und unsere europäische Perspektive erweitert. Fabian Tobias wird auch das polnische Label unter unserem Dach stärken und ausbauen."
Malgorzata Perkowska-Czaja, Managing Director Endemol Shine Polska: "Endemol Shine Polska hat sich einen Ruf für qualitativ hochwertige Unterhaltung erarbeitet, und ich freue mich darauf, als Geschäftsführerin wieder in das Unternehmen einzusteigen und gemeinsam unter dem deutschen Dach, neue Möglichkeiten zu erkunden, um das Angebot zu diversifizieren und auf der Leistung in allen Genres aufzubauen."
Fabian Tobias, Managing Director EndemolShine Germany: "Der polnische Markt ist spannend und sehr dynamisch. Ich freue mich auf die neuen Aufgaben und die Zusammenarbeit unserer Labels über die europäischen Grenzen hinweg. Wir haben bereits in den vergangenen Jahren Projekte partnerschaftlich und erfolgreich umgesetzt. Das werden wir intensivieren."
Endemol Shine Polska ist eine Banijay Company und ein führender Produzent von TV-Unterhaltung und Features in Polen. Das Team verfügt über mehr als 20 Jahre Erfahrung in der Produktion von Hit-Shows, darunter lokale Adaptionen der renommierten Marken Don't Forget The Lyrics, MasterChef, LEGO Masters, Big Brother, Your Face Sounds Familiar, All Together Now, You Can Dance und anderen. Darüber hinaus steht das Unternehmen hinter Premium-Scripted-Programmen wie Our Century für TVP 1 und Squared Love für Netflix. Malgorzata Perkowska-Czaja kommt von Rochstar, wo sie ein Jahr lang als Geschäftsführerin für die Entwicklung und Umsetzung der Markt- und Vertriebsstrategien des Labels verantwortlich war. Zuvor war sie sieben Jahre bei Endemol Shine Polen als Director of Non-Scripted Sales tätig.
Über Banijay Germany | Im Jahr 2018 von Marcus Wolter und der Banijay Group gegründet, ist die Banijay Germany GmbH mittlerweile das führende Entertainment-Haus Deutschlands. Zu den bekanntesten Marken zählen "Tatort Dresden", "Schlag den Star", "TV total", "Wer wird Millionär?", "Kitchen Impossible", "The Masked Singer", "Promi Big Brother", "Mein Lokal, Dein Lokal" oder "Kampf der Realitystars" – aber auch namhafte Künstlerinnen und Künstler, Live-Marken wie die "1Live Köln Comedy-Nacht XXL", "Nightwash", das Cologne Comedy Festival, zahlreiche Podcasts sowie MySpass.de gehören ins Portfolio. Banijay Germany ist ein Verbund von über 25 unabhängigen Entertainment-Produzenten und Unternehmen. Zur Gruppe gehören unter anderem Banijay Productions Germany, Good Times Fernsehproduktion, Endemol Shine Germany, MadeFor, SR Management, Only Good People, Banijay Media Germany, Good Humor, die Influencer-Plattform influence.vision und Brainpool samt Tochterfirmen wie unter anderem Brainpool Live, Raab TV, MTS und Cape Cross.
[Logo/Foto zu dieser Pressemeldung erhalten Sie  hier: Fotolink]
Honorarfreie Nutzung für redaktionelle Zwecke und nur im Rahmen der Berichterstattung. Verwendung nur mit vollständigem Copyrightvermerk. Foto/Logo darf nicht verändert, bearbeitet und nur im Ganzen verwendet werden. Es darf nicht archiviert werden. Es darf nicht an Dritte weitergeleitet werden.
Pressekontakt:
Katrin Ahues
Director Communications
Banijay Germany
katrin.ahues@banijay.de
T + 221 6509 5650
www.banijay.de
Original-Content von: Banijay Germany, übermittelt durch news aktuell