Dominic Calvert-Lewin: Everton striker's return to fitness holds key to Premier League survival hopes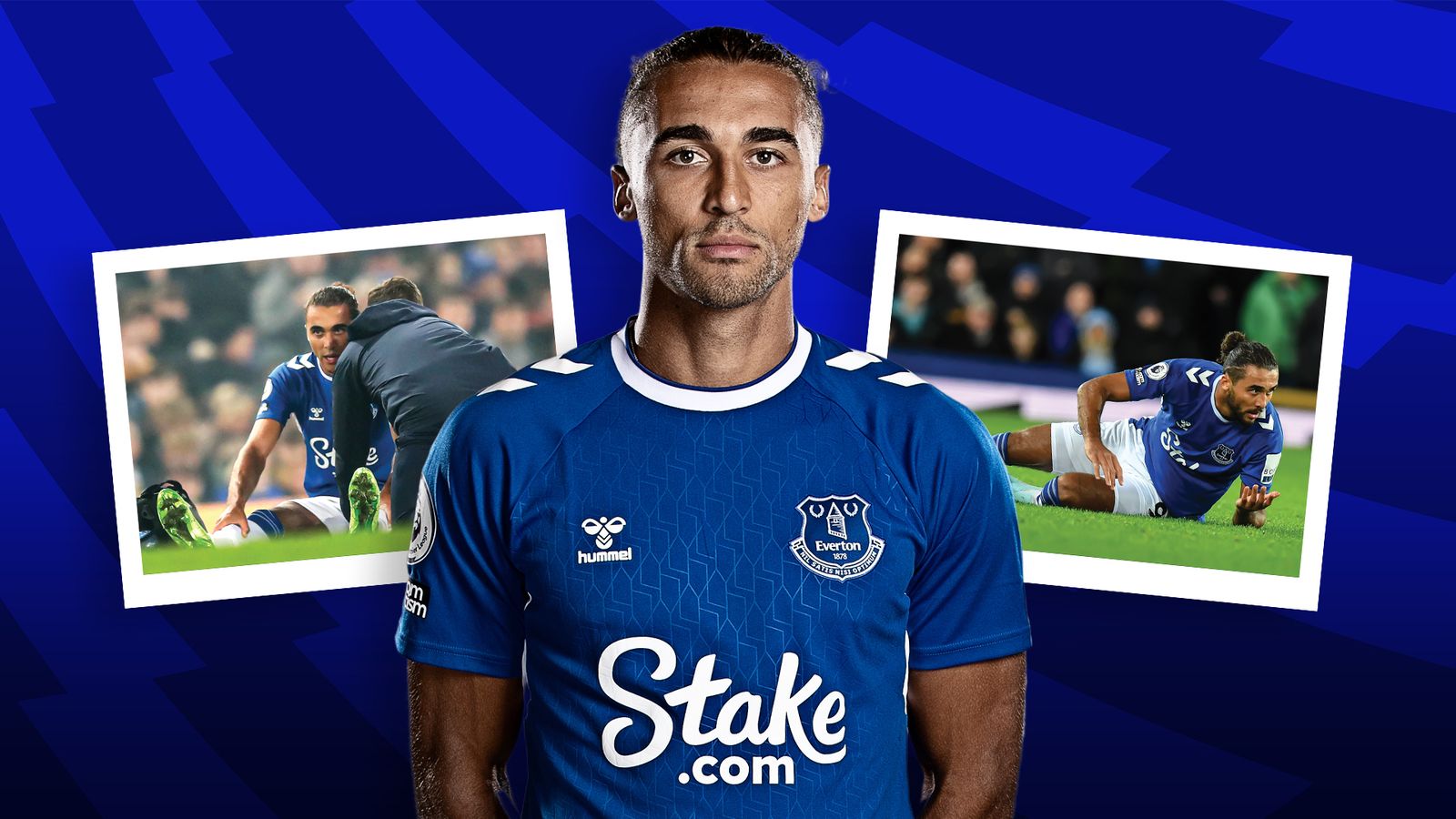 Everton, nine-time champions of England, are a club teetering on the brink. This Sunday's visit to Nottingham Forest, live on Sky Sports, already feels season-defining but the likelihood is they will again be without Dominic Calvert-Lewin.
Sean Dyche's side remain in the Premier League relegation zone, one point adrift of Leeds in 17th. There is still time, but allowing a rival to move seven points clear even in March is unthinkable to the Evertonians who have been pushed from pillar to post.
There was plenty of endeavour, exertion and no shortage of resistance on show in the first half of Wednesday's 4-0 defeat at Arsenal, but the familiar outcome on the road has placed increased pressure on the trip to the East Midlands.

Sunday 5th March 1:00pm


Kick off 2:00pm

How they could do with a fully fit and firing Calvert-Lewin, scorer of 21 goals under Carlo Ancelotti two seasons ago. Since then, it has been one setback after another.
It was in dispatching a penalty against Brighton in August 2021 that the striker's injury problems first arose. It was the third successive game in which Calvert-Lewin had scored, helping Everton sit joint-top of the table.
In an interview with Sky Sports in February last year, the now 25-year-old reflected on what would turn out to be a season filled with frustration as Everton slid down the table.
"There was such a big emphasis on me coming back," he said. "The results not being great just made me want to return and help the team, but I think I set unrealistic expectations of myself and that was difficult to deal with mentally.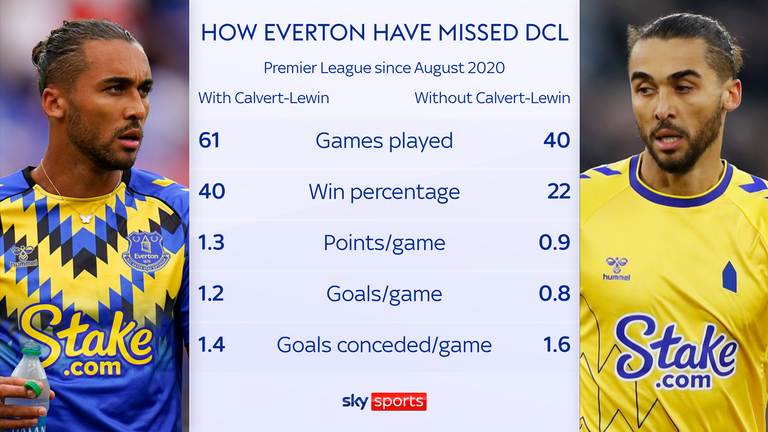 "You underestimate how long four or five months is to have out. You come back in the middle of a season and everyone else is up to speed. I underestimated how difficult it would be."
Whether it be a fractured toe, a quadriceps injury or a troublesome knee, Calvert-Lewin has had to call on the mental fortitude he has built by speaking to friends and family.
In a social media post last May, the striker revealed how 'talking saved my life', having 'endured some of the most difficult times of [his] career and [his] life to date' during an injury-ravaged campaign.
Everton's current desperation to score goals is completely of their own making. Years of mismanagement has placed greater reliance on a talisman who has barely been fit.
Two home wins over Arsenal and Leeds in February acted as a momentum builder but simultaneously highlighted the issues at play as Everton seek to create something sustainable moving forward.
Both goals were scored by defenders. If Everton are to stay up this season, can they truthfully rely on such unlikely goalscorers? The board's failure to provide adequate offensive cover is now coming back to haunt them.
There have been signs of improvement under Dyche – an increase in average touches and passes into the opposition box – but the new manager has inherited an old problem his predecessor Frank Lampard was unable to solve, where the absence of a killer finisher is undermining any significant progress.
Since beating Leeds, back-to-back defeats have dragged the team back into the relegation zone. The performances have largely been consistent with what was produced in those two victories, but a lack of cutting edge and focal point up front has highlighted just why it was so imperative for a striker to be signed in January.
A net spend of over £475m during the Farhad Moshiri era, it is baffling that it has come to successive relegation dogfights. Richarlison's goals, and Everton's passionate fanbase, dragged the team kicking and screaming over the line last season, but those same embattled supporters are far more doubtful of the team's chances of repeating that act of escapology this time around.
Even with the right man now at the helm, Everton's survival hopes hinge on whether they can score enough goals, and that shines the spotlight on the current whereabouts of Calvert-Lewin. Not a press conference goes by without the question being asked.
FREE TO WATCH: Highlights from the Premier League match between Arsenal and Everton

Calvert-Lewin's unspecified length of absence explained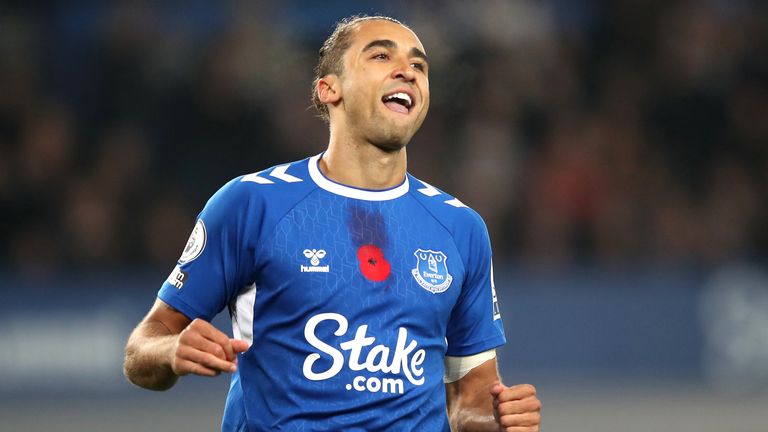 Dyche has been busy assessing whether part of Calvert-Lewin's problem has become psychological. Having been in situ for just over a month, the Everton manager's depth of research has stretched far beyond the medical and sports science departments.
"I've got to learn about his history, his physiological history," he said last week. "I've got to learn what his body will and won't take, which is what we are trying to do now.
"We're speaking to him, the medics, the sports scientists, looking at the stats, training programmes, distance covered, high speed running, how many kilometres in a week he is running.
List of Calvert-Lewin's recent injuries
| | |
| --- | --- |
| Date | Injury |
| August 2021 | Fractured toe |
| February 2022 | Adductor injury |
| August 2022 | Knee injury |
| November 2022 | Hamstring injury |
| February 2023 | Hamstring injury |
"We're also looking at what's his diet like, what's his lifestyle like, what car does he drive, what mattress does he use, how many hours does he sleep a night? That's learning about people. The biggest learning is what is in here [pointing to his head] and that is the hard part.
"I can't do it all one-on-one but I'll get all the information I can and then share it with him. That's the process for every player by the way, not just him."
Before Dyche's first game in charge, that 1-0 win over Arsenal on February 4, the manager showed the England international a reel of his goals to demonstrate just where he wanted his striker to be inside the box, between the width of the posts.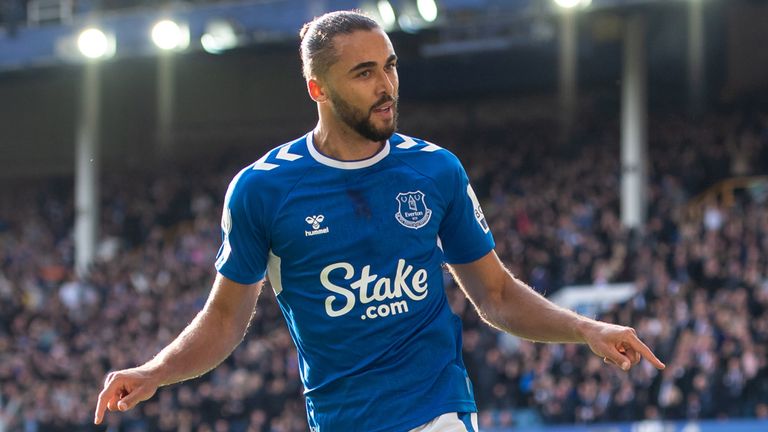 We're looking at what's his diet like, what's his lifestyle like, what car does he drive, what mattress does he use, how many hours does he sleep a night?
By half-time, Calvert-Lewin had been presented five chances before his withdrawal with a hamstring injury, shortly after James Tarkowski's winner on 62 minutes. It has ruled him out ever since and no timescale has been put on his return.
"We'll see," said Dyche when asked if Calvert-Lewin will be available to face Forest on Sunday.
"I think it will be a close call because we've got to get him properly fit. I don't think he has been for a while, so we've got to make sure he's properly fit because we can't put him in for one game and lose more."
Everton are in a catch-22 situation, but it is becoming increasingly perilous. Aggravating the issue now could prove terminal, which is why the club are taking extra caution.
Former Everton striker Kevin Campbell thinks his former side will regret their failure to sign a forward in the January transfer window.

"Some players don't realise until afterwards that they've put so much demand on themselves and they weren't quite ready," continued Dyche.
"We have to align the process of getting the injury right and him completely right so that he doesn't break down and he can keep going.
"I'll take scientific feedback. Equally, you can't just leave a player forever and wait. You can't leave a one-month injury for three months, just to be sure. There has to be a balance."
For how long do you wait for Calvert-Lewin to recover before Everton risk another setback out of necessity?
Over the past seven seasons, the average number of points needed to survive is 35. Currently on 21 with 13 games remaining, Everton need the equivalent of five wins.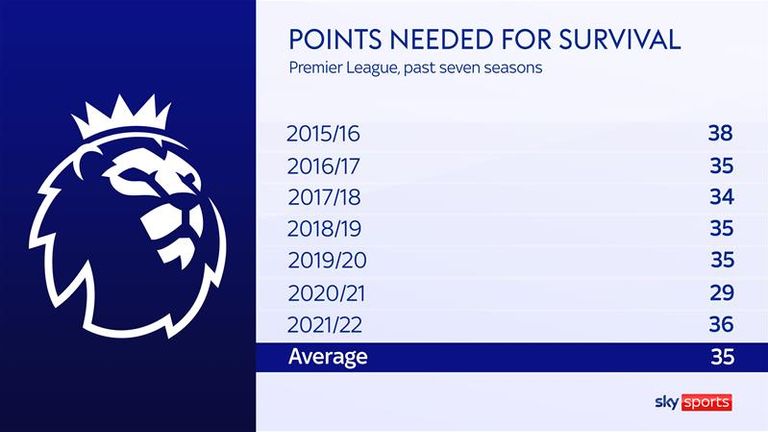 After this weekend's trip to the City Ground, they host Brentford at Goodison Park. For some, it is now or never.
"At home, Everton can perform and they can beat teams," former striker Kevin Campbell told Sky Sports.
"But the away form has been so poor – and it is way before Sean Dyche was at the club. It will come to a point where Dyche is going to have to go for some games.
"Arsenal away is not that time, as you've got to have that discipline which they showed for 130 minutes over two games keeping them quiet, but they will have to go for other games because the goals they've scored, they've relied on defenders.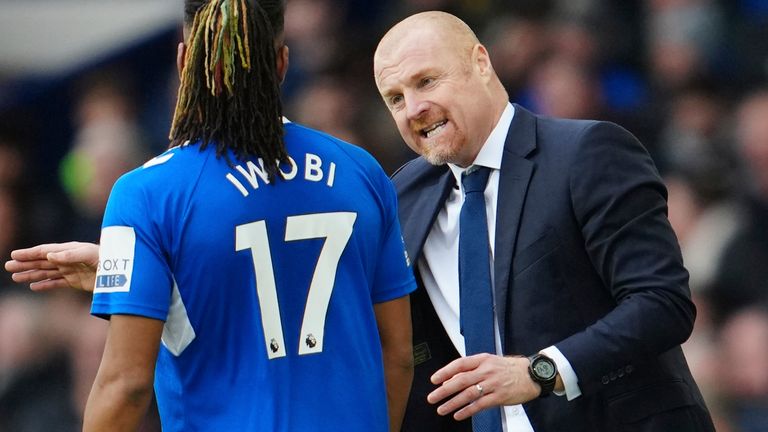 "Where's the goals from midfielders and strikers? Calvert-Lewin unfortunately can't keep himself fit, but I would go with two up top. It may weaken certain parts of the team, but Ellis Simms is back – he's scored goals wherever he's gone on loan.
"He needs a chance. Everton need to win games, not just stay in them. They can then always adjust it to be more defensive once they're ahead."
Everton haven't scored more than once in 15 games, stretching back to the 3-0 win over Crystal Palace on October 22. Calvert-Lewin's only goal of the season set the wheels in motion that day.
Everton striker Dominic Calvert-Lewin was a special guest on MNF in November 2021, in which he explained how he's developed his game to add more goals from inside the six-yard box.

It would prove a false dawn, compounded by Moshiri's false promise that a striker would be bought days before the end of the winter window. The 4-0 defeat to Arsenal means Everton have lost three consecutive Premier League away games without scoring for the first time since March 2015.
"Evertonians look back at the January window and absolutely feel the club missed a trick," added Campbell. "Getting a striker or getting some firepower – that's been missing all season.
"You lose Richarlison, who was in double figures at Everton, and they've lost those goals. You can't now wrap Calvert-Lewin in cotton wool. There's only so much you can do before he needs to get out there and play.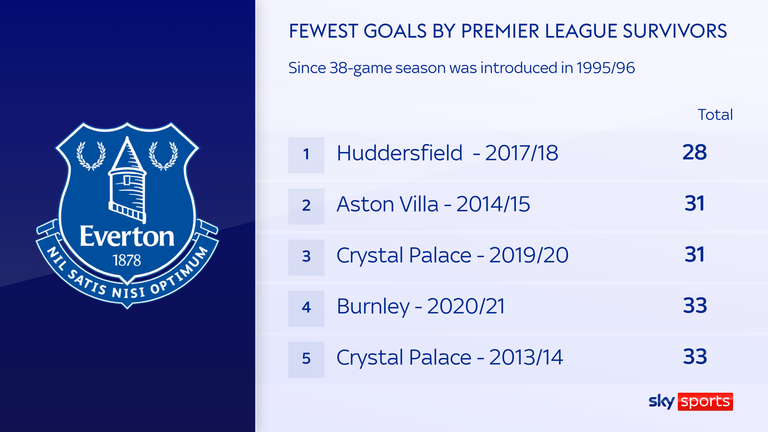 "Neal Maupay is a good player, but he needs to play off a striker who is bigger and can hold up the ball and work with. If they don't score the goals, they'll be in trouble."
Everton have scored just 17 times this season. Huddersfield managed to stay up in 2017/18 having found the net on 28 occasions, but given the team's poor away record, winning ugly would appear Dyche's only option.
Maupay has scored only once since moving from Brighton in August, Simms is still raw at this level while the club's top goalscorer is winger Demarai Gray on three.
Having appeared in just 26 of Everton's last 69 games, no stone can be left unturned to get Calvert-Lewin back in the side.
It was his iconic goal, again at home to Palace, in May last year which effectively kept Everton up.
Calvert-Lewin is faced with yet another another mental hurdle: shouldering the club's hopes of a 70th consecutive top-flight season, blocking out his own demons and trusting his body when he strikes a ball again.
Dyche is helping his striker best put those coping mechanisms in place. This is a football obsessive with an unrivalled willingness to learn.
In the same November 2021 interview, Calvert-Lewin explains how he has managed to score so many headed goals in the Premier League for the Toffees

He will have watched Dwight McNeil's resurgence under Dyche and studied videos of how to attack the former Burnley winger's crosses in his sleep. Those hours won't be viewed as lost to a man who has learned how to be patient the hard way.
"I had some difficult times at the start of my time at Everton," Calvert-Lewin said in that February 2022 interview.
"I am a product of my environment. That has shaped me to have a much thicker skin to be who I am and do what I want to do. I think I have built a layer around me. I don't listen to the noise. Football shaped me into who I am now. It has been my biggest teacher."
Nobody should underestimate Calvert-Lewin's motivation to come back stronger but time is of the essence for Everton. His return cannot come soon enough.
Watch Nottingham Forest vs Everton live on Sky Sports Premier League this Super Sunday; coverage starts at 1pm; kick-off 2pm.