"Drug Test Jerry": NFL World Laughs at Jerry Jones for His "Delusional" Dak Prescott-Tom Brady Comparison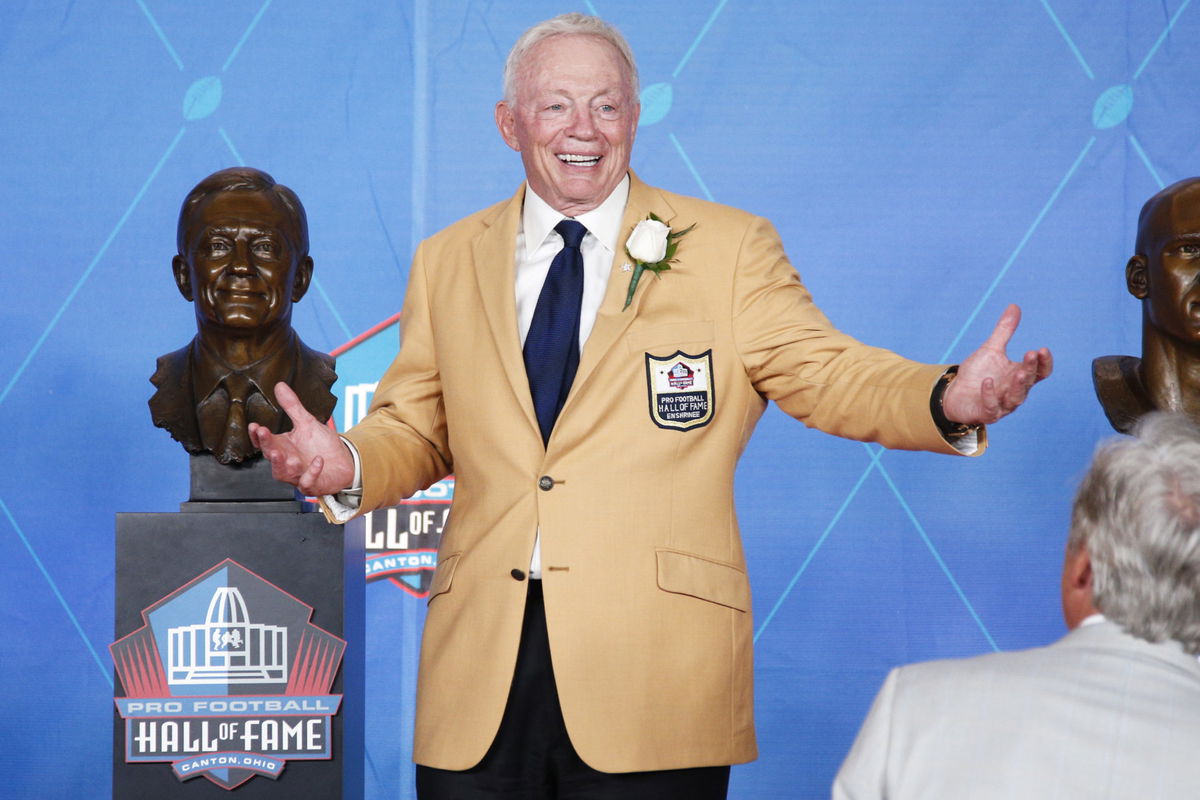 Every team deserves an owner like Jerry Jones. The Dallas Cowboys owner and general manager made headlines during his interaction with Jon Machota of The Athletic. And, this time, it seems like one of his controversial remarks is catching fire among NFL fans. He went on to make statements showcasing his complete and unwavering trust in the squad he has assembled. But, did he go too far with this one?
Jones alluded to making big strides in the upcoming offseason, "Don't dismiss us doing something special with the right veteran free agent. Any place. I would in a New York minute if I think it fits a lot of what I'm sitting here talking about if it fits more than a short-term situation for us." However, one particular comparison drawn by Jerry Jones managed to irk the NFL community the wrong way.
Fans are not taking Jerry Jones's statement lightly
ADVERTISEMENT
Article continues below this ad
Jerry Jones has immensely high hopes for his quarterback, Dak Prescott. He feels that Prescott has all the tools to be one of the top dogs in the league. Jones went on to describe Prescott as every coach's dream. According to the Cowboys' owner, Dak has the support of each and every single one of his teammates, "You see the way that team follows him? Don't touch that."
DIVE DEEPER
Jones however managed to offend NFL Twitter by comparing Prescott to footballing royalty Tom Brady.
"I think just as Brady became, in my mind, better and better and more impactful on how they won as he got into his career, I think Dak really has those qualities, I think he can get better."
#Cowboys owner Jerry Jones compares Dak Prescott to Tom Brady:

"Just as Brady became better and better and more impactful as he got into his career, I think Dak has those qualities, I think he can get better." pic.twitter.com/RVFGu7Fcth

— Dov Kleiman (@NFL_DovKleiman) March 4, 2023
The NFL world was quick to jump on this comment. One user went on to request a drug test of Jones.
While another made a hilarious remark.
It's comparable in terms that they should both retire?

— Footballholics Tik Tok (@Footballholics2) March 4, 2023
Some felt that the comparisons were indeed far-fetched.
Nah man people shouldn't be comparing anyone to Brady about anything he's 1 of 1 if not for the giants beating them twice he'd have 9 super bowls like it's unfair to do that

— Nick Rembert (@veNdetta_ICK21) March 4, 2023
Come on Jerry…your talking about Tom Brady

— ✭ Frank ✭ (@epdatank34) March 4, 2023
There is no comparison between both qbs. But Jerry jones tried

— Chris in Vegas (@lame_old_guy) March 4, 2023
One individual however tried making sense of the situation.
C'mon Dov this isn't comparing him to Brady stop headline baiting

— PhillyBirdsCountry (@birdscountry) March 4, 2023
ADVERTISEMENT
Article continues below this ad
The comparisons were not at all well received as people just went back to drop some of Brady's achievements as a way to get back at Jerry Jones. No matter how we look at it, the fact is that Jerry Jones has decided to give Dak Prescott the 'keys' to his team, and it's only a matter of time before we find out the legitimacy of this decision.
A recipe for success?
It has been twenty-seven years since the Dallas Cowboys made it to a Super Bowl game. Jerry Jones however seems determined to change that.
ADVERTISEMENT
Article continues below this ad
With the current roster, the younger guys need to step up and Jones agrees, "You've got to have young, talented players. That doesn't necessarily mean they're the first- or second-round picks, but they're players that can execute, that can play the role, but you've got to plan on playing them. There is no getting around it." Can they change their fate this time?
Watch This Story: "I get this 100%": Jonathan Owens' future wife Simone Biles can relate to Dallas Cowboys' linebacker going through anxiety