Glover Teixeira makes tactical Jon Jones vs. Ciryl Gane prediction | DAZN News US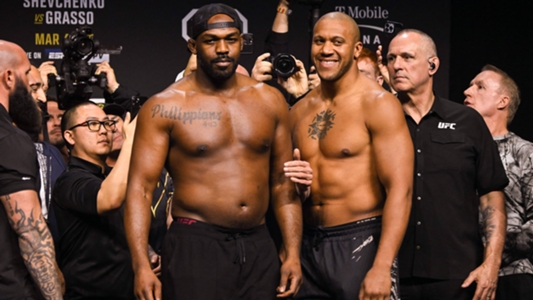 Jon Jones and Ciryl Gane meet for the vacant UFC heavyweight title on Saturday night.
Former UFC light heavyweight Glover Teixeira has made his prediction for the UFC 285 main event clash between Jon Jones and Ciryl Gane. 
The pair meet on Saturday night in Las Vegas for the vacant UFC heavyweight title in what will be Jones' first fight in three years and Teixeira is backing the American to get the job done. 
"We are with Jon Jones, pretty much the whole team at Teixeira MMA Fitness," said Teixeira who was speaking in his role as a Stake.com ambassador.
"I think it is great for everything; the sport, for Jon Jones to come back and win the UFC heavyweight title.
"He has taken three years off so you have to consider how he is going to come back, but he seems focused and he is a very smart guy."
During his time as a dominating force in the UFC's light heavyweight division, Jones' wrestling ability saw him tower above the rest and look unbeatable, and Teixeira believes the 35-year-old's skills on the mat will once again be the difference at the T-Mobile Arena. 
"I think his wrestling is going to make the difference. I'm not going to say a knockout, it will be either a submission or a decision."
Fans in Germany, Austria and Italy can watch UFC events live on DAZN, and DAZN subscribers in most parts of the world can also enjoy a multitude of Professional Fighters League (PFL) events live, including the launch of the PFL Europe series beginning March 25 in Newcastle.