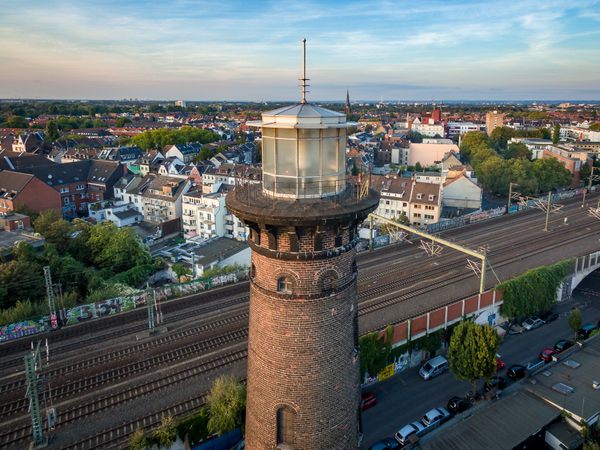 Gliding into Cologne's train station, you might be excited to see the city's towering Gothic cathedral or the beautiful iron Hohenzollern Bridge. But seeing as Cologne is some 250 kilometers from the ocean, it might be surprising to see a lighthouse sticking up from the roofs of an urban neighborhood. The Helios lighthouse sits in the Ehrenfeld neighborhood northwest of the city center. The Rhine River, with its many freighters and cruise ships, does flow through Cologne, but that's not why the lighthouse is here.
The lighthouse and surrounding factory complex were owned by Helios AG, a German pioneer in the electrical business, founded in 1882. They manufactured electrical equipment for lighthouse beacons and other signaling technology and naturally needed a test model. The Helios lighthouse served this role well, and has never served as a navigation marker. It was built between 1894 and 1895, replacing a smaller version on the same site. The lighthouse itself measures 24 meters but uses a workhouse as a base, extending the total length by another 20 meters. It originally had a large inscription of the company name "Helios Elektricitäts Akt. Ges."
Helios comes from the name of the ancient Greek Sun god. Helios AG produced equipment for the vital Kiel Canal, the Borkum Lighthouse, the Wangerooge Lighthouse, and many others, shaping the suburb of Ehrenfeld. The company folded in 1930 but the lighthouse has remained as a reminder of the early years of industrialization and as a proud symbol of a working-class neighborhood. The street itself is even named "Heliosstrasse." Its beacon was extinguished at the start of World War II, and despite the heavy destruction of Cologne by Allied forces, the lighthouse remained standing.
It was listed as a protected memorial (Denkmalschutz) in 1986, and began to shine once again. In 1996 the lighthouse was renovated in the style of the original. It is one of very few inland lighthouses in Germany. In more recent times, it has been used as an art exhibition space and as a radio tower, participating in the International Lighthouse and Lightship Weekend.