"Huge Mistake": Bears Final Decision on QB Justin Fields and #1 Pick Makes NFL World React – EssentiallySports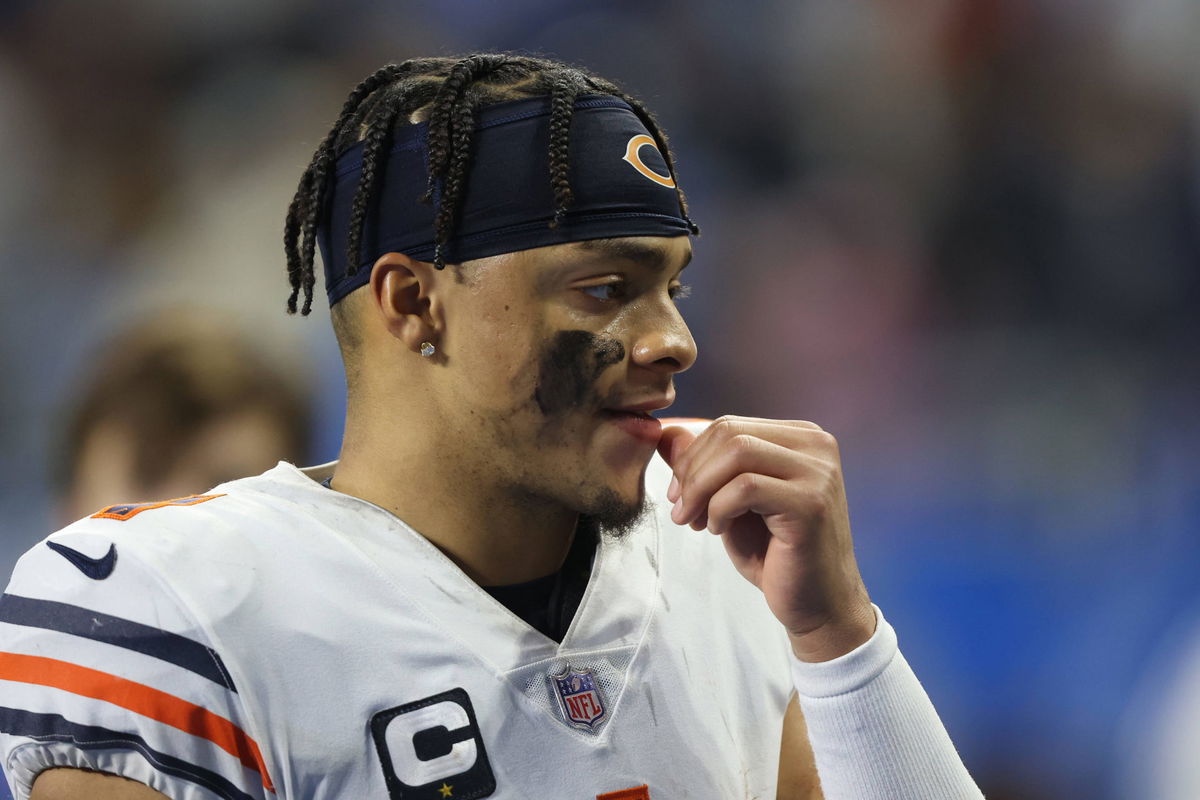 The Chicago Bears may not need their 1st overall pick in the 2023 NFL draft after the organization decided to continue in the Justin Fields direction. However, this year's QB prospects are catching everybody by surprise with their skills and talent on the field. And many in the NFL world think that it could be a disastrous call for the Bears, considering the quarterback options in the 2023 class.
During his 50-minute interview with Peter King of Pro Football Talk's Football Morning in America, Bears General Manager Ryan Poles expressed his desire to use the attractive draft picks to build a squad for the future and not go after any new QB options like Bryce Young.
The Bears are keeping Justin Fields in the pocket
ADVERTISEMENT
Article continues below this ad
"We've got to see it through," Poles said about the Bears sticking with Justin Fields. Fields only passed for 2242 yards and 17 touchdowns in a dismal 3-14 season for the one-time Super Bowl-winning franchise. However, the 11th overall pick from the 2021 draft excelled in the rushing game, running for over 1100 yards with the ball, and an additional 8 scores.
DIVE DEEPER
And instead of replacing Fields, Poles plans to build around him by trading the first pick for a major package involving a 2024 and 2025 first-round selection. The QB's fans were pleased with the announcement. However, the response wasn't entirely unanimous.
No way really?? Twitter experts told me the bears were going to draft Bryce

— •🇲🇽 (@bojackpick) March 6, 2023
We just hearing the same stuff at this point until something happens

— Tre Davis (@TreRighteous) March 6, 2023
This made a grown man cry happy tears today

— Connor Delaney (@connordelaney30) March 6, 2023
"I believe in building something to sustain success for a long period. To me, that's gotta be through the draft. This is just a chance to load up this team up with a bunch of opportunities and flexibility to do that. With this opportunity with the first pick, it feels like an opportunity to kind of heal some of the things that happened before and become a really good team," Poles said from the 19th floor of his hotel in Indianapolis, where he was attending the 2023 NFL Scouting Combine.
The Chicago Bears want to make the trade at the perfect time
2023's talented quarterback bunch gives Chicago's first-pick trading card much more leverage. Alabama's Bryce Young, Ohio State's C. J. Stroud, and Florida's Anthony Richardson are all likely to go among the first 5 picks on April 27, when the first round kicks off. And Ryan Poles wants to pounce at the right moment for a franchise desperate to trade. The Colts are likely candidates, in their hunt for Stroud.
Huge mistake, should draft Bryce instead

— Brandon Payne 🥋 (@brandonwxil) March 6, 2023
ADVERTISEMENT
Article continues below this ad
If Bryce young ends up being better the bears made the wrong decision

— Martínez Chiefs (17-3)🏆CHAMPS (@Martinez050408) March 6, 2023
"I could carry this all the way until we're on the clock the night of the draft. But then there are teams that want some certainty," Poles added.
ADVERTISEMENT
Article continues below this ad
WATCH THIS STORY: Inside Lewis Hamilton's lavish $50 million Tom Brady condo
Georgia defensive lineman Jalen Carter is a likely candidate on the Bears' radar as a top-5 pick, according to Mel Kiper's ESPN mock draft. Also, since they are carrying on with Justin Fields, Chicago will look to strengthen their o-line after their quarterback was sacked 55 times last season, the highest in the league.