I Don't Feel Guilty for Checking My Bags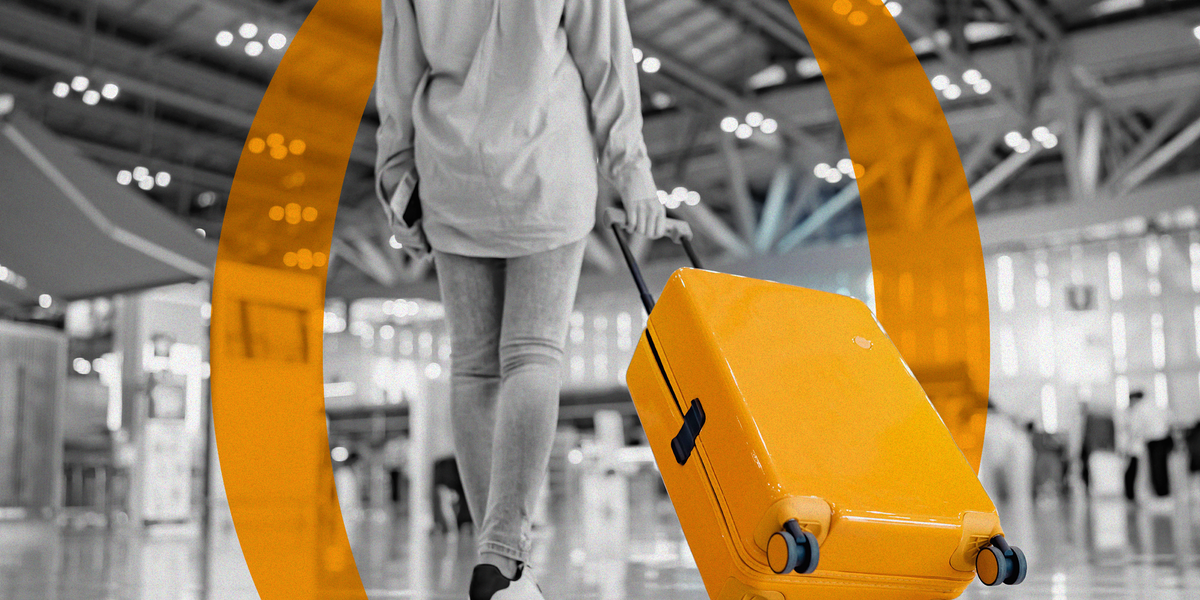 It was almost 10 p.m. In less than eight hours, my family and I would be on a plane to Florida, where we'd board a cruise ship that would whisk us off to the Caribbean for seven glorious nights. I didn't start packing until the last minute, which was typical for me.
I'd mentally planned my outfits, piling my vacation clothes in a corner of my bedroom as I decided what to wear. I was about to take my third pass at getting my stuff in my bag, and I was sweating a little. I have a 22-inch hard-sided rollaboard suitcase. For years, my travel philosophy had always been "If it doesn't fit in this bag, I don't need it." I'd arranged all my stuff for the cruise in this bag twice and couldn't get it to zip. I blamed the great Frankfurt Airport incident of 2004.
On a solo trip to Germany, I checked two bags and brought a backpack, garment bag, and purse. On arrival, I couldn't find a luggage cart, so I slung my garment bag and purse across my chest bandolier-style and hoped the weight of my backpack behind me provided enough counterbalance so I wouldn't topple over. I also chose to wear 3-inch kitten-heel slingbacks, another tale of lousy travel decisions. In my defense, they were super-cute shoes.
While I have great memories of that trip, struggling with my bags is forever burned into my mind. I swore I'd never overpack again. My cruise clothes not fitting in my rollaboard felt like failure. The troublemakers were a voluminous black skirt and my running shoes. I wanted the skirt because it went with three different tops and the running shoes because, well, cruise food. "Why not just check a bigger bag?" my husband, the voice of reason, asked me.
Stubbornly, I snapped back at him that I refused to overpack. It quickly occurred to me how dumb that sounded. I was clinging to the idea that I must play Tetris with my clothes because of what happened in Germany nearly 20 years ago. I convinced myself that forgoing any checked baggage was some sort of badge of honor. I realized that one skirt and a pair of sneakers didn't equal overpacking. I grabbed the bigger suitcase.
Nowadays, I blissfully check my bag and don't feel bad about it. Neither should you. For the past several years, minimal packing has been a massive trend online. Do an internet search for "carry-on only," and you'll find hundreds of articles about streamlining packing in order to entirely avoid checking a bag. It's possible to go down a veritable rabbit hole of packing cubes, vacuum sealing, and folding strategies.
If you're stressing out about fitting your belongings into a small suitcase, I'd like to offer another perspective to help you feel better about checking a bag or taking a larger suitcase — or even suitcases if need be. Travelers do, in fact, have options besides stuffing everything into one bag that fits in an overhead compartment and another smaller one that can be shoved under a seat. Sure, most U.S. airlines charge about $30 per bag, although elite status with an airline, buying a ticket for a premium cabin, and co-branded airline credit cards are ways to avoid those hefty baggage fees.
If you're like me and enjoy bringing different options for outfits or feel more comfortable having that just-in-case change of clothes tucked in your bag, only bringing a carry-on is emotionally limiting. There are many other reasons why checking a bag just makes sense. Here are a few:
Holiday gifts. If you're traveling this season, you'll probably pack presents in your luggage. Don't sacrifice time with family and friends to navigate the last-minute shopping crowds. And shipping can have its own set of issues, especially around the holidays. Your gifts may arrive after you leave. No one loves that.
Cold weather. You'll likely need to pack bulkier clothes when headed to a chilly climate. Carry-on-only advocates suggest wearing your heaviest items, but being too warm in flight can be an issue. Determined not to check a bag, I once wore ski pants over jeans and leggings during a five-hour flight. I don't recommend it.
Special equipment. For people who need to haul any kind of special equipment, such as a CPAP machine or breast pump, they will have less room in their carry-on luggage for personal items. Anyone who has traveled with children knows that diapers, wipes, and other paraphernalia occupy a lot of space. For those golfers, skiers, and surfers out there, I don't need to go any further.
Mobility issues. If you can't lift your bag over your head, how will you get it into the plane's overhead bins? It's not the flight attendant's job to stow your luggage. A kind stranger usually steps in to help, but it can be stressful to rely on someone else.
Personal size. What if you don't wear a size 2? Larger people have bigger clothes and shoes. Carry-on luggage only might be a cinch if you're petite. Not so much for plus sizes. If you are a larger person, you should not have to contemplate bringing fewer outfits because of your dimensions.
I've been the checked-bag gal on a group trip with carry-on-only diehards. The wait at the baggage claim was peppered with good-natured ribbing about my huuuge suitcase and how we'd already be out of the airport and on our way to having fun if I hadn't packed my entire closet. If you're going to be in such a situation, you have to be able to let those comments roll off your back as easily as your bag will eventually roll onto the carousel.
Taking a bigger bag or checking your luggage doesn't make you a high-maintenance tourist, just as the ability to squeeze all your stuff into a tiny bag doesn't make you a travel ninja. Being a carry-on snob is a real thing. You know who they are because they are quick to brag about never checking a bag. They believe that anything that doesn't fit in their bag is excess.
One of the most persuasive arguments for the carry-on-or-bust crowd is that if you don't check your bag, an airline can't lose it. That's true. Many things can go wrong when you travel. I understand I run the risk of a misdirected bag when I check it. I assess the risk and move on. I do recommend using Bluetooth trackers. If the airline (or you) loses your bag, a tracker quickly answers the question of where it's located.
Ultimately, a one-size-fits-all approach does not always fit all; the same can be said for how we travel. Whether you identify as a minimal or maximal packer — or somewhere in between like me — it's fine to change things up and pack more or less. The next time you're contemplating bringing that cute new jacket or that extra pair of comfy shoes, grab 'em. It doesn't mean you're a bad traveler.
---
Jill Robbins is a San Antonio-based writer and U.S. Air Force veteran who has contributed to TripSavvy, Business Insider, The Washington Post, The Huffington Post, and San Antonio magazine. Follow her on Instagram at @rippedjeansandbifocals.
Get Shondaland directly in your inbox: SUBSCRIBE TODAY