Job advert for cannabis users in Germany falsely linked to Indian state government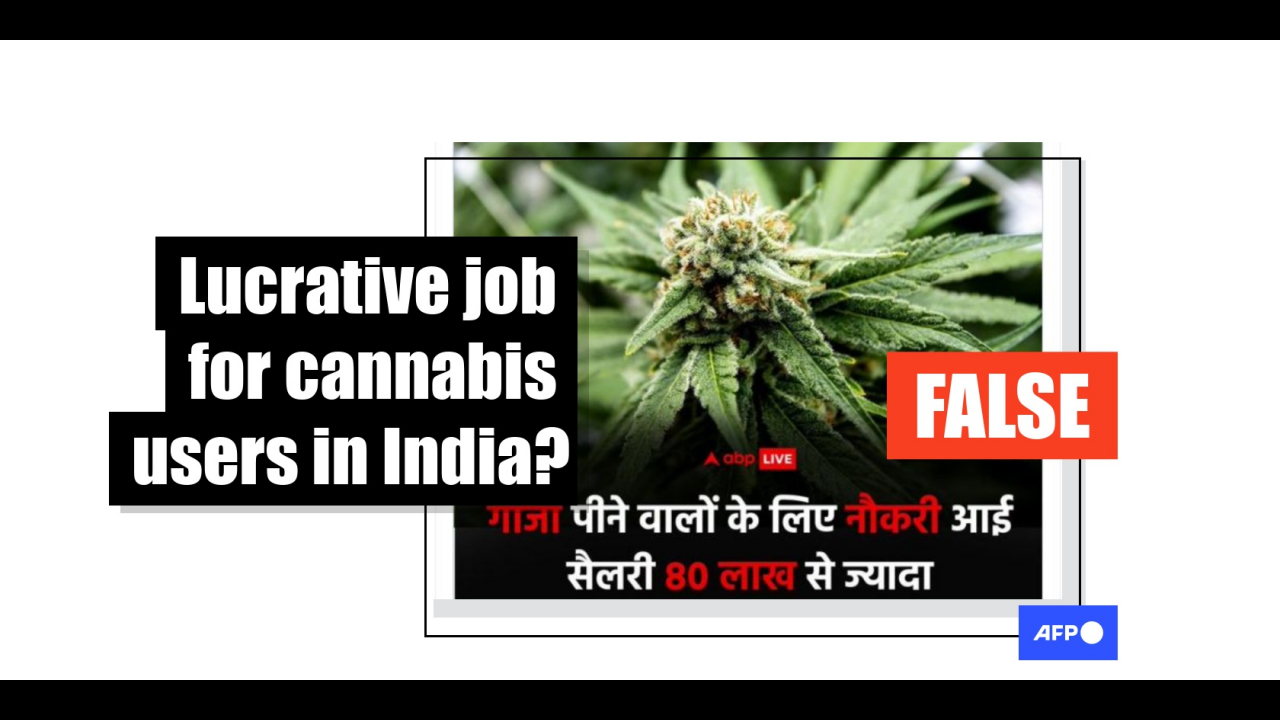 Copyright AFP 2017-2023. All rights reserved.
A regional opposition party in India has falsely linked a news report about a lucrative job offer for cannabis users to the ruling government in the northern state of Uttar Pradesh. But the job — which promises a hefty salary for someone to check the quality of medical marijuana — was actually advertised for cannabis patients in Germany.
"Anything is possible under the rule of Yogi Adityanath," reads a Hindi-language tweet posted on February 16 by the Samajwadi Party.
The Samajwadi Party is the political opposition in India's most populous state Uttar Pradesh, currently run by firebrand monk Yogi Adityanath from the Hindu nationalist Bharatiya Janata Party.
The tweet shares a picture of a cannabis plant with Hindi text that says: "New jobs are being offered to those who consume marijuana, a salary with more than 8 million Indian rupees ($97,100)".
Screenshot of the false post taken on February 24, 2023.
India's narcotics drugs law prohibits the sale and consumption of certain parts of the cannabis plant excluding the leaves. However, the states have the power to regulate the sale and production of cannabis.
Similar posts were also shared on Facebook and Twitter.
Comments on the posts indicate some users believed the job is being offered in India.
"The government should provide real jobs instead of these," one wrote.
"Anything is possible if Yogi is ruling the state," said another.
However, the job was actually advertised for German cannabis patients.
German job advert
Keyword searches on Google found the image has been taken from a report published by the Indian media organisation ABP News on Facebook on February 16.
The post reads: "A German company has advertised a job for marijuana smokers. The company is ready to pay up to 8 million Indian rupees.
"Cannamedical is looking for a candidate that can taste its cannabis-made products. What do you think of this, please drop a comment."
Below is a screenshot comparison of one of the false posts (left) and the ABP News report (right):
Screenshot comparison of one of the misleading posts (left) and the ABP News report (right)
Further keyword searches found the German pharmaceutical firm Cannamedical posted the job advert on its website here.
The advert says the job is based in the German city of Cologne and requires a "cannabis patient in Germany".
The successful applicant would be employed to provide advice on purchase and supply chain management and evaluate the quality of medicinal cannabis.
German publication Bild reported on the job posting on February 12.
The report said the company was willing to provide an annual salary of up to 100,000 euros depending on the candidate's qualifications.
The Uttar Pradesh government has not responded to multiple requests for comment.
As of March 3, 2023, AFP did not find similar job offers being advertised by the state.