"Major L": NFL World Cannot Fathom Carolina Panthers' $800 Million HQ Being Torn Down After Project Deemed a 'Failure'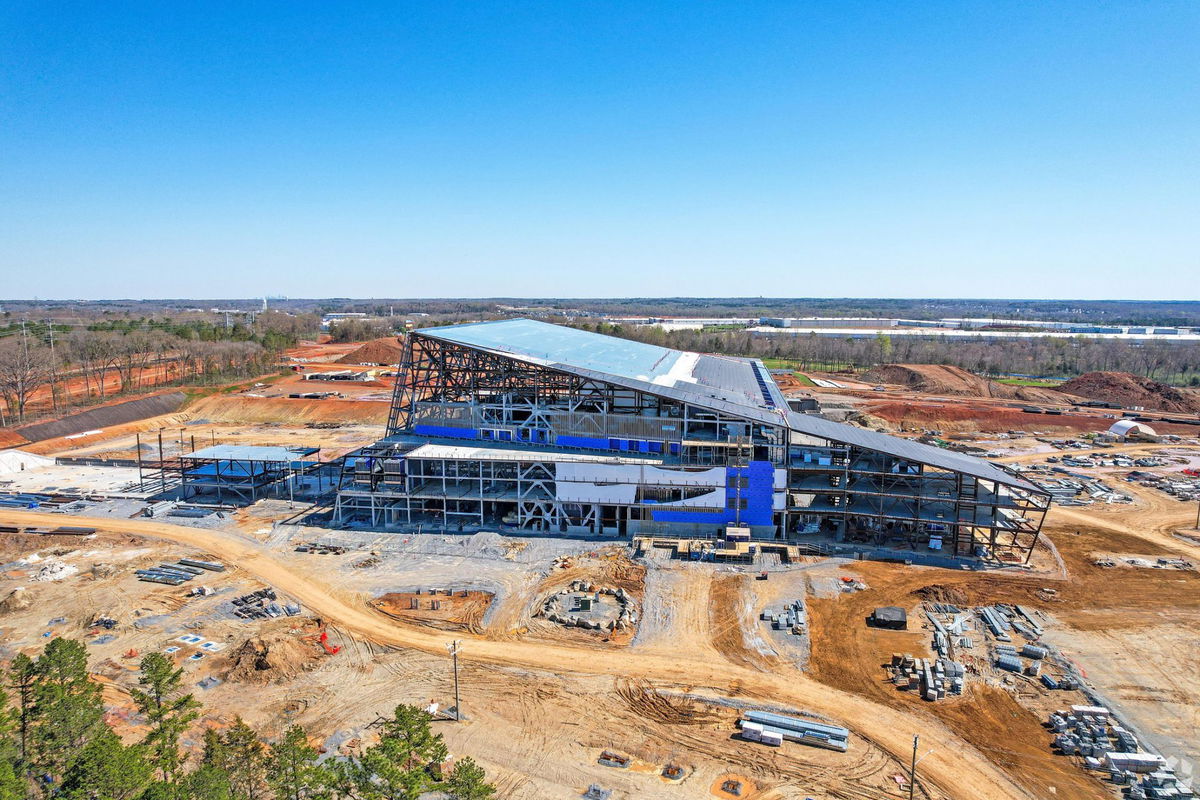 The Carolina Panthers have remained on the unlucky side this season. Baker Mayfield turned out as a bust, and the franchise lost Christian McCaffrey in a trade. But more troubles have been encircling them recently. The franchise's incomplete structure in Rock Hill, South Carolina, would undergo demolition. The NFL fans are calling out the Panthers' mega failure.
The Cardiac Cats had a new headquarters in Rock Hill, South Carolina building. The Building was at a 245-acre site visible from Interstate 77 and Mount Gallant Road. But they did not complete the structure as a franchise-owned firm, and GT Real Estate went bankrupt. The $800 Million facility remained in a half-finished condition until now.
The panthers' dream project is going to dust
ADVERTISEMENT
Article continues below this ad
After several legal troubles and halted construction, Rock Hill city has begun demolishing the Panthers' incomplete facility. The site included the franchise's headquarters and a practice facility. But now, everything will settle to dust. Interestingly, the demolition work is free of cost, but the company would keep the steel and remaining materials.
After the news picked some heat, the NFL fandom kept their thoughts on the situation. Several of them had stern words for the franchise's monumental loss.
DIVE DEEPER
One user said, "Sheesh! Major L."
Another user commented, "South Carolina politicians screwed David Tepper!"
This user responded, "They got that far in building and stopped it?? Something not adding up."
Moreover, this user said, "Damn shame they rather spend it on the MLS team."
This user commented, "Damn it was a dope ass design too. "
Another user said it to be "A construction nightmare."
But this user saw it as a "New Avengers facility."
Apart from the incomplete headquarters, the franchise lost a revered figure as well.
Carolina Panthers founder dead at 86
The Carolina Panthers recently mourned the loss of former franchise owner and founder Jerry Richardson. He peacefully passed away at age 86 at his home in Charlotte, North Carolina. Richardson was among the league's most influential owners until allegations encircled him, which led to him forcefully selling off the team.
ADVERTISEMENT
Article continues below this ad
The Panthers acknowledged the death with owners Nicole and David Tepper, sharing their thoughts. They shared, "Jerry Richardson's contributions to professional football in the Carolina's are historic. With the arrival of the Panthers in 1995, he changed the landscape of sports in the region and gave the NFL fans here a team to call their own. He was incredibly gracious to me when I purchased the team, and for that I am thankful."
ADVERTISEMENT
Article continues below this ad
The unified NFL has come forward to share positive thoughts on the departed soul.
Watch This Story: Can superstar quarterback Aaron Rodgers' massive decision change the fate of Green Bay Packers