Man Utd: Erik ten Hag's tactics analysed ahead of Liverpool showdown at Anfield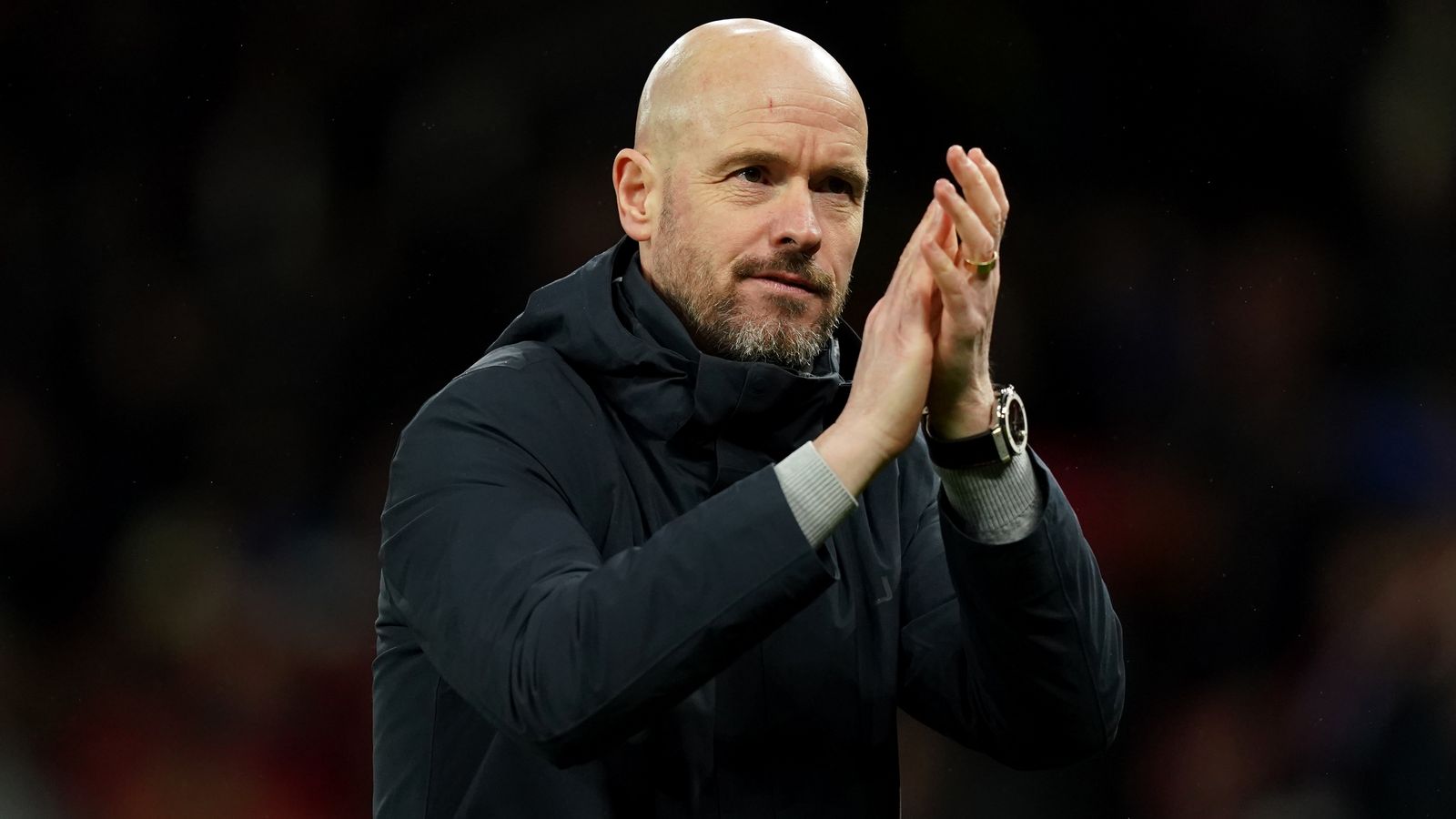 Manchester United are a team transformed under Erik ten Hag – but just how has the Dutchman achieved his success tactically at breakneck speed?
For the first time – in a long time – positivity surrounds the club, instead of opinions on problems. Ralf Rangnick often highlighted issues at the club, Ten Hag appears to be fixing them.
Before Rangnick, the team was heavily reliant on counter-attacks or roaring back to rally and win games from behind under Ole Gunnar Solskjaer – relying on a few players to create something out of nothing.

Sunday 5th March 4:00pm


Kick off 4:30pm

However, Ten Hag has transformed United into a multi-faceted team, capable of shape-shifting to win games in more ways than one.
Manchester United manager Erik ten Hag says his team are full of confidence ahead of their huge fixture with Liverpool at Anfield

Possession-based 3-1-6 formation
Games: Everton (a), Nottingham Forest (h), Bournemouth (h), Leicester (a)
The primary function of the 3-1-6 formation gives United the onus and opportunity to create space wide by having three players at the back, a single lone midfield pivot to distribute the ball whilst six players occupy the opposing team's defensive line both centrally and out wide – to create space by moving and dragging the defence out of position.
This is the style of play Ten Hag frequently deployed at Ajax, to break down teams in low blocks with every player behind the ball.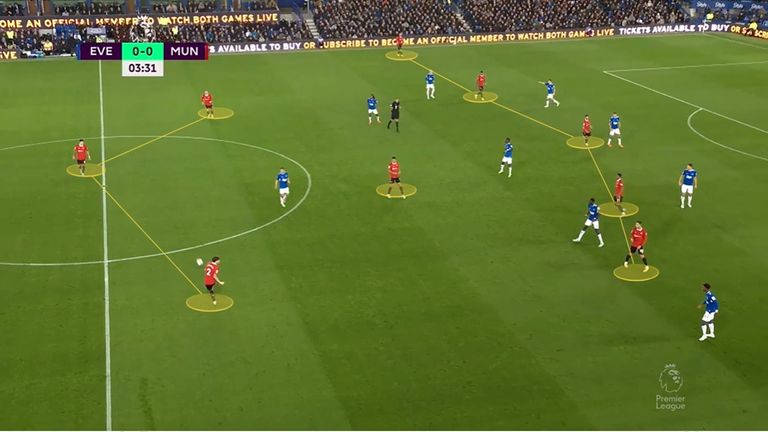 We saw this against Everton in the image above, building up in a back three, one midfielder in the centre – with the rest of the players pushed up.
Manchester United manager Erik ten Hag has played down the chances of his team winning the quadruple this season even after their Carabao Cup win

The back-three personnel changes, but in this case Victor Lindelof, Lisandro Martinez and Christian Eriksen take up the positions, which means Luke Shaw can push up wide left with Marcus Rashford becoming inverted, tucking in slightly, creating space wide for Shaw.
On the opposing wing, Diogo Dalot has tucked in as an inverted full-back in midfield – leaving space for Antony (out of picture).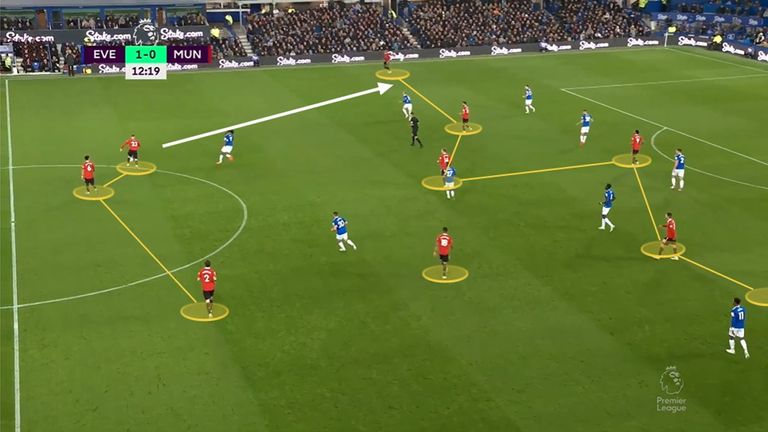 On other occasions, it might be Shaw or Dalot dropping back to form the back three, with Eriksen pushing up to form a part of the staggered 'six' – as long as the shape and formation remains the same with players rotating positions to create the necessary sequences.
In the move below, Antony drags full-back Vitalii Mykolenko wide to create space between Mykolenko and Tarkowski. As an inverted full-back, Dalot can play a quick one-two with Casemiro and dart into the space Antony has created.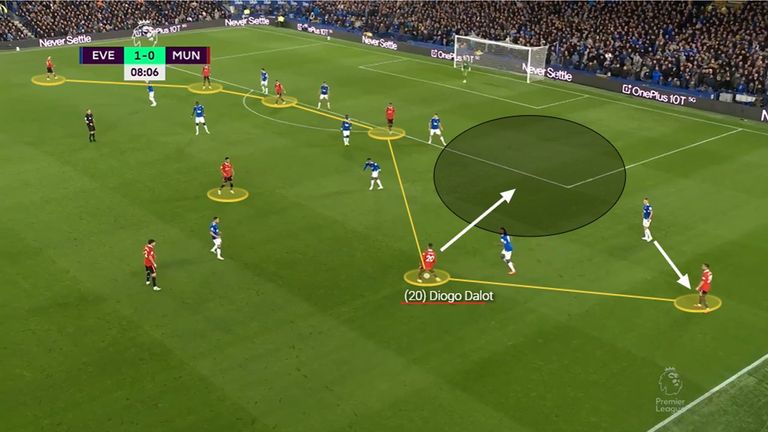 The other Everton players are also occupied by United's formulated 'six', with Rashford and Martial central and Fernandes hovering. United look to occupy Everton's backline man-for-man and spaced out. On the left side, you can see below how Everton have been dragged to Antony's flank – leaving Shaw free if Dalot opts for a switch.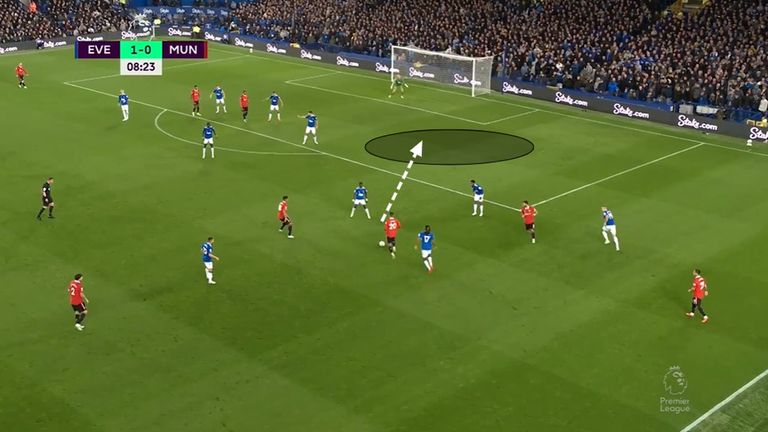 As seen below, the wide forward (Antony) and full-back (Dalot) can also interchange positions to create space.
With the wide winger and inverted full-back attempting to drag the opposition wide, a team-mate is usually also offering an option centrally and drawing opponents to him, in this case, Casemiro.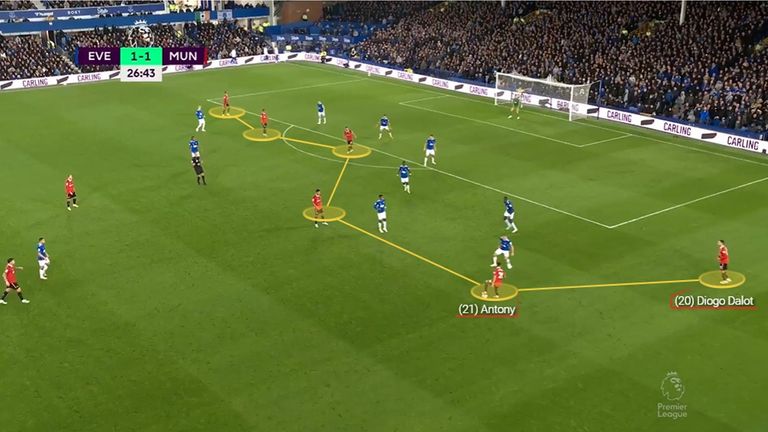 The midfielders are drawn to the centre. Other players who form the front 'six' can also do this, as Fernandes or Martial drop in to link the play, but, most importantly, drag players with them – to create space for team-mates.
We take a look back at some memorable moments between Liverpool and Manchester United at Anfield

Transitions and man-to-man pressing
Games: Man City (h), Arsenal (h), Fulham (a), Chelsea (a)
United have typically built possession through the middle against 'Big Six' sides under Ten Hag, ceding possession but covering in central areas, man-to-man – to prevent the opposition from funnelling distribution smoothly from defence to attack.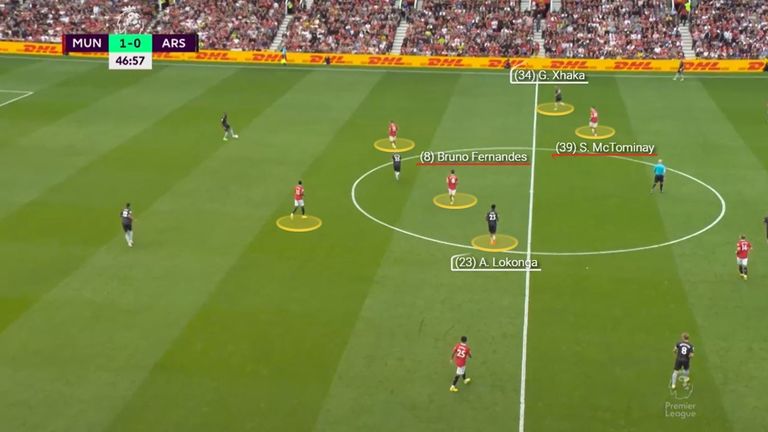 Below, United cut off Arsenal's central passing lanes, with Scott McTominay sticking close to Granit Xhaka, Bruno Fernandes picking up Albert Sambi Lokonga. Meanwhile, wingers Antony and Jadon Sancho tuck in narrow to maintain a compact shape, with Rashford typically pressing whichever centre-back receives the ball or plays out.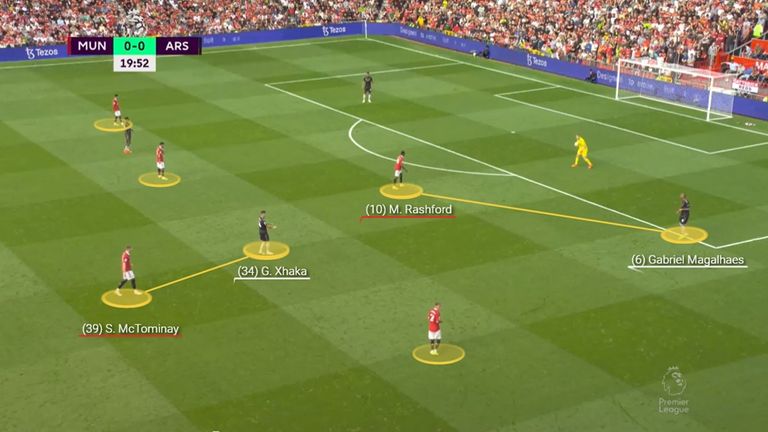 What purpose does this serve? If you can stop teams building at source by limiting passing lanes, you don't have to press aggressively to get the ball back, hence why Ten Hag wanted to sign former players Antony and Martinez who were well-versed in his tactical requirements.
The plan was clear in the recent Manchester derby: Restrict City's options in the middle of the park.
Fred stuck to Kevin De Bruyne, regardless of where he moved on the pitch. Eriksen marked Rodri. Casemiro stuck tight with Bernardo Silva. Bruno Fernandes and Marcus Rashford tucked inside to make United compact. If one of City's midfielders dropped deeper for the ball, United could double up on them quickly.
Below, Nathan Ake could pass to Bernardo Silva but Casemiro isn't far behind and Fernandes could also help close him down from his half-space position.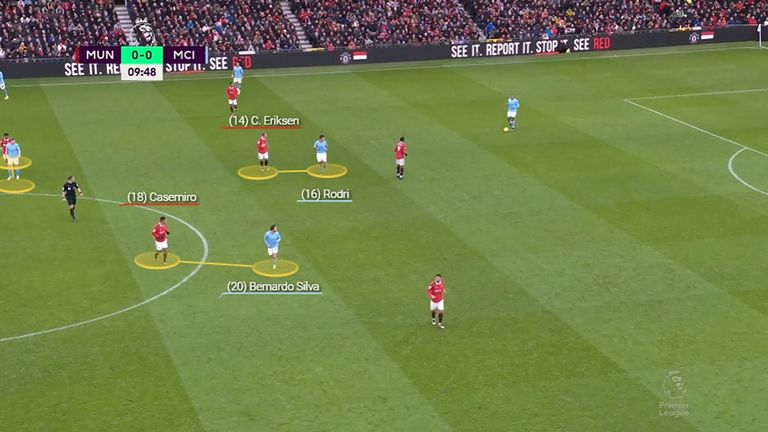 With a lower share of the ball in these big games, United still rely on releasing pacy runners in behind – latching onto through-balls, usually despatched by Bruno Fernandes. It is somewhat of a throwback to the style played under Solskjaer.
It's how United scored against Arsenal – with Rashford being sent through by Fernandes after Arsenal looked to attack at the other end.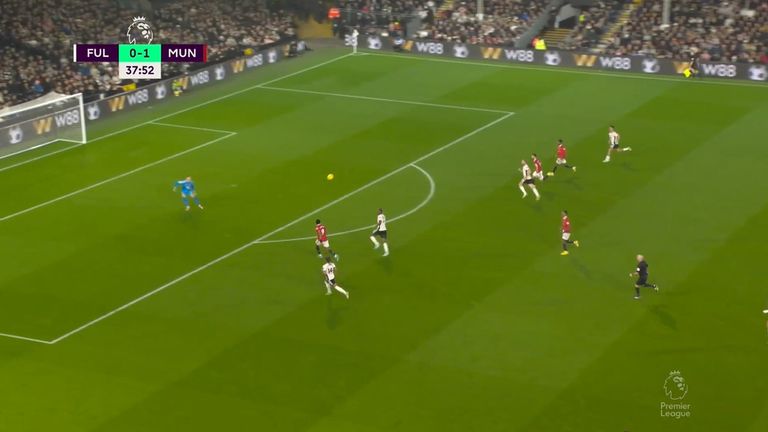 Progressive passers such as Martinez can also fire long balls from deep. Against Fulham, midfielders Casemiro and Eriksen found themselves outpressed – but United simply used their defenders to release the front line, instead.
Gary Neville says the current Manchester United team are making fans believe again, but thinks it is too much to expect of them to go on to win the quadruple

Ability to win ugly
Games: Southampton (a), Leeds United (a), West Ham (h)
United have developed this ability under Ten Hag after rebuilding the team's shattered spirit from last season. Even when things aren't clicking, the players they possess are capable of somehow finding a way to score and protect a lead.
This has occurred when United have a one-goal lead and need to see a game out for the final 25 minutes, with Ten Hag bringing on an extra defender.
Speaking after the win against City, Ten Hag said: "I think we have seen it all in this process, there is fight and spirit in this team, they can deal with setbacks. There was a difficult stage of the game but we became stronger and stronger.'
Winning aerial duels, intensity closing down, chest-pumping and shouts of 'Vamos!' with each block: A complete transformation from last term.
Since Ten Hag took charge, United have a 71 per cent win-rate, and have lost just six games, of which two were the opening back-to-back defeats.
Ten Hag's biggest achievement in his short tenure has been turning United into a multi-functional team, capable of finding a solution to many different problems – but can the Dutchman maintain the feel-good momentum when his side face Liverpool on Sunday?
Watch Liverpool vs Manchester United live on Sky Sports Premier League from 4pm on Sunday; kick-off 4.30pm.