Oil-splashed artwork and climate strikes: Germany's weekend protests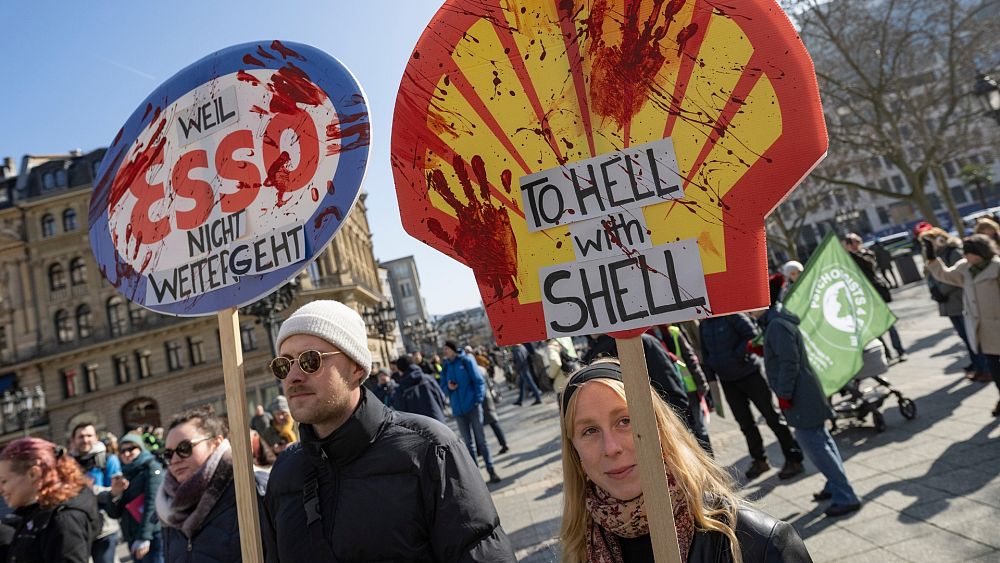 Friday's Global Climate Strike saw activists gather across Europe to demand, among other things, an end to fossil fuel financing.
In Berlin, Germany, thousands of climate protesters, young and old, filled the streets.
Demands for tougher government action against global warming, particularly in curbing greenhouse gas emissions in the transportation sector, took the lead.
Why are German climate activists focusing on the transport sector?
A small pro-business party that controls Germany's Transport Ministry, the Free Democrats, has pushed back against efforts to cut car emissions. These include imposing a general speed limit, phasing out combustion engines and massively investing in public transport.
The refusal has frustrated the party's larger coalition partners – Chancellor Olaf Scholz's Social Democrats and the environmentalist Greens – as well as climate campaigners who say Germany is missing its own emissions targets.
Among them was retired Protestant pastor Reinhart Kraft, 85, who staged a one-man protest outside the Free Democrats' headquarters in the German capital with a sign reading 'End the climate boycott'.
Kraft urged Scholz to put his foot down on the issue and praised the young activists who planned a rally in the capital's government district later Friday.
"We need pressure," he said. "And I hope very much that the young generation doesn't let up."
His words were echoed by retiree Algisa Peschel, who took part in a rally near the Transport Ministry together with her husband.
"We experienced the war when we were small children," she said. "We know what destruction means. And this includes the destruction of nature."
Asked about the protests Friday, a spokesman for Scholz said the German government takes its climate goals "very seriously".
"All ministries are hard working on them," said Wolfgang Buechner.
Who is behind the Global Climate Strike?
The protests in Germany are part of a global 'climate strike' called by Fridays for Future. The group drew inspiration from Swedish activist Greta Thunberg's 2015 protests outside the parliament in Stockholm.
Darya Sotoodeh, a spokesperson for the group, accused Germany's transport minister of placing too much focus on the country's car industry, at the expense of affordable public transport.
Last year the government agreed to introduce a nationwide public transit ticket costing €49 a month, but bus and train companies say it is not sustainable without further government subsidies.
Public transport unions supported the climate strike
Public transit labour unions, whose members went on strike in parts of Germany on Friday to demand higher wages, expressed support for the climate protest.
"We're standing side-by-side with Fridays for Future," said Mathias Kurreck of the Ver.di union, which also represents public transport transit workers. "With more pressure on the government we can actually achieve the climate goals," he said.
The rise in global carbon emissions last year was partly blamed on a rebound in air travel as pandemic restrictions eased. The International Energy Agency also warned this week that the trend toward ever bigger cars is a growing problem for the environment.
Scientists warn that international efforts to limit the average worldwide temperature increase to 1.5 degrees Celsius compared with pre-industrial times are failing.
The consequences of higher temperatures are already being felt in many parts of the world, including in Europe. Governments in Italy – which also saw protests – and France warned this week that the countries face another year of drought after winter brought little rain and snow.
Berlin's climate protests continued into Saturday
On Saturday, members of the German activist group Last Generation splashed dark liquid, representing oil, over an outdoor art installation in Berlin.
Set up near the German parliament building, the artwork is engraved with key articles from the country's constitution setting out fundamental rights. The protestors pasted posters over the work that read, 'Oil or fundamental rights?'
The Last Generation said in a statement that "the German government is not protecting our fundamental rights" and argued that continuing to burn oil is incompatible with doing so.
Parliament Speaker Bärbel Bas said she was appalled by the action and has "no understanding of it". She said the work by Israeli artist Dani Karavan, titled 'Grundgesetz 49' after the post-World War II constitution, is a reminder to respect and protect rights such as freedom of expression and assembly.
"Those are the fundamental rights on which the demonstrators from Last Generation themselves base the justification for their actions," Bas said in a statement. "I can only hope that the glass plates of the artwork were not permanently damaged."
The work was wiped clean by Saturday afternoon. Last Generation has repeatedly drawn attention and anger over the past year with actions that have included blocking major roads and throwing food at famous paintings.