Reiss Nelson at a crossroad as Arsenal offer contract extension; Brighton and Nice interested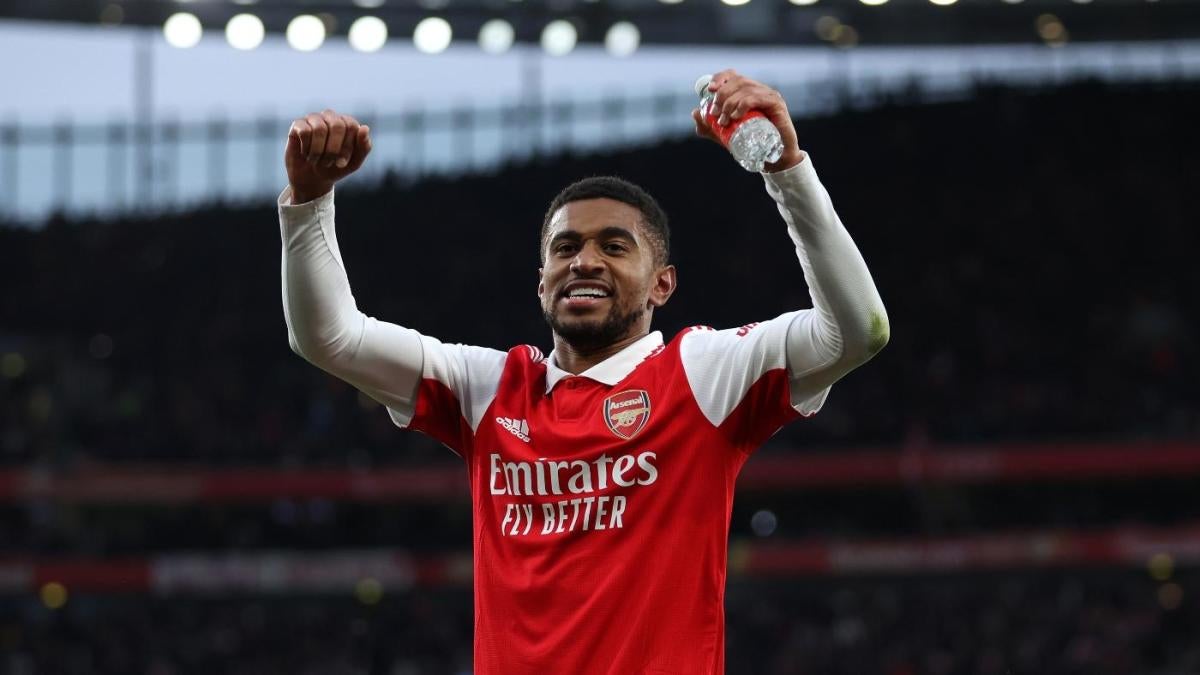 In the days leading up to Bournemouth's visit to the Emirates Stadium, Reiss Nelson was pondering perhaps the most significant question of his career so far. Arsenal, the team he had grown up supporting and whose academy he had joined at the age of nine, had indicated a willingness to extend a contract that was due to expire at the end of the season. As he himself had said earlier in the season, he wanted to stay in north London.
However, indications of interest have arrived from elsewhere, including Premier League side Brighton and Nice of Ligue 1. Having not so much as made Mikel Arteta's squad for the last two Premier League games, Nelson was ready to consider options away from the Emirates Stadium, sources have told CBS Sports.
Had it not been for an ankle injury suffered by Eddie Nketiah in the days before Saturday's game, Nelson might well have found himself out of the 20–man group again. What happened next is destined for the annals of Arsenal folklore; even if Arteta's side do not win the Premier League title this season no one will ever forget the explosive jubilance that greeted Nelson's swing of his left boot in the 98th minute. It was an instant that might have changed the course of the Gunners' season, will it do the same for the player's career?
Before Bukayo Saka and Emile Smith Rowe, Nelson was considered the jewel in the Hale End crown, a future star who Arsene Wenger viewed as one of the best youngsters the club had ever produced. An explosive start to a loan spell at Hoffenheim in 2018 brought with it talk of a place in the England squad for the then 19-year-old. Even as Arsenal struggled in the following years, Nelson could console himself that the club were being managed by Arteta, who he had trained alongside when first being blooded into the first team. The Spaniard's first matchday squad saw the academy graduate favored over club-record signing Nicolas Pepe and even now he speaks of Nelson in the warmest terms.
"I always saw the potential, the talent and the desire for him to do it," Arteta said in the hazy afterglow of Saturday's winner, "but I think he's at a different level right now. I think emotionally, the experiences he's had has helped him. Football-wise, it was my decision not to put him in the squad in the last two games because we had other options. 
"He's knocking on the door. He's been training really well and it's a good lesson for me and the coaches that we need him and that he can really be important in the team." 
Prior to Saturday avenues for a serious role in Arsenal's title run in looked slim on the ground for Nelson, who would have done well to get meaningful minutes beyond the Europa League. Now, with Leandro Trossard joining Nketiah and Gabriel Jesus on the sidelines and Smith Rowe still working his way back to full sharpness, an opportunity is present for the 23-year-old.
However, one could have said similar after Nelson's previous game-changing display off the bench, scoring twice after Saka was forced out of a game against Nottingham Forest that was just starting to get nervous for Arsenal. This seemed like his moment but Saka had recovered his fitness in time for the next Premier League game against Chelsea. Nelson would play in the EFL Cup loss to Brighton but get just one minute against Wolves before the World Cup. On domestic football's return a second muscular issue surfaced and he was sidelined again.
For all the frustrations he has endured at Arsenal and on loan over recent seasons, there are plenty of clubs who are eager to exploit his expiring contract. When a club with Brighton's pedigree for recruitment have him on their radar it is a ringing endorsement of Nelson's talent. Nice's ambitious recruitment from the Premier League has paid dividends in recent months as they have risen up the Ligue 1 table. Should the Gunners struggle to find an agreement with Nelson, sources have told CBS Sports that there is at least one club in the Bundesliga who would be interested in bringing him back to Germany.
It would doubtless be a wrench for Nelson to leave Arsenal. As he told the London Evening Standard in November, "I am an Arsenal fan and, of course, I want to sign a new contract at the club. I am just going to be ready for anything I get now and give my all for the team."
However, it is and always will remain the case that Saka and Gabriel Martinelli — two of Arteta's most transcendent talents, young forwards who already rank among the Premier League's best — are younger than Nelson. The latter has signed a long-term extension that marks him out as a foundational piece, the former is about to.
Whatever Nelson's decision, however, he can rest assured that he will not be forgotten in north London any time soon. Indeed if his late winner on Saturday has the sort of titanic impact that Arsenal fans are dreaming it might, the Hale End graduate will never need to pay for a pint on the Holloway Road long after his playing career ends.