Sophie Ecclestone welcomes return of franchise cricket with WPL after World Cup heartbreak with England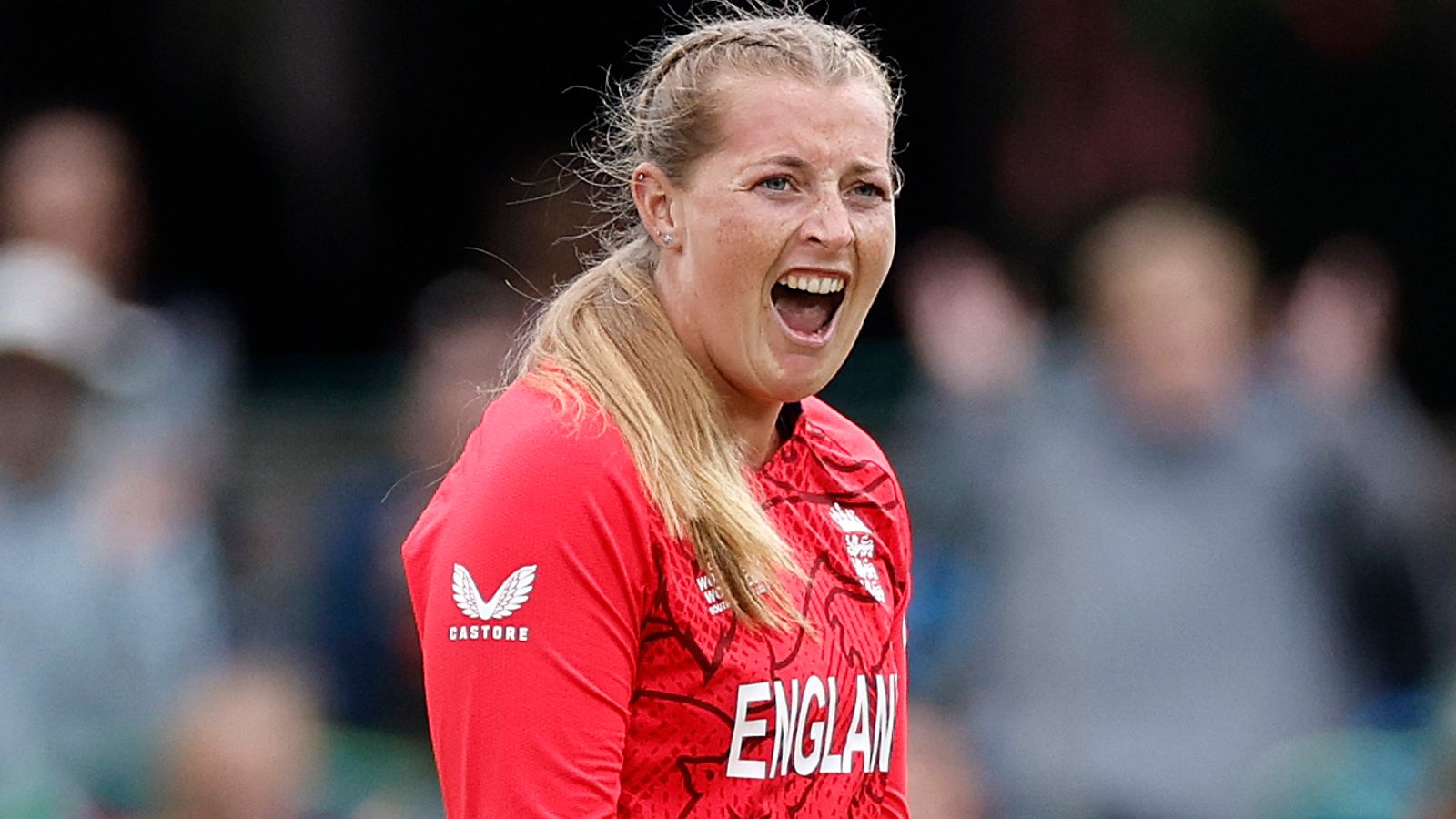 As England were easing to victory over Ireland at the Women's World T20 in Paarl last month, the cricketing landscape was changing around them.
The inaugural Women's Premier League draft dragged on through that Monday and saw five franchises cherry-picking the game's best players on some life changing contracts – England's vice-captain Nat Sciver-Brunt was the second most expensive selection after being picked up by the Mumbai Indians for around £320,000.
A timely step forward but also one that maybe raised questions about the future of the international game. Some nations including South Africa and West Indies have seen their best players retire, with the chance to play more franchise tournaments viewed as a more preferable option and part of the thinking.
Sophie Ecclestone, the world's number one bowler in both T20Is and ODIs, was unsurprisingly another high value pick for the UP Warriorz and while she is excited about everything the WPL will bring to the game, she also insists that international success remains her main ambition, particularly after England suffered a heartbreaking defeat to South Africa in the T20 World Cup semi-final.
Highlights from the second Women's T20 World Cup semi-final as South Africa edged England by six runs to make their first final.

"I think it's really exciting, I'm always someone that gives myself 24 hours after we've lost to go again so I think it's quite nice to be in a different country, be in India now and I'm really looking forward to getting going with the UP Warriorz," Ecclestone told Sky Sports.
"It definitely took over 24 hours (to get over the World Cup loss) but that's just a motto of mine to give it 24 hours, things move on, life moves on and you can't really change what's happened in the past so I'm glad to be here in India now.
"I think it's massive at the minute that England is a big part of what I do, I've not won a major trophy with England yet so that's something that's on my list to do in the next few years.
"I've been around for a few years now and that's massive on my list and top of it. I love playing franchise cricket, it's amazing for the women's game and amazing for cricket in general but England is my main priority."
Draft day was a particularly good one for teenager Alice Capsey, she blasted a half century to win Player of the Match against Ireland whilst being picked up by the Delhi Capitals for around £75,000.
Heather Knight reflects on a 'gutting' knockout of the semi finals against South Africa but says England are building something with their 'new era' team.

Capsey and fast bowler Lauren Bell, two of England's most exciting youngsters, were taken but some of England's more senior players were left unselected – something Capsey admits was a delicate situation to approach.
"It's really difficult, we had a couple of player meetings before to try and kind of to get a gauge of what the group wanted to do whether they wanted to know before the game if their name came up before we handed our phones in and whether people were happy to talk about it," said Capsey.
"Obviously there were a couple of players that were really disappointed so it was quite a weird one to navigate, obviously you're really happy to be picked up but also you are conscious there are quite a few people who are disappointed.
"It was a bit of a weird one, no one really knew what to say or do and it was kind of like you were treading on eggshells but I think everyone did a reasonably good job at putting it to the back of their minds as best they could and focusing on the game first.
"After the game there are a couple of conversations as you find out who has been picked up so the changing room afterwards was a bit like little huddles in corners and you didn't really know what to do so it was strange and my view was to keep quiet and let it all play out in front."
Australia beat South Africa by 19 runs to lift the Women's T20 World Cup trophy for the sixth time.

Capsey's early introduction to franchise cricket has been a thumping success, in the first year of The Hundred, she made a sparkling half century in front of more than 13,000 fans at Lords for the Oval Invincibles, who would go on to win the competition.
The all-rounder was also at the crease alongside Marizanne Kapp when the Invicibles retained their title in 2022. South Africa's Kapp is also part of a star-studded Delhi squad which includes Indian pair Jemimah Rodrigues and Shafali Verma along with all-conquering Australia captain Meg Lanning, a group of players Capsey is keen to continue to learn from.
"Just by watching them in the nets you pick up things, I was with Kappy at the Oval Invincibles and I really enjoyed playing with her, being around and seeing how she goes about things she's probably one of the most professional players you've got within the women's game at the moment.
"You learn so much, just having cricketing conversations, Meg (Lanning) is the most successful captain in the world so to pick up on her leadership skills, her calmness, that'll be the first time I'm playing with her so it's really exciting.
"Around training how professional they are with their warm-ups, what they do to get themselves ready for a match, just little routines and the big things come from on the field, how they hold themselves, how they think under pressure and Kappy is one of the best at that, I've seen it with the Oval Invincibles in The Hundred how many times she's got us from a sticky situation – she's so cool under pressure it's quite amazing how she thinks so clearly."
Highlights as England thrashed Pakistan by a record 114 runs to finish top of Women's T20 World Cup Group 2.

As well as seven English players across the five franchises there are also three English coaches heading up the teams in India – Charlotte Edwards (Mumbai), Jonathan Batty (Delhi) and Jon Lewis (UP Warriorz).
Lewis was only appointed as England's head coach in November but has already been praised for introducing a new aggressive front-foot approach to the team, but Ecclestone believes further exposure to the women's game will help him and therefore the national team too.
"He's obviously a great coach, he loves a bit of golf so he's sorted that out already to a play a bit over here! But he's excited to get to know women's cricket a bit more which can help us all out and I think we're all just ready to get going.
"I think one of his main priorities over here is to try and get to know women's cricket a bit more, he doesn't know much about it but he would love to know more about it and that will help us to get better as an England squad.
"That's the reason why he's here and I think he's ready to take on the opportunity, the purple (UP Warriorz kit) doesn't really suit him, but I'm sure he can make it suit him some point soon!"