Tennis Betting Analysis | Previews For Djokovic vs Medvedev, ATP Santiago (March 3)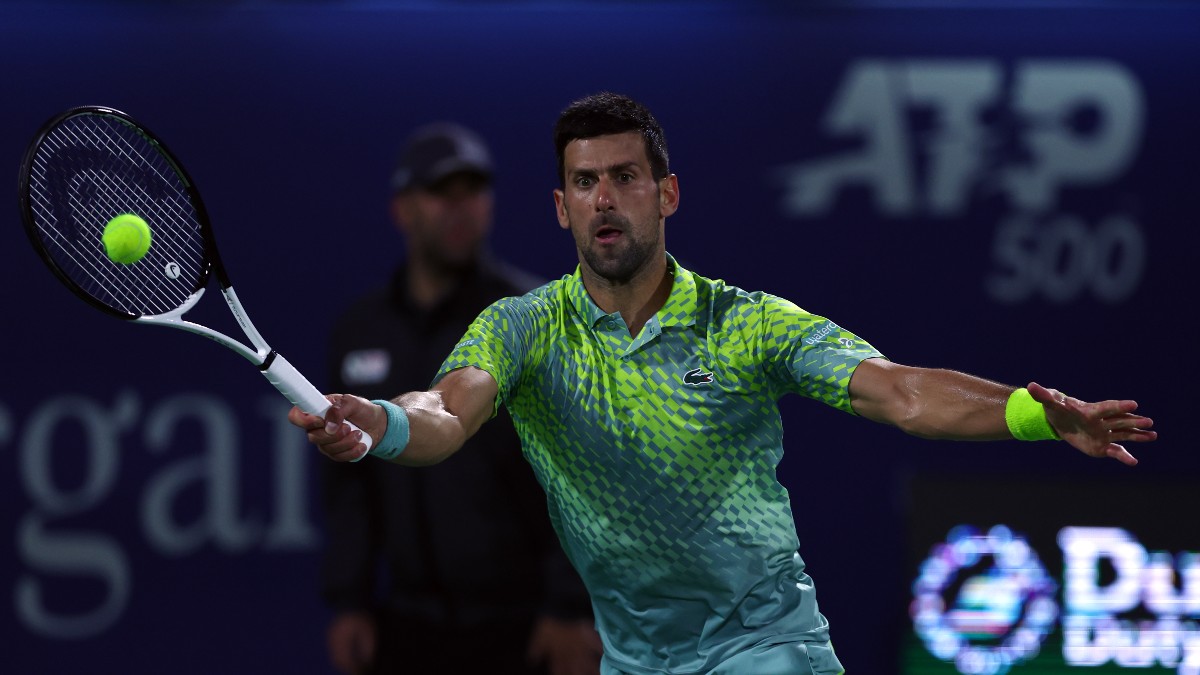 The biggest match of the tennis world on Friday is a Novak Djokovic vs Daniil Medvedev clash, but there is action elsewhere too.
ATP Santiago has continued to deliver and we are onto the quarterfinals there.
David Gertler has found betting value on two matches in Santiago, including Jaume Munar vs Thiago Monteiro and Nicolas Jarry vs Yannick Hanfmann.
Read on for tennis betting analysis from the Action Network's tennis betting experts.
Note: Match times are subject to change. Read here for tips on viewing tennis matches and seeing tennis odds.

Tennis Betting Analysis
Novak Djokovic (-205) vs Daniil Medvedev (+168)
10 a.m. ET, ATP Dubai
Avery Zimmerman: Novak Djokovic returned to the tour in Dubai after winning two tournaments, including the Australian Open, in Australia.
The World No. 1 faced a stern test from Tomas Machac in the opening round, but he's been nearly perfect since, defeating Tallon Griekspoor and Hubert Hurkacz in straight sets.
On the other side of the net, no one has been in better form than Daniil Medvedev as of late. The former US Open champion won tournaments in Rotterdam and Doha before playing high-quality tennis thus far in Dubai.
While it may be hard to make a valuable pick with these odds, this is sure to be one of the most anticipated non-Grand Slam matches of the year.
Jaume Munar (-130) vs Thiago Monteiro (+100)
2:30 p.m. ET, ATP Santiago
David Gertler: Jaume Munar advanced to the quarterfinals with a 6-4, 6-4 victory over an erratic Lorenzo Musetti. Munar won 87% of his first-serve points and saved all six break points he faced. On return, he won just 33% of his return points (uncharacteristically), but managed to break on two of his three break-point opportunities.
Munar improved his 2023 Golden Swing record to 3-2 with the win against Musetti, his best performance so far. Traditionally, Munar is a strong clay-court player, with a 268-138 career record on the dirt.
When Munar is playing well, he gets consistent depth on his groundstrokes and moves the ball around the court well. The Spaniard also has a high tennis IQ and is very fit. When Munar isn't confident, though, he leaves balls short and centrally located.
Thiago Monteiro came back to defeat Marco Cecchinato 3-6, 6-3, 6-2 in the round of 16. Monteiro won 86% of his first serves, 59% of his second serves and was only broken once. On return, the Brazilian held Cecchinato to just 62% of first serves won and generated 10 break points, breaking on three occasions.
Monteiro is 3-3 during this season's Golden Swing, although he's an impressive 359-237 on clay as a professional. Monteiro has a powerful lefty game, firing in huge, nasty serves and using his forehand to power through opponents. Unfortunately for Monteiro, he's erratic with his groundstrokes, doesn't have great touch and his backhand is fairly weak.
Monteiro's inconsistent nature from the baseline plays right into Munar's hands. Munar's scrambling and counterpunching ability should allow him to neutralize Monteiro's groundstrokes and force the Brazilian to press.
The unforced errors should then flow from Monteiro's racquet.
In addition, Munar seems to be gaining confidence and placed his groundstrokes well against Musetti. He should get enough balls on Monteiro's weaker backhand.
Finally, Munar is fifth in the past 52 weeks on the ATP Tour for percentage of first-serve returns won. He should blunt Monteiro's big first serve.
Gertler's Pick: Munar Moneyline (-130 via BetMGM)

Nicolas Jarry (-200) vs Yannick Hanfmann (+148)
6:30 p.m. ET, ATP Santiago
David Gertler: A fatiguing Nicolas Jarry squeaked past Diego Schwartzman in the round of 16, beating the Argentine 6-4, 4-6, 7-6(2). Despite winning just 49% of his second serves, Jarry won 73% of his first-serve points and hit 10 aces. He was all over Schwartzman's serve as well, winning 60% of his second-serve returns and generating 15 break points.
Jarry has had a very successful Golden Swing this year and is 7-2 so far. And, historically, Jarry can play on the dirt, with a 279-147 career-record on clay. The Chilean has a huge first serve that gets him plenty of free points. Jarry's rally tolerance has looked better this season, as he's hitting with more controlled aggression.
But, against Schwartzman, Jarry seemed to be running out of steam a bit. He lost some of the precision on his groundstrokes that he had shown throughout the young season.
Yannick Hanfmann qualified for Santiago and beat Roberto Carballes Baena 7-6(6), 6-2 to reach the quarterfinals. Hanfmann won 66% of his service points and was only broken twice. He was also all over Carballes Baena's serve, winning 45% of his return points and breaking four times.
Hanfmann is 7-3 during this season's Golden Swing and has won all eight sets he's played in Santiago. The German is traditionally a strong clay courter with a 199-106 professional-record on the dirt. Hanfmann hits his spots on his serve and has a heavy forehand that he uses to dictate play. In addition, Hanfmann's backhand is solid and his court positioning is strong.
Hanfmann is playing excellent tennis in Santiago. He's played with controlled aggression, isn't spraying too many errors and has only been broken twice in four matches this week.
While the crowd willed Jarry to victory against Schwartzman, he was starting to revert back to bailing out of rallies with wild errors, likely due to fatigue. Jarry also didn't seem to get the quite the amount of pop on his serve as he typically does.
An upset is brewing.
Gertler's Pick: Hanfmann Moneyline (+148 via FanDuel)