The Minute After: Michigan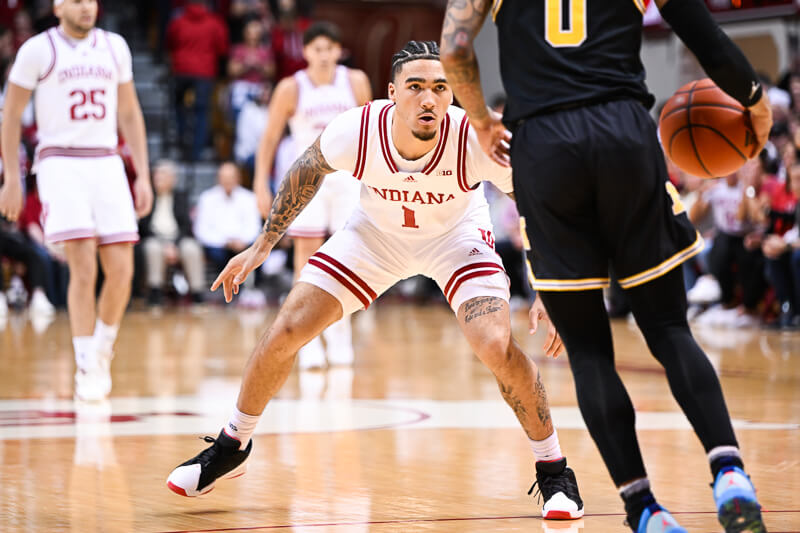 Editor's note: Ryan is out on paternity leave. Justin Albers will be writing The Minute After in his absence.
Thoughts on a 75-73 overtime win against the Wolverines:
It's officially March, folks – and what we saw in Bloomington on Sunday evening was pure madness.
Indiana blew a 14-point first-half lead, trailed by as many 12 in the second half, yet found a way to pull out a huge 75-73 overtime win over a desperate Michigan team at Assembly Hall.
In many ways, this game perfectly encapsulates what the Big Ten has been all season – as highly competitive a league as college basketball has seen in a long time. With the win, the Hoosiers will be at least a 3-seed and could finish as high as 2nd (with a Northwestern loss on Sunday night) in next week's Big Ten tournament. A loss would've dropped Indiana to 7th or 8th. Losses by Iowa and Maryland earlier Sunday allowed the Hoosiers to clinch the double-bye against the Wolverines.
It was a gutsy win for the Hoosiers (21-10, 12-8) that gave Indiana fans the full spectrum of emotions throughout – but who could have expected anything different from this Indiana team? This is who they've been all year – a good but not great team that never wins easy but has developed a special resilience that keeps them in almost every game. There are better teams than the Hoosiers, but few are as battle-tested heading into the postseason.
Indiana's final six wins were decided by eight points or less, with three wins (including two against Michigan) decided by a single possession.
On Sunday, the Hoosiers built a 27-13 lead that felt like it should've been bigger. Miller Kopp missed four wide-open 3-pointers in the first half, Tamar Bates added another, and Indiana turned it over six times for a total of at least 11 wasted first-half possessions.
Michigan looked out of sync coming off a double-overtime loss to Illinois on Thursday, but the Hoosiers missed their chance to deliver a knockout blow. Instead, the Wolverines closed the first half on a 10-0 run to cut the Indiana lead to two, and carried that momentum into the second half, building a 12-point lead just six minutes into the period. Michigan outscored Indiana 39-15 over those 10+ minutes.
But the Hoosiers refused to go away. On senior night, it was their seniors that shined the brightest down the stretch, willing their team to a win in their last career game at Assembly Hall. Trayce Jackson-Davis scored 12 of his game-high 27 points after Michigan took a 12-point lead and dished out four of his six assists during that stretch.
Kopp, who struggled for most of the night and finished with only five points, made two huge shots down the stretch – a 3-pointer with 8:13 left in regulation to cut Michigan's lead to six, and a deep two in overtime to push Indiana's lead to six.
And then there was sixth-year senior Race Thompson, who played one of the best games of his career. Thompson made Indiana fans sweat late by missing four consecutive free throws to leave the door open for Michigan, but he made so many winning plays for the Hoosiers. He finished with 16 points, 10 rebounds, and tied his career high with four steals – and the last two were monumental.
The Wolverines played through big man Hunter Dickinson all day, and he had his way inside against Jackson-Davis, finishing with 24 points and 14 rebounds. But the Hoosiers made a critical adjustment late, bringing a second defender – often Thompson – from the backside when the ball was entered into Dickinson. Thompson took it away from him on the catch with 29 seconds left in regulation, the game tied 69-all, and then again with 14 seconds remaining in overtime and Indiana clinging to a 3-point lead.
Ultimately, it was enough to help the Hoosiers survive what was far from a perfect performance. They missed seven free throws, shot just 5-of-15 from beyond the arc, and got only four points in 25 minutes from Trey Galloway, who played with foul trouble throughout and fouled out with more than six minutes remaining in regulation.
That left the thin Hoosiers – who will be without Xavier Johnson for the remainder of the season – with only one true ball handler in Jalen Hood-Schifino. The freshman took only one 3-pointer, but it may have been the biggest shot of the game – tying it at 69-69 with 59 seconds left in regulation.
The bottom line – Indiana found a way to win. That's been a defining characteristic of this team all year. And while the Hoosiers will need to play better if they hope to advance in the postseason – Hood-Schifino and Galloway can't keep finding themselves in earlier foul trouble with poor decisions, for example – that's a column for another day.
On Sunday, Indiana did just enough to beat a Michigan team fighting to get into the postseason.
The margin was slim, but that's how close this conference has been all season long. Does it mean the Big Ten is full of a lot of average teams that will make early March exits, or a group of strong teams that simply beat each other up? We'll get that answer soon enough.
Filed to: Michigan Wolverines