Today's news: Trending business stories for November 21, 2023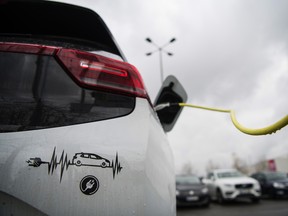 The latest business news as it happens
Article content
Top headlines
Article content
---
10:30 a.m.
Article content
Germany budget chaos blocks EV plant subsidies, puts green energy overhaul at risk
Germany's emergency spending freeze is blocking funds for next-generation auto-industry and steel plants, jeopardizing the push to re-engineer Europe's economic engine.
Berlin halted new spending authorizations this week after Germany's top court ruled that some €60 billion (US$65.7 billion) can't be transferred into a green-technology fund. The money was earmarked for a range of projects including decarbonizing steel production and major semiconductor works led by Intel, TSMC and Infineon.
Sweden's Northvolt AB was also due to receive part of pledged subsides from the climate fund for an EV battery plant in northern Germany, according to two people familiar with the situation.
The bombshell court ruling, catching the government seemingly unprepared, is putting Germany in danger of falling behind in the global race for green technologies, according to Claudia Kemfert, professor of energy economics at the DIW research institute in Berlin.
We "have already lost large parts of this competition, and now we are also in danger of losing it in electromobility, digitization and green hydrogen for heavy industry," Kemfert said. "This is particularly painful as Germany gave the go-ahead for the energy transition 20 years ago and was the global market leader for many years."
Article content
Bloomberg
---
9:45 a.m.
Markets are open: Stocks slide in early trading

Wall Street is slipping in early trading, a rare drop following a rally that vaulted it to the highest level since the start of August. The S&P 500 was 0.3 per cent lower in the early going Tuesday. The Dow fell 59 points, and the Nasdaq composite was off 0.6 per cent.
In Canada, the S&P/TSX composite index was down 1.11 per cent at the open.
The Associated Press, Financial Post
---
8:30 a.m.
Inflation cools to 3.1% in October as gas prices ease

The inflation rate slowed to 3.1 per cent on a year-over-year basis, down from 3.8 per cent in September, as the price of gasoline fell, Statistics Canada said Tuesday.
The price drivers paid for gasoline in October fell 7.8 per cent from a year earlier compared with a 7.5 per cent increase in September, driven partly by a spike in gasoline prices in October 2022 after OPEC announced production cuts.
Excluding gasoline, Statistics Canada said the consumer price index was up 3.6 per cent for October, following a 3.7 per cent increase for September.
Article content
Prices for goods were up 1.6 per cent, while prices for services were up 4.6 per cent, largely driven by higher prices for travel tours, rent and property taxes and other special charges.
The largest contributors to inflation continued to be mortgage interest costs, food purchased from stores and rent.
Mortgage interest costs were up 30.5 per cent compared with a year ago, while the cost of rent was up 8.2 per cent.
While grocery prices rose faster than overall inflation, Statistics Canada said the pace continued to slow. Grocery prices were up 5.4 per cent year-over-year in October compared with a 5.8 per cent move higher in September.
The Canadian Press
---
7:30 a.m.
OpenAI in 'intense discussions' after staff threaten mutiny over Sam Altman's ouster

OpenAI said it's in "intense discussions" to unify the company after another tumultuous day that saw most employees threaten to quit if Sam Altman doesn't return as chief executive.
Vice president of Global Affairs Anna Makanju delivered the message in an internal memo reviewed by Bloomberg News, aiming to rally staff who've grown anxious after days of disarray following Altman's ouster and the board's surprise appointment of former Twitch chief Emmett Shear as his interim replacement.
Article content
OpenAI management is in touch with Altman, Shear and the board "but they are not prepared to give us a final response this evening," Makanju wrote.
The memo from Makanju doesn't elaborate on the extent of contact with Altman, and the former CEO didn't respond to a request for comment outside regular business hours.
"We are continuing to go over mutually acceptable options and are scheduled to speak again tomorrow morning when everyone's had a little more sleep," Makanju wrote. "These intense discussions can drag out, and I know it can feel impossible to be patient."
She added a word of reassurance for employees: "Know that we have a plan that we are working towards."
Bloomberg
---
Before the opening bell: Stocks waver

United States equity futures wavered on Tuesday as some investors questioned the sustainability of a powerful rally fuelled by expectations of a U.S. Federal Reserve pivot to rate cuts.
Goldman Sachs Group Inc. strategists said there is a risk of "disappointment in the near term" amid lingering concerns about economic growth and inflation, after the S&P 500 surged to its strongest close since August and the Nasdaq 100 hit a 22-month high on Monday. Citigroup Inc. strategists warned of the possibility of a short squeeze that could derail the momentum.
Article content
"Despite a more certain outlook regarding peak rates and potential cuts in 2024, there are few upside catalysts," said Liberum strategist Susana Cruz. "Corporate guidance was pretty soft during this earning season, forecasts for the fourth quarter have fallen and we will probably see more downgrades. That's why we expect equities to experience a soft patch in the first half of 2024."
Contracts on the S&P 500 and Nasdaq 100 were little changed.
In Canada, the S&P/TSX composite index closed up 70.70 points at 20,246.47.
Bloomberg
---
What to watch today
The inflation reading for October is out this morning. Economists expect the data to show inflation cooled on lower gas and food prices. Other data releases include the new housing price index for October, and in the United States, existing home sales.
Finance Minister Chrystia Freeland will table the Liberal government's fall economic update this afternoon. Economists expect more spending on housing, but say Ottawa must find a delicate balance on spending as the economy slows.
The United States Federal Reserve Open Market Committee releases meeting minutes for its Nov. 1 interest rate decision at 2 p.m. ET.
Expect earnings reports from George Weston Ltd., Nvidia Corp. and Lowe's Companies Inc.
Need a refresher on yesterday's top headlines? Get caught up here.
Additional reporting by The Canadian Press, Associated Press and Bloomberg
---
Bookmark our website and support our journalism: Don't miss the business news you need to know — add financialpost.com to your bookmarks and sign up for our newsletters here.