US creates new antisemitism task force – DW – 03/02/2023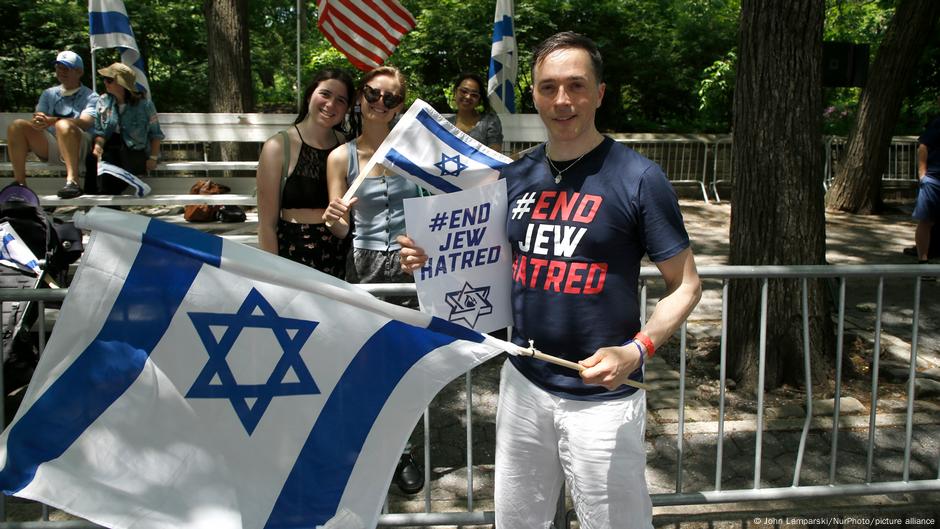 "My predecessors could go to Europe and say, 'something is happening in your country, and we are very concerned about it.' I can't do that," explains the US Special Envoy to Monitor and Combat Antisemitism to a group of international colleagues gathered in Washington. These days Deborah Lipstadt's message is: "We have a problem, and we are all concerned about it."
Ambassador Lipstadt is nothing short of a living legend. She is the one who put author David Irving behind bars in Austria for spreading antisemitic lies. She is known for facing down antisemitism whenever and wherever it starts gnawing away at the foundations of society. In 2023 this means taking a hard look at the problems in Washington's own backyard.
Antisemitism rising in the US
In 2021, the United States recorded its highest level of antisemitic attacks in recent years — on average seven per day. The Anti-Defamation League, an NGO that fights all all forms of antisemitism, fears even worse figures for 2022. Doubtless many incidents also go unreported. As the US wakes up to a new, more anti-Jewish reality, US President Joe Biden has vowed to ensure that "antisemitism has no place in America." To this end, the White House set up an inter-agency group at the end of 2022, tasked with putting together the country's first national strategy for countering antisemitism.
Together with the White House, the American Jewish Committee (AJC) has called on antisemitism envoys from the very countries that used to take America's advice on how to tackle the problem. The European Union, Germany, the Netherlands and Britain all have antisemitism strategies in place already. Moreover, the US and Germany also have similar federal systems with wide-ranging powers.
Germany's antisemitism commissioner, Felix Klein, believes the two countries share a common challenge and has stressed the need for setting up reliable structures. In Germany, Klein is pushing for more focal points and specially trained staff to work with both state prosecutors' offices and local police stations. This, Klein says, is the only way to ensure antisemitic crimes are recognized for what they are.
The German experience
The US faces a unique challenge when it comes to antisemitism, Klein continues. "The American constitution is very generous when it comes to free speech." Denying or trivializing the Holocaust is a crime that carries a prison sentence of up to three years in Germany. Similar laws in Austria saw author David Irving sentenced to two years in 2019 — unheard of in cases of antisemitism tried in the US.
Still — Klein points out that the US could hold the key to stopping the rampant spread of antisemitism: "All the major Internet platforms are based in the United States."
Take the Yom Kippur attack on a synagogue in the eastern German town of Halle in October 2019. The attacker was radicalized by antisemitic content online. He was stopped from killing Jewish worshippers inside by a wooden door, not by police, who had turned down the synagogue's request for extra security earlier that day. Frustrated, the attacker killed two people outside at random. The killer also live-streamed his violent rampage on the platform Twitch.
When words become violence
In the United States, the deadliest incident to date was the 2018 attack on the Tree of Life Synagogue in Pittsburgh, Pennsylvania, which left 11 people dead. The attacker's social media history was littered with posts denying the Holocaustand pushing antisemitic conspiracy theories.
"We have to acknowledge that social media companies play a role here," says Ted Deutch, former congressman and now CEO of the American Jewish Committee (AJC).
In late 2022, the antisemitic rants of "Ye", formerly known as Kanye West, were hotly debated, posted, and reposted by more than 16 million Instagram followers. The fact that he was subsequently invited to dinner with former President Donald Trump and white supremacist Nick Fuentesat Trump's Mar-a-Lago resort, sparked heated debate in the US. But that very debate also swept antisemitism further into the mainstream. Adidas may have reacted to Ye's Holocaust denial by pulling his name-branded fashion sports shoe line from the shelves. Yet, to this day, these very shoes sell as collectors' items on resale platforms for between $300 to $400 (€283 to 377).
Threat to democracy
Awareness that antisemitism is a national issue remains reassuringly high, however. The latest annual survey by the American Jewish Committee revealed that nine out of 10 Americans, whether Jewish or not, regard antisemitism as a problem for society as a whole. Deutch derives a degree of hope from this common perception. "Antisemitism never just stops with the Jews. It suggests a greater problem in democracy," Deutch says.
Special Envoy Deborah Lipstadt told her colleagues from around the world that she sees antisemitism as the "canary in the coal mine of democracy."  
President Biden's new inter-agency initiative is still in the process of heading down that mine. Following consultation with dozens of governmental and nongovernmental actors, it is expected to deliver America's first action plan to combat antisemitism later this year.
Edited by: Lucy James