Weekly Tarot Card Readings: Tarot prediction for March 5 to March 11, 2023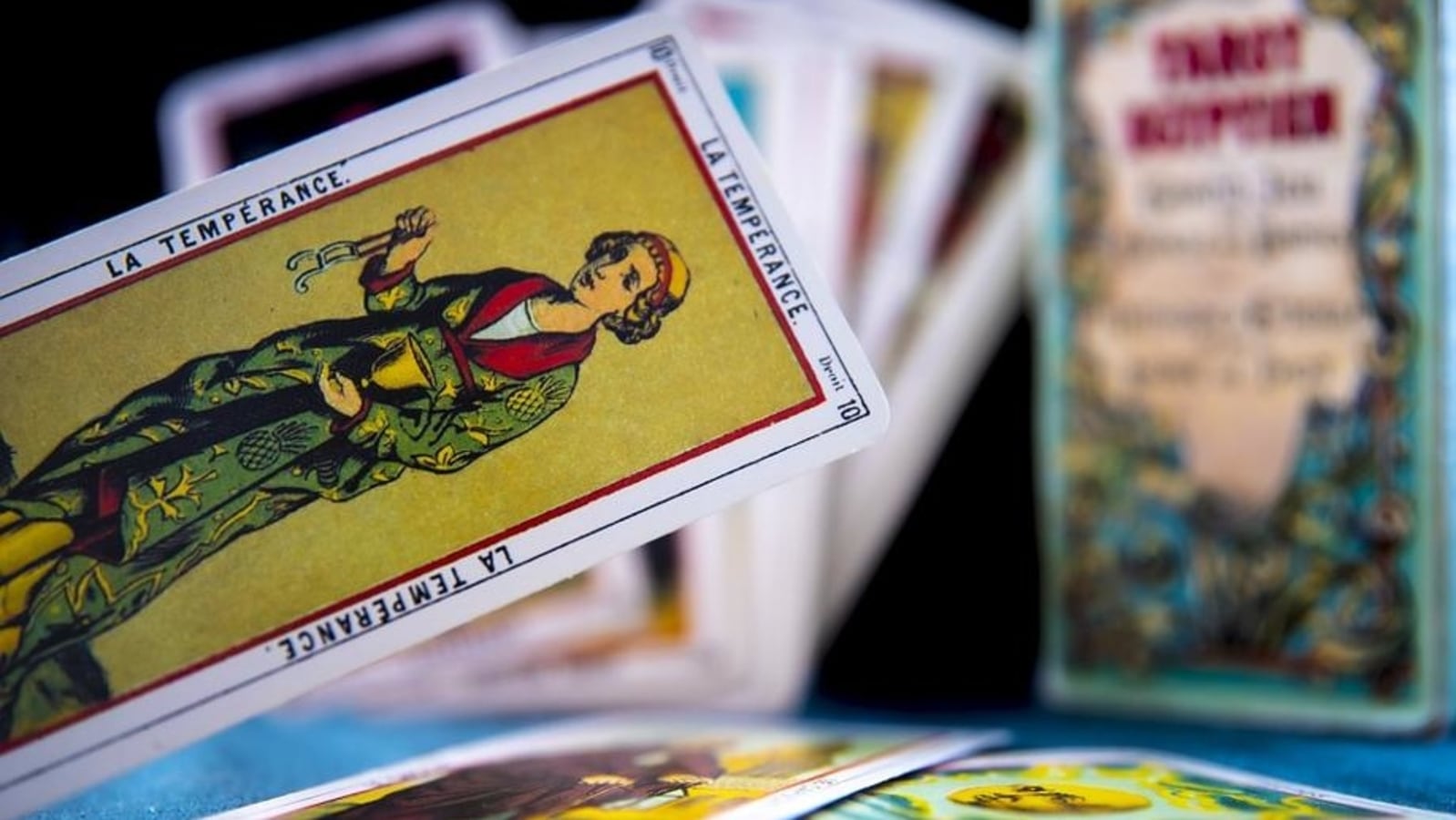 Love: Two of Coins
Mood: The World
Career: Justice
Aries, the week may bring professional obstacles; however, don't let that dampen your spirits. Your close family ties and good health will provide a dependable source of comfort. You may draw strength from your family. Your finances are stable, leaving room for new investments. Romance is also on the horizon, offering new love and bonding opportunities. Your travel prospects are bright, offering new adventures and opportunities for personal growth. Your property matters are secure, allowing peace of mind. Although your academic and other aspects of life may not shine, there's still room for improvement and development. Embrace life's challenges, trust yourself and keep your eyes on the prize.
Also Read Weekly Aries Horoscope, March 5, 2023
Lucky Number: 2
Lucky Colour: Cream
Also Read Horoscope Today, March 5, 2023
TAURUS (Apr 21-May 20)
Love: The Magician
Mood: King of Wands
Career: The Hanged Man
Taurus, you'll be able to take advantage of some truly fantastic career opportunities this week. Putting money into precious metals or foreign currency could be profitable. The maintenance of peace among children may require special care. Care for yourself too, and make that a top priority. If you want to lose weight, the best way to do it is to use natural means. This could be an opportunity to focus on personal development. Do not look for love as a means to feeling complete. There is much potential in exploring new places and engaging in new activities. In a property dispute, you might find yourself in a strong position. Students are likely to shine academically as well as otherwise.
Also Read Weekly Taurus Horoscope, March 5, 2023
Lucky Number: 11
Lucky Colour: Purple
Also Read Love Horoscope for March 5, 2023
GEMINI (May 21-Jun 21)
Love: Three of Wands
Mood: Six of Swords
Career: Four of Cups
Geminis can expect good financial prospects this week. Your hard work and smart investments may pay off. Good health and vitality are in store. Focus on self-care for continued well-being. Romance is exciting, so embrace the love and joy. Family relationships are positive, so spend time together with loved ones. Professional life may bring success with a focus on goals. Travel may be challenging as road trips are likely to be taxing. But property prospects appear to be good. You may get a good bargain on a flat or house. Academics and other life aspects are moderately positive, with growth and success opportunities. Stay optimistic and believe in yourself.
Also Read Weekly Gemini Horoscope, March 5, 2023
Lucky Number: 2
Lucky Colour: Brown
CANCER (Jun22-Jul 22)
Love: The Hermit
Mood: Eight of Cups
Career: The Magician
This week, Cancer natives face a mix of ups and downs. Romance shines with passion and excitement. Finances will be stable with growth potential. Your reserves will grow, improving your overall financial security. Family brings love and support. A lively family function is on the cards. Health may remain moderate, so prioritize rest. It's important to prioritize good nutrition and avoid overindulging in junk food. Professional life presents challenges. You will efficiently handle the increased workload and overtime. But travel can be exciting this week. You may enjoy adventure sports activities. Property matters will be profitable for deft negotiators. Some students may struggle but focus on other positive aspects. Maintain a positive outlook.
Also Read Weekly Cancer Horoscope, March 5, 2023
Lucky Number: 15
Lucky Colour: Blue
LEO (Jul 23-Aug 23)
Love: Three of Swords
Mood: Two of Cups
Career: The Tower
This week, Leos are poised for a productive and successful professional life. Your appraisal can lead to a salary increment or promotion. Financially, you can expect stability and growth due to smart investments and effective budgeting. Your health may be just average, but it can be improved with proper self-care and attention. Family life may bring some challenges. But strong relationships and honest conversations will help you overcome any difficulties. This week, romance may not be as strong, but try not to let it get you down. Instead, focus on the positives, such as exciting travel prospects. You may strike a profitable property deal. Students may get promising academic opportunities. Remember to prioritize self-care and strive for balance in your life.
Also Read Weekly Leo Horoscope, March 5, 2023
Lucky Number: 18
Lucky Colour: Red
VIRGO (Aug 24-Sept 23)
Love: The Hanged Man
Mood: The Lovers
Career: Strength
This week, Virgo people can expect a mix of outcomes. Family life may be positive, with strong relationships and good bonds. Finances are secure and stable. Your loan repayment schedule will be manageable, allowing you to pay off your loans easily. Love life may thrive with chances for growth and meaningful connections. Your career may advance slowly, but the outlook is positive for improvement. Health requires a balanced approach. Take care of your physical health by avoiding unhealthy habits like overeating and excessive drinking. Travel plans may need caution as there are chances of disruption. Some may get a favourable deal on a lease agreement. Students will have to put in more effort. Life as a whole will have a balanced outcome.
Also Read Weekly Virgo Horoscope, March 5, 2023
Lucky Number: 11
Lucky Colour: Silver
LIBRA (Sept 24-Oct 23)
Love: Six of Coins
Mood: Five of Swords
Career: The Star
This week, Libra natives can look forward to a favorable professional outlook. They may get recognition for networking skills and quick thinking. Family life may remain harmonious and supportive. It's an auspicious time for new family activities, like get-togethers or weddings. Your monetary reserves will increase, and it may provide a cushion for unexpected expenses. Take time to reflect on the status of your love life and communicate openly with your partner. Health is predicted to be good with high energy levels. Commercial property investment may be a good option. You may get a bargain on a family holiday package. Academics show moderate progress potential.
Also Read Weekly Libra Horoscope, March 5, 2023
Lucky Number: 8
Lucky Colour: Grey
SCORPIO (Oct 24-Nov 22)
Love: Seven of Coins
Mood: Knight of Wands
Career: Devil
Scorpio individuals may experience an emotional and varied week. Professionally, they're expected to have a steady work life with promising new opportunities. Family relations are decent but could use some strengthening. Finances, however, may be tight, requiring careful budgeting. Love life could be a mix of both good and bad moments. Keep your cool in all situations. Health is moderate, so it's crucial to take care of oneself. Do not ignore persisting ailment. On a positive note, travelling prospects are promising, with new experiences. Property investments, like buying a flat or land, could be profitable. The academic front is also favourable, presenting chances for growth and advancement.
Also Read Weekly Scorpio Horoscope, March 5, 2023
Lucky Number: 9
Lucky Colour: Magenta
SAGITTARIUS (Nov 23-Dec 21)
Love: Temperance
Mood: Two of Wands
Career: The Moon
This week may be a beneficial one for Sagittarians. The stars bring good health and a prosperous financial outlook. You may find yourself saving money and improving your financial stability. Love is also on the horizon, with positive prospects for your romantic life. While professional growth may be moderate, your energetic spirit can overcome any challenges in your family life. Travelling is also favoured, so consider taking a trip that you have been waiting for. The property market looks favourable to a change in living arrangements. Some of you may consider buying or renting a new home. Your academic future is bright, making it an ideal time to invest in education. With so much positivity, make the most of it and enjoy it.
Also Read Weekly Sagittarius Horoscope, March 5, 2023
Lucky Number: 1
Lucky Colour: Orange
CAPRICORN (Dec 22-Jan 21)
Love: Judgment
Mood: Magician
Career: Ten of Wands
This week, Capricorn individuals can expect their professional front to be outstanding. Their hard work and commitment will be rewarded with advancement in their career. On the family front, things are expected to be very positive. Youngsters may add to the family name. Finances are also looking stable, providing a secure foundation for future endeavours. However, the health and romantic fronts may require some extra attention. It will be important to rest and rejuvenate. Seek support when needed. Travel prospects are exciting, with opportunities for memorable experiences. Property matters also look positive, with the potential for securing a new home. The academic front is also favourable, with chances for success in exams. This is a good week to focus on personal and professional growth.
Also Read Weekly Capricorn Horoscope, March 5, 2023
Lucky Number: 7
Lucky Colour: Maroon
AQUARIUS (Jan 22-Feb 19)
Love: Devil
Mood: Wheel of Fortune
Career: Two of Wands
This week, the journey of Aquarius individuals may be a mix of ups and downs. They may enjoy good health, which will benefit their professional life. It may lead to success and satisfaction in work and relationships. However, family life may present challenges, with potential conflicts and misunderstandings. To break away from these issues, you may plan an exciting trip or spend time in nature. Financial stability may not be optimal, but their academic pursuits may yield positive results. It is a time for personal growth and taking care of one's well-being. Aquarius individuals can engage in activities that bring them happiness and positivity. Despite the difficulties in their family life, they can maintain a positive outlook. Work on improving relationships in work and love.
Also Read Weekly Aquarius Horoscope, March 5, 2023
Lucky Number: 3
Lucky Colour: Yellow
PISCES (Feb 20-Mar 20)
Love: Two of Swords
Mood: The Tower
Career: The Empress
This week is looking bright for Pisces, with positive prospects in their career. Opportunities for success are abundant, and hard work will pay off. Romance is also in the air, bringing joy and happiness to relationships. You may consider using a matrimony website to find your future spouse. Health is expected to be good, with a boost in enthusiasm and vitality. Family life is balanced, with a harmonious blend of work and family responsibilities. Finances are moderate, with a steady flow of income and investment opportunities. Property may present some challenges, but will be timely managed too. Students may perform well and receive recognition for their efforts. Overall, it's a positive week with good prospects in various aspects of life.
Also Read Weekly Pisces Horoscope, March 5, 2023
Lucky Number: 18
Lucky Colour: Peach