Weekly Tarot Readings: Great week for Aquarius, stressful travel for Aries, what the week has in store for you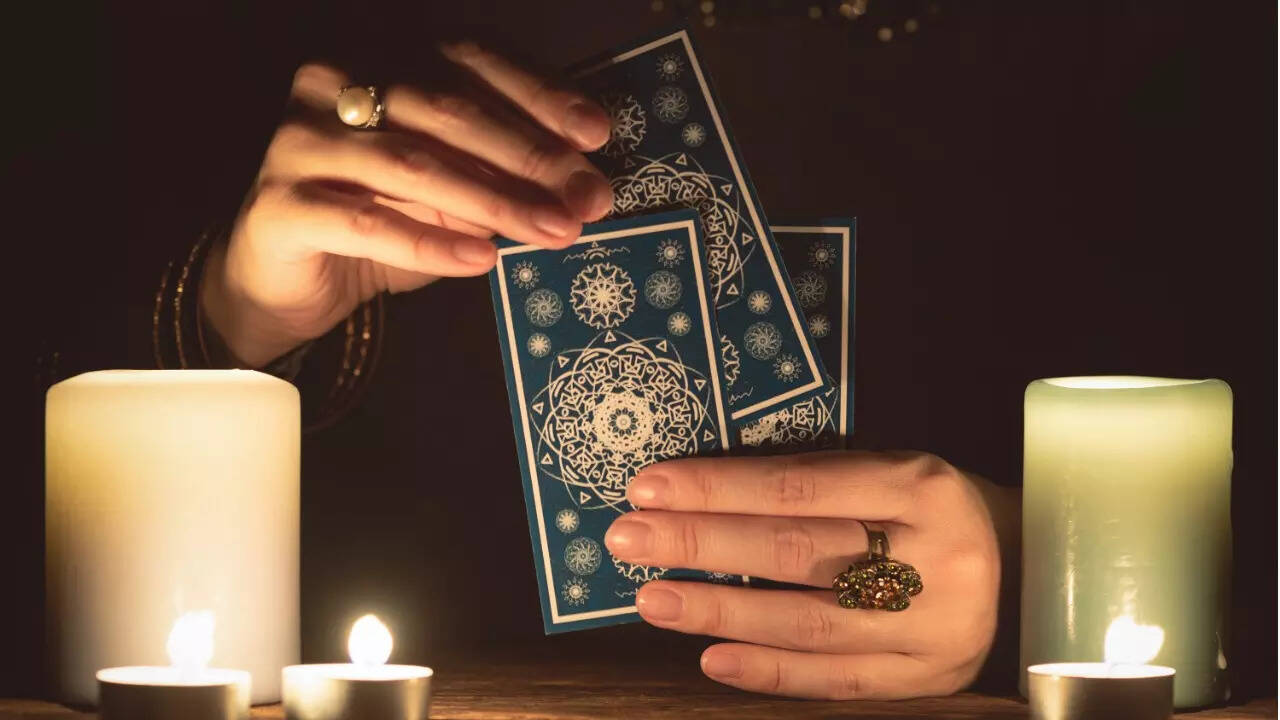 Weekly Tarot card readings for March 6 to March 13
Photo : iStock
ARIES (Mar 21st to April 19th)
You will feel stuck at your workplace or in your current finances if you have taken any loan. Young people in your team may cause delay in work. Those fighting legal battles will be stressed. You may fall sick quite often or will be compelled to take care of someone ill this week. Watch your words at home and out of home as this week can be stressful for you. Singles will have to spend a fortune if they are getting engaged this week. Unnecessary expenses may take a toll on you. You can meet someone for marriage through a known source. Good news for those wanting to buy property. Expect positive news on examination results and visa applications.
Love Horoscope tip: Avoid taking hasty steps.
Holi Special: Include more Gulal in your Holi colours and avoid being aggressive with those who dislike Holi. Be gentle while playing with your loved ones or you could hurt them.
TAURUS (April 20th to May 20th)
You may visit someone with a health condition. Be careful while travelling if you are pregnant. You are likely to spend money on kids. Singles will be disappointed yet will accept proposals that come their way. Marriage expenses can take a toll on you. Avoid splurging beyond your capacity. At workplace someone will try to show high expenditures and may lie about their finances. Avoid getting too emotional at workplace. Property plans will be successful. Those avoiding pregnancy will face opposition at home. Students will perform well in examinations. Travel plans will be successful though you may get excited and annoy someone during the trip.
Love Horoscope tip: Avoid making any promises to your partner that may require family permission or it may cause trouble in your love life.
Holi Special: Stick to organic colours and avoid consuming excess alcohol, bhang or sweets as it may create health complications.
GEMINI (May 21st to June 20th)
You may start something new and that will be successful. Stressful and bad period is over in case you are looking for onboarding new clients or seeking employment opportunities. You may have the urge to party with your family and friends. Expect support coming from an elderly woman. Visit to a doctor related to health issues or a gynaecologist will be successful. You will earn good and will be in the mood to spend on upgrading your lifestyle. Children will bring luck to your life this week. Despite the stress that you or your kids underwent due to exams, results will be satisfactory. You will see hand of God in marital alliances. Excellent for property purchase or taking any decisions that needs immediate attention. It's overall a happy week for Geminis.
Love Horoscope tip: Visiting a religious place or doing a spiritual activity with your partner will bring overall happiness in life.
Holi Special: Include green vegetable colour and neon yellow colours in your Holi palette. Sending Holi colours or Thandai to someone will improve your relations with them.
CANCER (June 21st to July 22nd)
Success at workplace despite hardships is inevitable. Excellent emotional support will come from family. Those planning marriages will get great alliances this week. Healthwise take care of blood pressure levels. If you consume tobacco, then you may get ulcers this week. Avoid consuming anything intoxicating while driving. Listen to advice from dear ones on health matters or you may face severe health complications. Money will be the biggest motivation for you to work. Singles will attract alliances that may demand fancy weddings or elite matrimony. Avoid being greedy and accept work as per your body's capacity. VISA and travel plans will be successful provided they are discussed with someone beforehand. Taking a short trip for pregnancy planning will be helpful. You may get support from your partner if you are willing to expand your work or pick up a job. Be careful of what you ask for or there are chances that you may lose interest after working for a few days and may then want to shut operations.
Love Horoscope tip: Avoid being too stubborn or posing childlike demands to your partner.
Holi Special: Avoid getting irate with anyone if they are trying to rejoice the festival. Playing Holi with minimal water is advisable for you. Avoid throwing muck or balloons on anyone if you dislike someone treating you like this.
LEO Daily Horoscope (July 23rd to Aug 22nd)
Bad period is over, expect new opportunities from different fronts regarding work. If you are visiting an ill person, then avoid getting into disputes with family members. You may be unnecessarily dragged into something against your wish. Collaborations with multinational companies will be successful. Success at workplace will make you confident, avoid becoming overconfident. You may want to escape family dramas by meeting someone dear to you. Avoid sounding demanding or argumentative while meeting someone for matrimonial purposes. Travel plans will be successful, you will make new friends while travelling. Students planning foreign education are recommended to join social media communities of college students.
Love Horoscope tip: Shopping with your partner will make them happy.
Holi Special: Add Yellow colour in your attire and in your Holi colours. Avoid betting or challenging anyone on the day of Holi.
VIRGO (Aug 23rd to Sept 22nd)
Positive news on work and matrimonial alliance is expected this week. You may bag jobs with better salary options. Bad period related to finances is over. Those wanting to get married will make right provisions for the family before considering marriage alliances. Avoid getting irate with people around you, they are doing their best to help you out. An emotional woman will be resourceful this week in mending your relations with all or giving you guidance. Those who underwent recent breakups will want to soak themselves into work. You will feel more spiritually connected with God and may consider a trip to a place of worship. Honeymoon plans will be successful. You will get positive news on travel and educational visa front. Students may get attracted to someone in their friend circle and may express their feelings to them. Kids will need extra attention from parents. Marriage plans will be successful.
Love Horoscope tip: Take your partner out of home and enjoy little things with them and they will reciprocate in the love language you desire.
Holi Special: Eating homemade sweets in moderation can be good for you. Avoid getting irate unnecessarily. Stop finding intentions in others' mistakes. Adding orange colour to your Holi plate will be beneficial. Control your anger as you are likely to be pulled into fights today.
LIBRA (Sept 23rd to Oct 22nd)
Expect positive news on the financial front. Be alert as new opportunities will come along. Someone will try to dominate you, yet you will be able to face them well and achieve success as desired. You may feel cheated on the health front. A woman in your life will be careless regarding her health. Avoid consuming excess alcohol or splurging into anything that is illegal. You may go to an extreme this week in context to any bad habit that you have. Someone at a higher level or an authority may want to bind you into something. You may connect with influential people this week. Your partner will overexert her health and will avoid telling you any health complications. Travel and foreign education plans need more planning, and you need to explore more options.
Love Horoscope tip: Nurture your partner with loads of love and care this week. Make them feel on top of the world. Their health needs your emotional care and love.
Holi Special: You will be happily high today and also vulnerable. Be careful while playing Holi with your dear ones and stop when they ask you to. Chances that you may feel extremely guilty after accidentally hurting someone. Including a mix of all the colours will be beneficial.
SCORPIO (Oct 23rd to Nov 21st)
Things are not the way they are presented to you. You can get into serious financial trouble. Someone is lying to you and avoid taking any new man in life at face value. Be careful regarding any paperwork. Legal documents should not be given in hands of anyone who may sound emotional at the moment. Beware of theft as you travel out of home. Avoid being negligent about financial matters. This week will be complicated on every aspect. Students will require support on educational matters. Visit to a doctor will be necessary. Travel plans will be successful. Avoid trusting anyone that you met online on money matters, and do not share any objectional pics with anyone as there are high chances of someone blackmailing you in the coming times. Be loyal to your partner and avoid getting into temptations this week.
Love Horoscope tip: Watch your words if you are under influence of alcohol or Bhang, chances that you are likely to hurt your partner.
Holi Special: Watch out for friends or family who could secretly throw water or colour on you. Avoid slipping into intimate relationships with someone as they may simply apologize and move on. Adding organic pink colour will be beneficial. Consuming rose-based falooda or mithai can help keep your gut cool.
SAGITTARIUS (Nov 22ND to Dec 21st)
Expect positive news from higher authorities. If you were following up on a payment, then you may receive it partly or wholly. Financial complexities will get over as you may be helped by someone including bank. Avoid getting into emotional lending of money to anyone. Pregnancy plans will be successful. New ventures started this week will need your attention but may be profitable in the coming days. Expect positive news on kids' educational matters. Health complications will get resolved if you follow the advice of someone younger than you. You may feel empty on emotional matters. Take care of your health if you are taking a trip to a foreign country unless it's for pregnancy. If you are facing issues on the legal front, then they may continue for a while unless you agree to settle the matter on mutual consent or out of court.
Love Horoscope tip: Taking your loved one shopping this week will be beneficial for you.
Holi Special: Applying attar or perfume will be beneficial. Avoid playing Holi with filth. Stick to organic colours and encourage others too as you are likely to feel suffocated and allergic to non-organic colours. Health can be concerning if you have asthma issues. Avoid using glitter colours while playing Holi.
CAPRICORN (Dec 22nd to Jan 19th)
Despite criticism, opposition, or stress you will accomplish all that you desire this week. Get ready for drama on the emotional and family front. Avoid giving the rightful money of your family to friends or someone who is seeking help. Chances that money lent this week won't be returned. Singles and divorces will be able to attract proposals that will culminate into marriage. Working in hybrid mode could be stressful. Household matters will drain your energy. Travel plans will be successful. Seek guidance if you are planning a medical trip. Broker may lie to you regarding property matters. Opposition in the friend circle of students may upset the mood. Money will be spent on chronic disease medicine and recovery. Hospitalization of a family member this week can exhaust your money.
Love Horoscope tip: You need to maintain a work-life balance and spend wisely on your family especially your spouse for marital peace.
Holi Special: Carry your driving license in case you are travelling by bike or car today. You are accident-prone on this day. Buying expensive tickets for Holi celebrations could be disappointing. Add blue and fluorescent pink organic colour to your Holi palette will be beneficial.
AQUARIUS (Jan 20th to Feb 18th)
Great week on the work and family front. People may conceive you to be richer than you are, and they may have expectations regarding financial spending from you. A lie from your loved one can upset you and you may want to go away from them. Avoid flaunting your money or you may spend it unnecessarily. Meetings with people during celebration times will improve your bonding and help you grow emotionally with them. It will be a sensual week with your loved one. Pregnancy plans will be successful. You can spend money on preventive healthcare this week. Expect positive news on the marriage front. Students will compel their families to spend on educational matters and they will make the best use of it. Success in VISA application is possible this week.
Love Horoscope tip: Avoid taking your fight to the bedroom. This week will be full of energy and romance.
Holi Special: Take care of your cold and cough. Adding Purple and indigo colours will benefit you. Avoid spending too much time in water and be careful if you have skin allergies. Pat dry yourself well today.
PISCES (Feb 19th to Mar 20th)
Excellent opportunities at work front. Women in your life or in organisation will help you reach favourable position. Lady luck will help you achieve financial success. Alert of frauds who are associating with you because of your financial success. Avoid ignoring demands of your loved ones and be in control of your drinking habits. You may work hard to buy a property and nature will support you. Excellent week for planning of pregnancy. Matrimonial alliances could be complicated and coming from greedy families. Someone in the family can undergo severe anxiety or depression. Travel and VISA plans will be successful. Students are likely to attract admissions in expensive institutes. You could get stubborn in health matters.
Love Horoscope tip: Stay loyal to your partner and avoid getting distracted by opposite gender. Chances your partner may feel upset as they watch you looking at others.
Holi Special: Avoid being too close to opposite gender unless they are your partner. Chance of you being publicly shamed are very high today. Avoid applying black colour on anyone. Applying organic red and pink colour will be beneficial to you.