WPL 2023: Very good changes and improvements will come, so as more of respect, says Anjum Chopra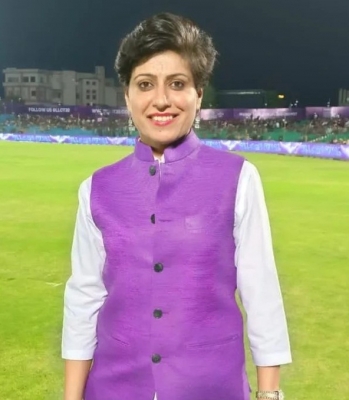 By Niharika Raina
Mumbai, March 4 With women's cricket in India all set to witness a revolution in the form of inaugural Women's Premier League (WPL) starting from March 4 through the clash between Mumbai Ind and Gujarat Giants, former India captain Anjum Chopra thinks the tournament will bring very good changes, improvements and more of respect for the game and players.
"Yesterday, when I reached the hotel from airport, I saw big boards with 'Aali Re' written alongside photographs of Harmanpreet Kaur, Pooja Vastrakar, and Yastika Bhatia (of Mumbai Ind). This is the first change as I had never seen hoardings of women cricketers in India. I have seen outside, but not in India before. Hoardings are there in Mumbai and advertising looks beautiful in the whole stretch, especially when it is night," Anjum said.
"When one will go through that stretch, the eyes will immediately recognise the players in the hoarding. There is an awareness being created and whether 35,000 or 40,000 come in the stadium, there's an expectation that following of women's cricket will multiply around them to increase the following."
"When following increases, then the respect also increases and when respect word comes in between, then one can think about the societal change which can definitely come in. It's not just about playing; it's about everything else as well. I feel that slowly or even quickly, very good changes and improvements will come, so as more of respect," said Anjum, the WPL Expert for Sports18 and JioCinema, while replying to a question from in a select virtual roundtable on Saturday.
With WPL all set to begin, Anjum also feels that one should now get on the ride to enjoy watching women's cricket and feel the realisation of a long-standing dream.
"It's been a long journey and to see finally it happening and today, the first toss will happen between two franchise teams, it's a very different feeling from what the sport has come about from when I started playing and to even before, 30 years ago when they started playing the sport. From there on till today, there's been a long journey. So, now, sit back and enjoy the ride."
Asked on how WPL can propel India in bridging the gap with Australia in international cricket, Anjum thinks that it can help players, capped as well as uncapped, in developing the understanding of various situations in a game and make their own improvement as players too.
"For me, its about improving each day. It's not just about playing a WPL to prove yourself as a cricketer. These are tournaments which you need to play and understand how to handle different situations because in every game, you will be facing a different situation, whether you are an opener, middle-order batter or death bowler. Competitive cricket is what makes a player better each day. For me, speaking as a competitive cricketer, you need to play each day, whether its WPL, The Hundred or WBBL."
"Also, it's not about beating Australia; it's about being better as an individual. Once we become better as an individual, then we can come together in a team environment and say, 'this is what my role was. This is how I travelled from last World Cup to this one and subsequently, has this next person in the team has done that or not?' So, it's not just about beating Australia. Pakistan has run us in close, West Indies can cause trouble when they rise again in international cricket."
"With England, we are not able to breach that gap and New Zealand is some team which has troubled us consistently. These teams have been challenging women's cricket for a few years. Tournaments like this will help as there is no escape route or cannot say 'we don't play enough competitive cricket'. It's about you have matches, franchises backing and everything you have at your disposal in the world."
Disclaimer: This post has been auto-published from an agency feed without any modifications to the text and has not been reviewed by an editor