Your Weekly Tarot Card Reading Knows You and Karma Vibe Like That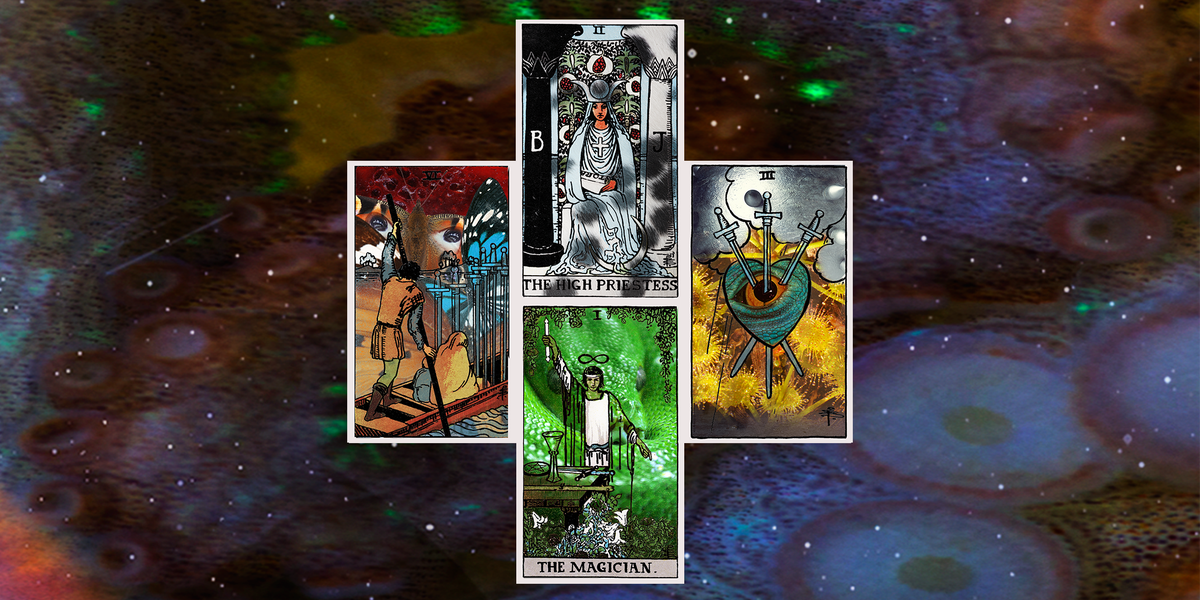 You don't need to know the difference between a three-card and a Celtic cross spread to get the most out of a tarot card reading. All you need: your Sun sign! Here's what I do: Shuffle my tarot deck and pull out the cards in order from Aries to Pisces, plus one general card for everyone so that you can get specific advice around your personality. Let's go!
A GENERAL CARD FOR EVERYONE: JUSTICE
Alexa, play "Karma" by Taylor Swift. The Justice tarot card is a call to live like karma is watching you, because it is. That isn't to scare you, but to nudge you towards acting right. You want to know that you've done your best. You're already a good person, but now is the time to encourage your do-gooder impulses. Of course, you're not perfect. No one is. All that matters is that you try and, when you mess up, you try to make it right. Justice is a strong reminder that if we all collectively do our best to be good people, then the whole world will improve.
ARIES: EIGHT OF WANDS
The Eight of Wands is a symbol of communication, networking, and being social. You are good at this, although you can edge more towards being a talker than a listener. Try to do both this week, because others have interesting things to tell you. Opportunity usually comes through people, after all. Network, ask for advice, offer support, and share your ideas. Something is coming.
TAURUS: JUDGMENT
Know yourself well, and you will also know what your future could look like. It all starts with self-awareness, understanding, and confidence. Judgment reveals this is the week to get into all of that. Epiphanies and revelations are ahead! Try asking friends or colleagues for feedback on your strengths. Make a list of your past successes and look for themes or patterns. Notice what you enjoy doing, what comes easily to you, and what you do well. Put it all together. Find your niche!
GEMINI: THREE OF WANDS
Play it fast and loose this week, Gemini, because nothing is entirely what it seems. New, better opportunities are likely to spring up out of the most unexpected places. Don't do your usual thing this week. Instead, try something, anything different. The Three of Wands reveals that you will discover amazing new ideas, energies, and openings in surprising places. Be curious.
CANCER: THREE OF SWORDS
Every relationship has its shadow areas, and the Three of Swords sees you looking at them this week. Maybe something has happened, or an echo from the past has resurfaced, or a new worry is brewing. Try to be objective and fair. Look at the facts, and if you don't have them, get them! Ask questions, test the answers, and establish a timeline. Ask for a second opinion. Dispassionately check the facts. Once you know the facts, acknowledge your feelings. And then… act accordingly. Is this a relationship that is mutually supportive, fair, and healthy? Does it need work? Does it need to end? You decide, Cancer.
LEO: THE MAGICIAN
The Magician is a wonderful card about creativity, invention, and recognizing your own unique talents. It's also about figuring out how you can earn a living doing something you love. You are closer than ever to this reality, Leo. In fact, you might already be taking the tentative first steps on that path. Have faith in yourself. No one else should have an opinion on what you choose to do with your life. This is all up to you!
VIRGO: QUEEN OF PENTACLES
Virgo, the Queen of Pentacles is you living your best life—healthy, wealthy, and happy. Do what you can do this week to invest in these foundations of a happy life. Take proactive steps to care for your health, build your financial stability, and make work rewarding. Reach out to your family and closest friends and schedule some time together. Get your home feeling cozy for winter. Work on your foundations, and you'll feel fantastic without even trying.
LIBRA: THE HIGH PRIESTESS
You're a procrastinator, Libra. However, part of your procrastination comes from your love for knowledge and data. You want all the facts and POVs. You can't just jump into a decision blindly. Well, the High Priestess asks you to try a different approach to your decision-making this week. Use your intuition. It's there to protect you! Pay attention to your gut and see what happens. I think you'll be surprised.
SCORPIO: TEN OF WANDS
We're leaving your season behind this week, Scorpio. It's probably been pretty intense and soul-searching, right? Secrets, desires, toxicities, and intimate awakenings all come to the surface during Scorpio season, waving their flags for attention. Well, it's over now. The Ten of Wands says you can take a break. Relax, rest, and chill out. Take a vacation/staycation if you can. You need to recalibrate and restore your energy before holiday season takes over. This is the calm before the next storm.
SAGITTARIUS: PAGE OF PENTACLES
You're a natural learner, thinker, and philosopher. The Page of Pentacles brings you a gift this week in the form of education, knowledge, and/or insight. Get out there. Join a book club, sign up for a class, have a debate, research something that's relevant to your life, read different news outlets, watch a documentary. Feed your mind, embrace new ideas, and develop your current views. Be in the world this week.
CAPRICORN: ACE OF PENTACLES
The Ace of Pentacles is a blessing for you, Capricorn, because it asks you to turn the page and start a new project in the world of health, wealth, work or home. This is a good thing! You're never happier than when you're choosing a new ambition to pursue and making plans to achieve your goal. This can be a year-long project. Whatever you choose, this should be a sustained and powerful effort vs. an overnight achievement. Think big. Think long-term. Think about Future You.
AQUARIUS: SIX OF PENTACLES
You are a very altruistic person, Aquarius. You care deeply about the planet, the people and animals living on it, and the future. And yet, for all that big-picture awareness, you can sometimes overlook the smaller details…including when it comes to your partner, friends, or family. The Six of Pentacles asks you to zoom in and do one nice thing for everyone in your inner circle this week. This little act of generosity will do more good for you than any big project. Show your loved ones how much you care!
PISCES: SIX OF SWORDS
Pisces, if you feel it's time to go… then go. The Six of Swords is backing you up. This ending is not an unhappy one. In fact, it's natural and necessary because you have simply outgrown your surroundings. You are ready for new opportunities and challenges. This is the start of a new chapter in your life, and that means leaving behind the things that have run their course. Do it this week.